Japan IRB Junior World Rugby Win Benefits Hong Kong
Rugby Union—IRB JWRT Hong Kong
April 23, 2014 9:29 am Last Updated: April 23, 2014 9:29 am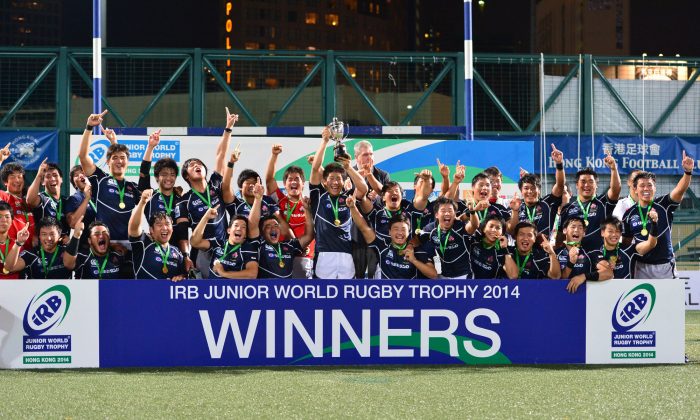 Japan beat Tonga in the Final of the IRB Junior World Rugby Trophy on Saturday April 19 to book a place in the 2015 Junior World Rugby Championship (JWRC), for the first time since the new format competition started in 2008.
As a result of their elevation, Japan will therefore not take part in the 2015 JWRT Qualifying stage – improving Hong Kong's chances of a repeat entry in the JWRT in 2015 as they will contest the Asia place with South Korea, the only other Asian country participating in the competition.
Japan played an almost flawless game against Tonga in the Final with a well organised, disciplined and forceful display of rugby to win the match 35-10. Although Tonga put up a spirited performance, they were not given the time or space to put on a repeat of their performance over the USA.
Meanwhile, the Japanese marking was fast and sure footed, catching and distribution was well-executed and they displayed power and good speed when the breakthroughs came.
Tonga booked their Final's place by edging out No-1 seeds USA 28-22. This result put both teams on 10 points and by winning the head-to-head Tonga finished at the top of Pool-A.
Japan, on the other hand, won 2-out-of-3 pool matches and performed well enough to pick up 4-additional bonus points to put them on 12 points. Uruguay their main rivals for the top position in Pool-B were denied a spot in the finals by Canada coming back from 13-18 to draw 18-all. Uruguay failed to score bonus points in the other matches leaving them on 10 points.
The match between USA and Uruguay for third place was closely fought, ending in a 26-25 win for USA – in which tempers boiled over right at the end of play. USA were ahead 20-3 after 30 minutes of the first-half, but only managed to add two penalties from that point on; whereas, Uruguay ran in four trys and one conversion to close the gap.
In the fifth position play-off match, Georgia started strongly against Namibia running in two converted trys and a penalty to lead 17-nil after 20 minutes and continued their dominating form to finish the game 46-17.
Hong Kong put up a great display for the home crowd in the seventh place play-off – pushing Canada to the limit – but it was Canada who came back after being 21-10 down at half-time and 30-19 down mid-way through the second half. Canada, playing with 14 men for most of the match – after having Nathan Yanagiya red-carded for stamping on an opponent (an incident that was labelled a low-end offence by the disciplinary hearing)—finished the match well to claw back the deficit and win the match 30-33 to take seventh place.
Hong Kong picked up two trys, a conversion and three penalties in the first-half, then cashed in with three penalties in the second period. Hong Kong's place and goal kicking was particularly impressive, nailing almost all of the penalties and pushing the team up field with some superb place kicks.

2014 JWRC
The 2014 JWRC will be contested by Argentina, Australia, England, Italy, Fiji, France, Ireland, Wales, New Zealand, Samoa, Scotland and South Africa in New Zealand, June 2-20. The bottom-ranked team will be relegated to the Trophy competition making way for Japan to join in 2015.