The more than 14,000 hours of surveillance video footage from Jan. 6, 2021, held by U.S. Capitol Police can't be hidden under a cloak of "sovereign immunity" and should be released to the public because it represents "an extraordinary moment in our history," Judicial Watch argued in a recent legal filing in U.S. District Court.
"Far from routine surveillance footage, the requested video footage is a unique and critical record of an extraordinary moment in our history," the conservative nonpartisan foundation argued in a filing in its lawsuit, Judicial Watch Inc. v. U.S. Capitol Police (USCP). "USCP recognizes this as they preserved the footage because of its undisputed legal and historical significance.
"It is a public record," Judicial Watch wrote. "At least significant portions of it can and should be released."
Judicial Watch filed a response to the Capitol Police's request for a summary judgment against the release of the video, which is expected to shed critical light on key events during a day of protest and rioting. Judicial Watch filed a cross-motion for a summary judgment against Capitol Police and its refusal to release any video to the public. The suit is being heard in U.S. District Court for the District of Columbia.
"The Pelosi Congress and its police department are telling a federal court that they are immune from all transparency under law and are trying to hide every second of their January 6 videos and countless emails," Judicial Watch President Tom Fitton said in a statement. "The hypocrisy is rich, as this is the same Congress that is trying to jail witnesses who, citing privileges, object to providing documents to the [Select Jan. 6] committee."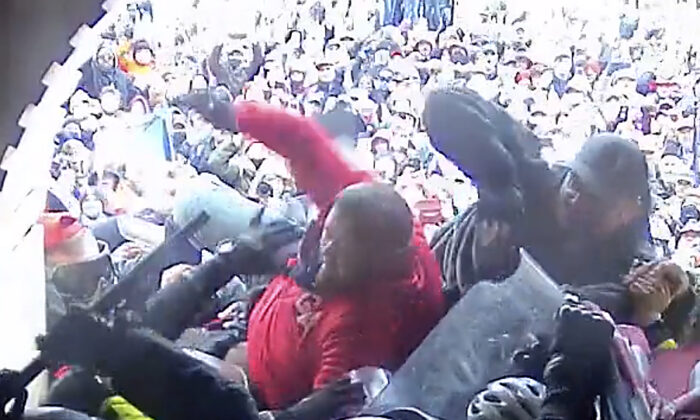 The U.S. Congress is exempt from the Freedom of Information Act. The USCP, as a subsidiary of Congress, isn't bound by the 1966 law that generally requires the federal government to disclose records and other information to the public upon request.
Judicial Watch sued Capitol Police in January 2021 under the common law right of access, a legal principle that the public has a right to access public records and documents.
Judicial Watch sued for the release of all video recorded between noon and 9 p.m. on Jan. 6, 2021, and for emails between the USCP executive team and the police board, as well as emails between police and the FBI, U.S. Department of Justice, and the Department of Homeland Security.
Capitol Police filed a motion claiming it isn't bound to release records due to sovereign immunity, a legal doctrine that shields governments from being sued for civil wrongs.
It claims the video and email records sought by Judicial Watch aren't public records subject to common law access rights. Even if the video and emails are public records, the agency argued, there are compelling reasons they shouldn't be released to the public.
Judicial Watch said the U.S. Supreme Court has stated there is a federal common law right of access "to inspect and copy records and documents," applicable to all three branches of government. Right of access is "a precious common law right … that predates the Constitution itself," Judicial Watch wrote, citing United States v. Mitchell and Nixon v. Warner Communications Inc.
"Neither our elected nor our appointed representatives may abridge the free flow of information simply to protect their own activities from public scrutiny," the filing read, citing a U.S. Court of Appeals ruling in Press-Enterprise Co. v. Superior Court of California for Riverside County.
"The extraordinary video footage of January 6 fits comfortably within the definition of a public record," Judicial Watch wrote. Despite the Capitol Police contention that the video footage is nothing but "raw surveillance footage," the agency preserved more than 14,000 hours of video from Jan. 6, 2021, for future use, while routine footage is discarded after 30 days, the filing stated.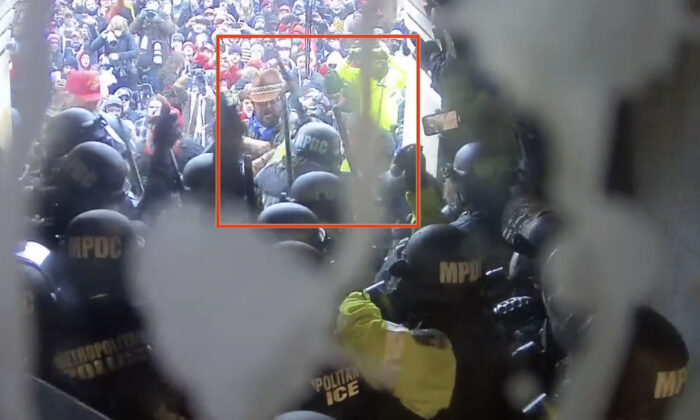 "Soon after the events of January 6, the Department knew that its footage of the riots would be essential to both the criminal prosecutions arising out of the events as well as to assist Congress and possibly other entities to understand how such a vast breach of security could occur," wrote Thomas DiBiase, general counsel for U.S. Capitol Police, in a declaration to the court. "The department immediately preserved all the footage from that date, starting at noon and continuing until 8:00 p.m."
In his declaration, DiBiase wrote that his office "has consistently taken a restrictive view of releasing camera footage in cases other than serious crimes or national security."
All footage from the eight-hour period on Jan. 6, 2021, was provided to the Senate Rules Committee and the Committee on House Administration, DiBiase wrote. "Numerous clips" of video were provided to the impeachment managers in the U.S. House of Representatives, he said, and the complete video collection was given to the FBI and the D.C. Metropolitan Police Department.
Federal courts in limited instances have unsealed some of the surveillance video that is being used in criminal cases against protesters. A three-hour block of video from the West Terrace tunnel released by a judge showed extensive violence between police and protesters, and the apparent beating of Jan. 6, 2021, defendant Victoria C. White, who was struck repeatedly on the head with a steel baton and punched in the face by Metropolitan Police working security in the tunnel.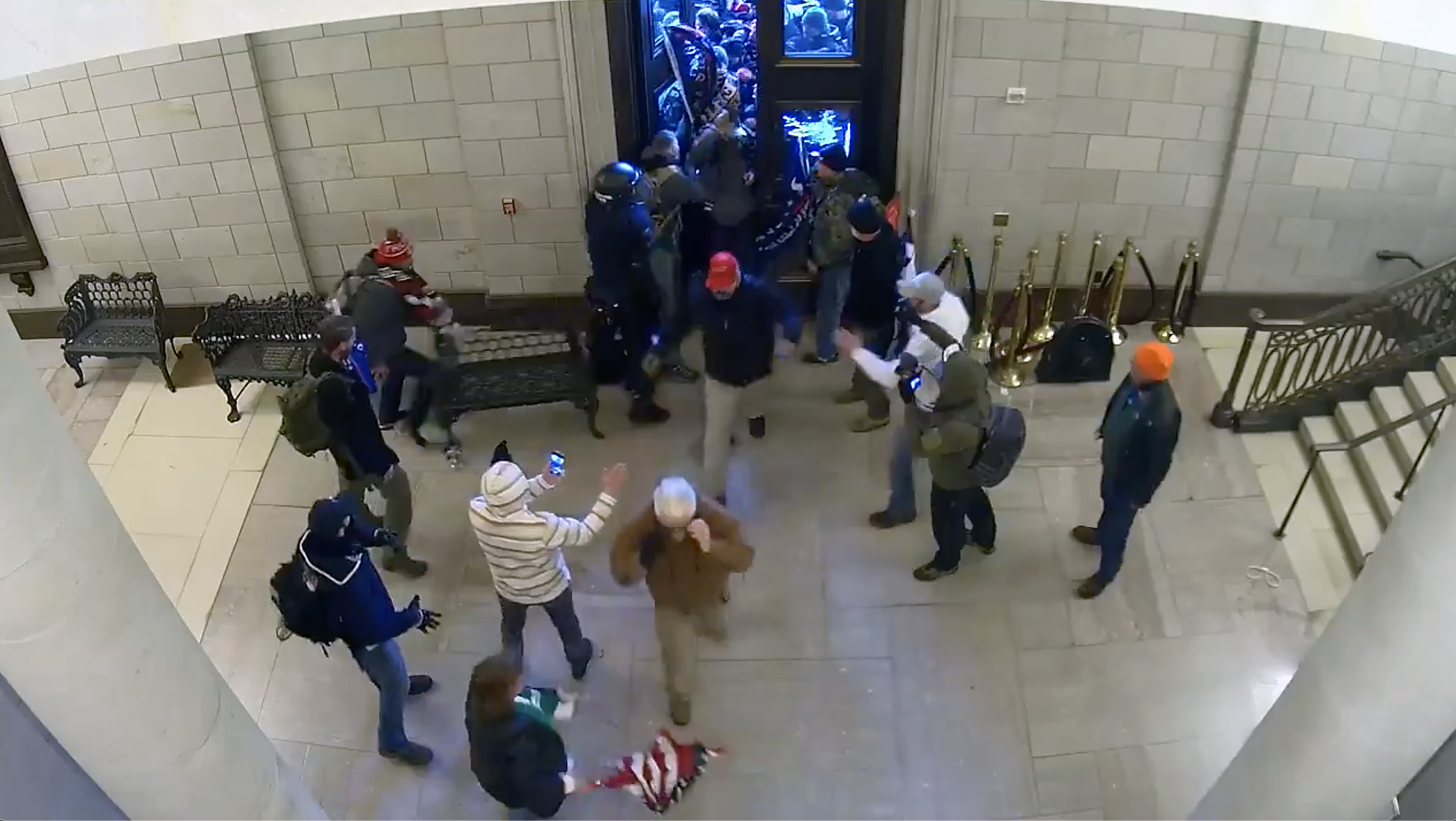 Even in the criminal cases, USCP had "significant concerns" releasing any video to defendants charged with crimes, DiBiase wrote.
The release of video footage could provide valuable security information to people who might seek to attack the Capitol again, he wrote. Video can also be considered security information that is "sensitive with respect to the policing, protection, physical security, intelligence, counter-terrorism actions or emergency preparedness." Only about 17 hours of footage to date was designated "security information," DiBiase said.
Judicial Watch obtained thousands of pages of documents, photographs, videos, and audio files in 2021 when it sued the Metropolitan Police Department for information surrounding the shooting death of Ashli Babbitt by USCP Lt. Michael Byrd inside the Capitol on Jan. 6, 2021.
Judicial Watch also sued the U.S. Department of Justice for communication between the FBI and several financial institutions regarding records of customers who might have been in Washington, D.C., Maryland, and Virginia on Jan. 6, 2021.