A Los Angeles man infamously dubbed the "Capitol Rotunda Doobie Smoker" for appearing in a cloud of marijuana smoke and handing out joints to protesters on Jan. 6, 2021, was sentenced in federal court Thursday to 24 months probation and a $1,000 fine.
Eduardo Nicolas Alvear Gonzalez, 33, was sentenced by U.S. District Judge Christopher R. Cooper to probation on one count of parading, demonstrating or picketing in a Capitol building, a misdemeanor. As part of a plea agreement, three other charges were dismissed.
Alvear will not be subjected to the 90 days jail time sought by federal prosecutors. In addition to the $1,000 fine, Alvear was ordered to pay $500 restitution to the Architect of the Capitol to defray the cost of damage done on Jan. 6. Judge Cooper also ordered Alvear to perform 200 hours of community service.
Alvear's nickname on social media, the "Capitol Rotunda Doobie Smoker," references one of the slang terms for a marijuana cigarette.
Alvear, a self-employed filmmaker and social media personality, drew fire from Judge Cooper and prosecutor Anne Veldhuis for appearances on social media since pleading guilty.
Appeared in HBO Jan. 6 Documentary
"I believe deterrence is especially important to this defendant, because he has not made any sincere expressions of remorse," Veldhuis said. "To the contrary, he has constantly mis-characterized and glorified the events of January 6th.
"He appeared in an HBO documentary," Veldhuis said. "He made recent media appearances in November. Those statements all promote misinformation and they call into question his likelihood of recidivating."
Alvear entered the Capitol from the Upper West Terrace at 2:36 p.m. after shouting, "We're charging the Capitol!" prosecutors alleged.
After walking through Statuary Hall, Alvear went into the Rotunda, where he "proceeded to smoke a pipe filled with marijuana before later smoking a joint.
"He then took out multiple marijuana joints he was carrying in his fanny pack and distributed them to other rioters in the Rotunda," prosecutors wrote in their sentencing memorandum.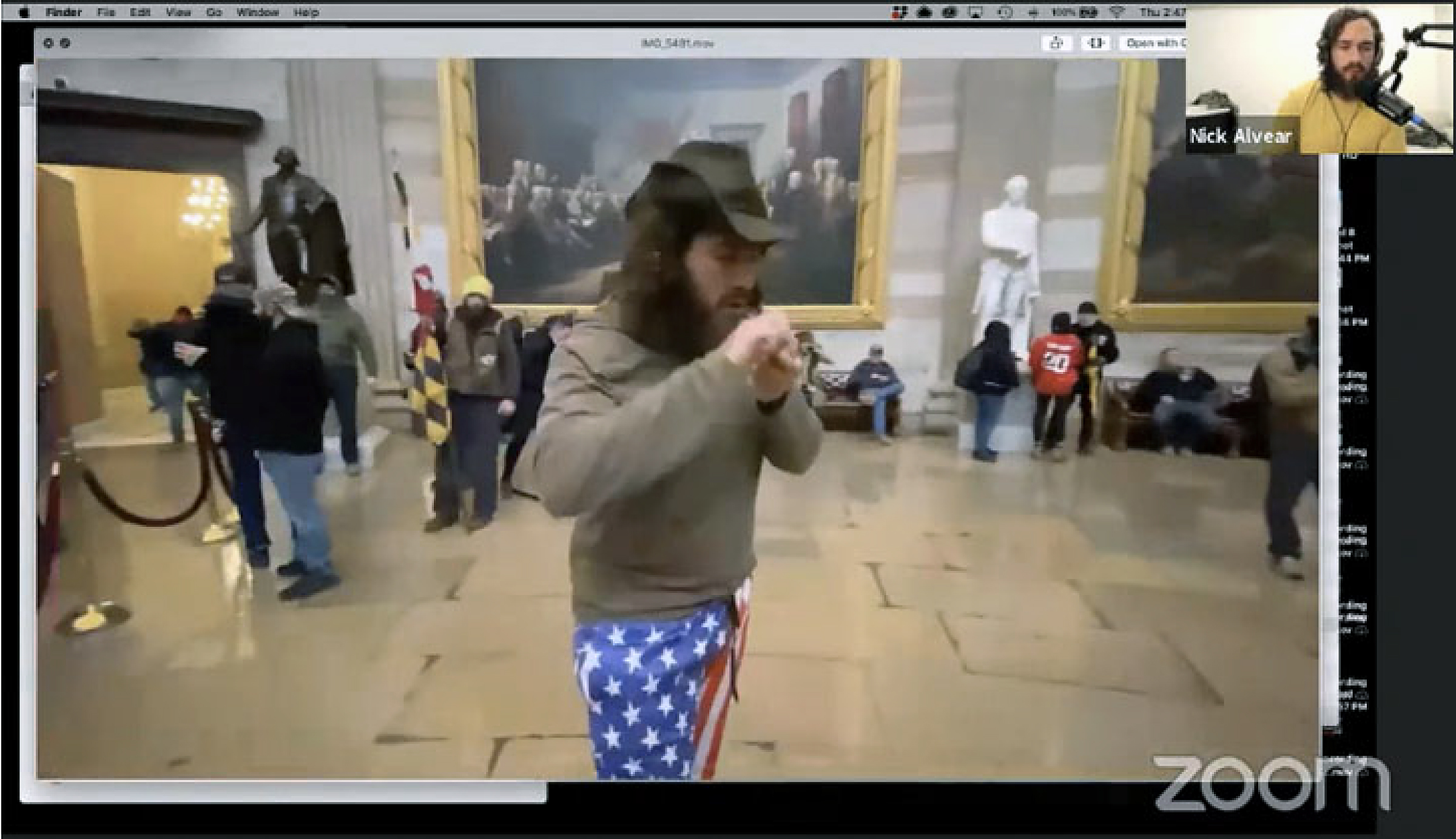 Asked by a protester why he was smoking pot in the Capitol, he replied, "freedom," court records said. Alvear had a medical marijuana card from California, but it was expired, according to his sentencing memorandum.
Alvear did a livestream broadcast on Jan. 7, 2021, and gave running commentary, prosecutors said. During the broadcast, he remarked, "Here it is, me blazing up at the Capitol. Mary jane."
A 45-day jail sentence—in addition to 45 days time already served—"sends a stronger message," Veldhuis told the judge.
After Jan. 6, Alvear "publicized the attack and promoted the idea that the rioters were 'patriots,'" Veldhuis said. "And he did so using his own photographs and videos he recorded while committing the crime to which he has pled guilty."
Alvear told Judge Cooper he has remorse for going into the Capitol. The jail time he served before being released "was a great teacher," he said. He also disavowed the nickname.
"I don't want to associate as a doobie smoker; that was never my term. …I'm moving away from doobie smoker. I'm a filmmaker, not someone who smokes weed like that."
No Political Prisoners
Judge Cooper, however, wasn't buying it. He chided Alvear for using social media to "profit" from his Jan. 6 experience. He also criticized him for spreading the idea that defendants held at the Central Detention Facility in Washington are political prisoners.
"These folks are getting their due process," Cooper said. "You got all the due process that you were entitled to, and that's why you are free today.
"So don't tell me that you were some sort of political prisoner. And if somebody on one of these shows you go on suggests that, maybe you should correct the record."
Judge Cooper asked Alvear if he knows how many people died on Jan. 6. Alvear cited Ashli Babbitt, who was shot to death by Capitol Police Lt. Michael Byrd; and Capitol Police officer Michael Sicknick, who died of a stroke on Jan. 7.
"Five people lost their lives that day, including Ashli Babbitt," Judge Cooper said. "And four other members of law enforcement took their own lives afterward as a result of the trauma that they experienced that day.
"So I want you to think about that, in terms of how dangerous it was, when you go on some of these shows and post your podcasts. Maybe some acknowledgment of the victims and all of the law enforcement officers who were hurt but did not lose their lives."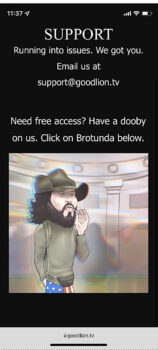 Four supporters of President Donald J. Trump lost their lives on Jan. 6, including Babbitt. A police officer died on Jan. 7 of a stroke.
Rosanne Boyland, 34, was crushed by a stampede after police deployed some type of gas in the Lower West Terrace tunnel and pushed rioters out.
Video shows an unconscious Boyland on the ground, being beaten in the head and body by Metropolitan Police Department officer Lila Morris. Boyland's family believes Rosanne was still alive when she was struck repeatedly with a wooden walking stick.
The medical examiner ruled her death a result of an accidental overdose of her medication for attention deficit hyperactivity disorder. The Boyland family has hired its own forensic pathologist to examine the autopsy records.
Kevin Greeson, 55, died of a heart attack, according to the DC medical examiner. One witness said that just before he collapsed, Greeson was struck by a projectile from munitions police fired into the tightly packed crowd of protesters. Benjamin Phillips, 50, died from hypertensive cardiovascular disease, according to the medical examiner. Witnesses said Phillips was also struck by debris from a flashbang before he collapsed.
Capitol Police officer Brian Sicknick died the night of Jan. 7 from a stroke. Two witnesses recently told independent journalist Tayler Hansen they twice tried to warn police that Sicknick might be having a stroke: once around 3 p.m. and again just before 8 p.m. They said they were ignored. One of the men said he had been an emergency medical technician in the military and offered his help.
One hundred and forty police officers were injured on Jan. 6.
Judge Cooper discounted Alvear's statements that he was at the Capitol that day to document the event.
"I don't care what your political views are. You're not here because of your political views. Don't even get started with that, okay? You know why you're here," Cooper said.
"And frankly, you say you were there as a videographer to film what was going on, but that's inconsistent with your lighting up and giving joints to everybody. I think you were there to draw attention to yourself in some way, and I think you're still doing that, alright?"