The purpose of defense is to "protect America's vital interests," and to achieve that the U.S. defense needs to be strong, competitive, needs to operate in space, and perform cyber operations to counter threats arising from China, Russia, Iran, or North Korea, said James Carafano, the director of the Douglas and Sarah Allison Center for Foreign Policy Studies and Vice President of the Kathryn and Shelby Cullom Davis Institute for International Studies at The Heritage Foundation.
"We are probably a little under the mark actually, what we need to have" to address these threats, Carafano added.
There are various means to achieve this goal such as diplomacy, economy, or military but they are not fungible, Carafano said providing an example, "three diplomats don't make up for a division." All of these elements play a role in the nation's defense, Carafano said in a recent interview on Epoch Times' Crossroads program.
Threats we face today are posed by China, North Korea, Iran, and Russia and added together are "about equivalent to the challenge of dealing with the Soviet Union" during the Cold War but the forces the United States currently has to counter these threats are "actually a fraction of what" of what the country had during the Cold War, Carafano explained.
Both quality and quantity are important in defense. Quality means that there are new fields of competition in defense, he said giving hypersonic weapons as an example.
"The United States actually developed the science and technology for hypersonic weapons but then [it] didn't build them," Carafano said. However the Chinese and the Russians took that science and information and built such weapons, he added.
"This is a qualitative disadvantage against our enemy," something the United States has not experienced since World War II, he said.
Quantity is also important when it comes to U.S. defense, Carafano said. It is because each of the country's adversaries needs to exert influence only in its region but the United States needs to be strong globally, he explained.
"Russia only has to be strong in Western Europe, China only has to be stronger than the Indo-Pacific, Iran only has to be influential in the Middle East, North Korea only has to threaten Northeast Asia," Carafano explained, but "the United States is going to deal with all those issues."
America needs to work with its allies and friends and they will only side with the United States if it has "meaningful capabilities" and is able to deal with threats and challenges globally, so the number of weapons is also important, Carafano said.

Today, military spending is not a big portion of the national budget. When Dwight Eisenhower was a president 50 percent of the federal budget was spent on defense, and to fight the Cold War the defense expenditure amounted to 7 percent of the gross domestic product (GDP), Carafano said.
Today only 20 percent of the federal budget goes to the defense which accounts for only 3 percent of the GDP, Carafano said adding that much more money is spent on other needs such as health care, Social Security, education, welfare, and others.
The problem is that people want to spend money on lots of other things and do not recognize the need to spend on the military until the war starts but then it is a little too late, Carafano said.
The idea is that peace can be maintained through the strength that deters enemies so they do not want to engage in a conflict with a strong country, he explained and continued, deterrence "is infinitely more cost-effective."
"It's like people that don't want to buy insurance till after they've had a car accident," Carafano said.
Space and Cyber Warfare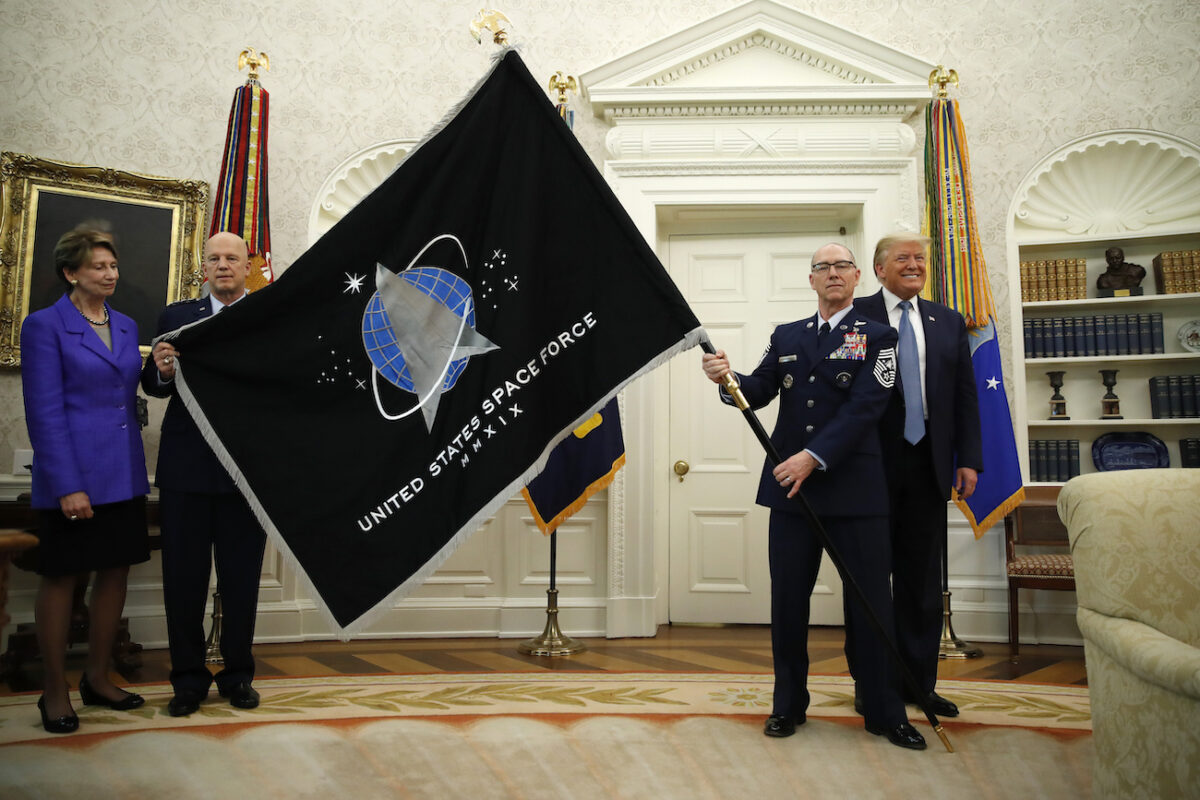 With the emergence of space warfare and cyber warfare, the battlefield has shifted but these new types of military operations have not supplanted the traditional military, Carafano said. Space operations, cyber operations, and undersea operations "are absolutely vital" and go together with traditional military operations to make up military capability, he added.
In the past, a nation could have been only a great sea power or only a great land power but "those are long gone," Carafano said comparing the military to a baseball team; "the team that goes to the World Series," needs to have a "great pitcher, catcher, and fielders" that can hit.
"A military that that can actually compete in the world" must be able to perform the cyber operation, deal with hybrid threats, operate in space, on the sea, under the sea, on land, and so on, he said, so it is essential to have a space force and operate in the cyberspace, Carafano said.
A lot of stuff with the military application and cutting edge technologies used in the military is in the private sector and is also used in commercial applications such as communications, Carafano said.
Both private and public capabilities determine whether a country is a military power, Carafano said. The competition level is high and the notion that somehow America's global interest can be defended on the cheap, "it's just incredibly unrealistic and very dangerous," Carafano concluded.
 Joshua Philipp contributed to this report.