Jaipur Jaguar Win Frenz Club Cricket Sixes
Cricket—Sixes
September 4, 2013 10:53 am Last Updated: September 5, 2013 1:46 am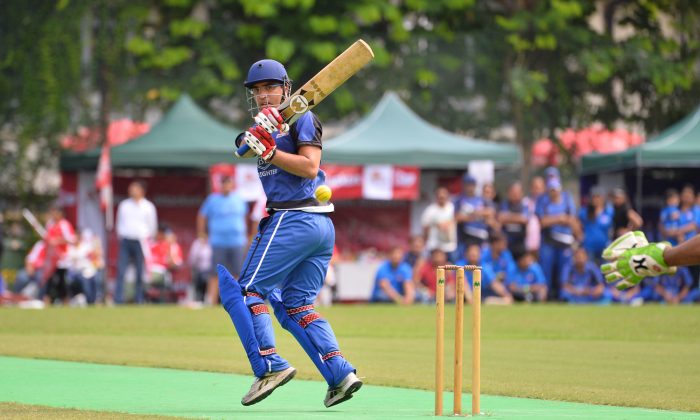 The Frenz Club Super Cricket Sixes 2013, held at the Kowloon Cricket Club (KCC) ground in Hong Kong was a fun start to the 2013-14 cricket season for the Indian community in Hong Kong.
This well-organised event pulled together mainly Indian cricketers from across Hong Kong under the banners of participating businesses. Spectators were limited by KCC and many eager to watch gathered outside the ground, but were unable to get in.
But for those lucky enough to get in the ground, it was a fun filled day.
Cricket sixes, although taken seriously by the teams, is always exciting because with only five overs (30 balls) per innings, batsmen have to try to score runs off every ball.
Frenz Club Committee member Vicky Mundra discussed the tournament with the Epoch Times.
"Last year was the first year of this tournament and we were not very well prepared. We were new to this and last year was a bit of a surprise, this year we prepared earlier, and had another three months to prepare," said Mundra.
"Everybody has worked hard to make this a good day, cricketers went to the nets and have done much better.
"These are not regular cricketers, but business people enjoying cricket," he added.
Mundra elaborated about the limitation on the number of spectators.
"All clubs in HK have a maximum number of people that they can have on their premises, so they [KCC] have to put a limit on the numbers they let in. We understand the situation, but it has been a bit embarrassing you know, friends ring up and it is difficult to explain to them. But the people on the gate have done a good job in letting people in and out and they are being helpful."
Five teams took part in the competition and all played the game to a good standard. There were many good batting bowling and fielding performances with totals of more than 90 runs scored by some of the teams.
Round robin matches proceeded throughout the day leading to the knockout Semi-finals and Final. The daylight was fading fast as the second Semi-final match progressed and there was a lot of urging by the ground commentator for the teams to hurry.
The Semi-finalists this year were Jaipur Jaguar against the J's Avengers and Sunlight Sevens against Hima Strikers, resulting in Jaipur Jaguar and Sunlight Sevens moving forward to the Final.
Because of darkness creeping in, the third/fourth play-off match (Plate Final) could not be played and had to be decided on most 6's hit, which was won by HIMA Strikers with J's Avengers just losing out.
Also, the Final was reduced to three overs each. Jaipur Jaguar batted first and scored 42 runs off the three overs. They were a little fortunate to win the toss and bat as it was very dark by the time the Sunlight Sevens picked up the cudgel. The result was a win for Jaipur Jaguar.
As with all well-organised events, there were many prizes to be handed out, man of each match, best wicket keeper, batsman hitting the most sixes, best bowler, best all rounder etc. as well as the main trophies. These awards highlighted some excellent individual performances.
Hong Kong Cricket Association Premier League umpire Louis Coulthard discussed how important the event is.
"I think cricket was the winner and it's always the key to this kind of event.
"I thought it was well organised, well run, lots of atmosphere, some really good cricket—it was a great tournament. It's a classic to start the season," he told the Epoch Times.
Talented cricketer Rishab Malpani (Gabbar) of Sunlight Sevens, won Player of the Tournament to accompany his five man of the match awards as well as being in the cup runners-up team. But other awards were won by Ashish of HIMA Stricker, Naman Mehta of KCC, Sanjeev Maheshwari of Attackers, Vicky Mundra of Sunlight Sevens, Ravi Chopra, Chandan and Nitin of Jaipur Jaguars and Ankur of Hima Strikers.