Jailed Turkish Journalists Available for Adoption
June 11, 2012 1:19 am Last Updated: October 1, 2015 1:14 pm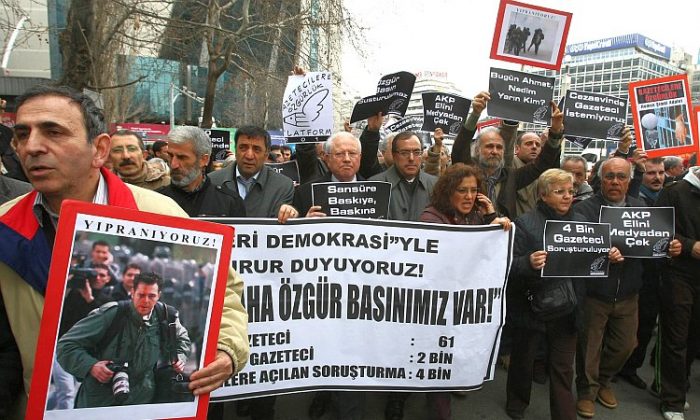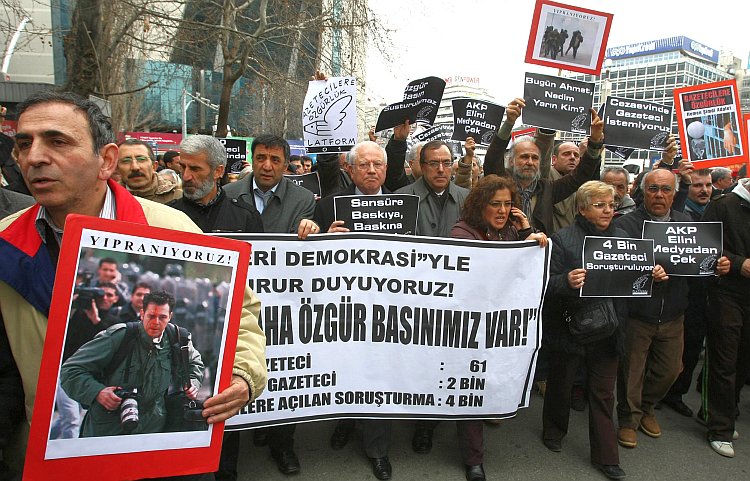 STOCKHOLM—At least 100 journalists are currently behind bars in Turkey, causing international concern over the worsening state of press freedom in the country. In Reporters Without Borders World Press Freedom Index for 2011, Turkey dropped 10 places to 148th out of 178 countries compared to the year prior.
In an effort to help those journalists and raise awareness about their plights, the European Federation of Journalists (EFJ) has created a campaign to "adopt" jailed Turkish journalists.
The idea behind the EFJ campaign, conducted in cooperation with Turkish journalist's association, is for other European media professionals to "adopt" a jailed Turkish colleague to offer personal support. They can write letters to stay in touch, support and encourage the families, and raise awareness about their cases. Another purpose, of course, is to put the spotlight on the situation for freedom of speech in Turkey.
EFJ President Arne König feels that European Union countries should be a lot more vocal in their criticism of Turkey.
Out of the over 100 jailed Turks, 17 have been adopted since early February by press associations and publications in Sweden, France, Belgium, Hungary, the U.K. and others.
Arne König mentions the case of journalist Tuncay Özkan. Özkan has been jailed for four years without trial, with the last year spent in solitary confinement. König believes that Turkey will eventually be convicted in the European Court of Human Rights over Özkan's case.
"This man's daughter is trying to visit him every week. When she went to high school, she was told to stop visiting him, because it took too much of her time, half a day every week. When she persisted in visiting him, she got expelled from school. … There are many stories like this," König said.
König believes that the European Union lost some of its authority in criticizing the longtime EU-candidate for Turkey, by allowing the new media law in member country Hungary. The law has been sharply criticized for limiting freedom of speech, and König believes it may violates Article 7 of the EU Treaty that talks about not breaching common EU values.
"Still, it's plain to see that the situation in Turkey is a disaster, when it comes to freedom of speech and press. [The EU] should be much more open in its criticism, but trade interests tend to dominate," König said. He was also critical of his native Sweden in its approach to Turkey.
"I think Sweden has been surprisingly soft spoken, considering what is currently going on in Turkey. The rule of law is very much weakened when it comes to journalists who end up in prison, but also for trade unions. Turkey violates many of the international conventions they have ratified," he said.
The EFJ has made eight trips to Turkey since the fall of 2011, and the country is EFJ's top priority in Europe right now, in the area of freedom of press.
Turkey, like most countries that jails journalists, does not openly charge them with crimes related to their media work. Typically, they face some other, often vague, accusations of criminal activity. In Turkey, it is often "terrorism."
As an example of the attitude of these countries, he mentioned his encounter with the Chinese deputy minister of information before the 2008 Beijing Olympics. When confronted with the cases of the 27 journalists jailed in China at the time, the minister got very upset, König remembers:
"When we brought it up, he said 'How do you know these people are journalists? They are criminals!' This is the way these regimes view journalists. Of course, they're not going to say 'We are putting them in prison because of what they write,'" he said.
The Epoch Times publishes in 35 countries and in 19 languages. Subscribe to our e-newsletter.