Jacob Blake possessed a knife when he was shot by a police officer, the Wisconsin Department of Justice announced Wednesday.
Blake, 29, was shot seven times on Sunday afternoon by an officer responding to a domestic incident.
In an update on the investigation into the shooting, the department said officers were responding to a 911 call from a woman who said her boyfriend was at her house but was not supposed to be there.
During the incident, officers tried arresting Blake, who had a warrant for sexual assault. Officers struggled with Blake behind his vehicle, tasing him, but he escaped. Blake then walked around the vehicle and opened the driver's side door.
At that point, Kenosha officer Rusten Sheskey fired his gun seven times into Blake's back while holding onto the suspect's shirt. Only Sheskey fired his weapon, though at least one other officer had drawn their firearm.
"During the investigation following the initial incident, Mr. Blake admitted that he had a knife in his possession. DCI agents recovered a knife from the driver's side floorboard of Mr. Blake's vehicle. A search of the vehicle located no additional weapons," the state Department of Justice said.
Law enforcement immediately provided aid to Blake, who was soon airlifted to Froedtert Hospital in Milwaukee, where he remains to this day.
The department's Division of Criminal Investigation is continuing to investigate the incident, along with the FBI, the state patrol, and the Kenosha County Sheriff's Office.
The division is aiming to provide investigative reports to a prosecutor within 30 days. The prosecutor would then decide whether to file charges or not.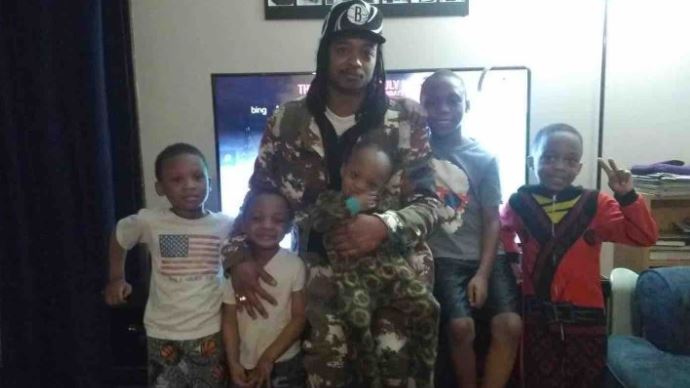 Blake was charged last month with third-degree sexual assault, a felony, and trespassing and domestic abuse, two misdemeanors, last month, according to a criminal complaint obtained by The Epoch Times. A woman who said she was Blake's ex-girlfriend told police he went to her house in Kenosha, broke in, assaulted her, and stole her vehicle and a debit card he later used to withdraw $1,000 from ATMs.
The woman said she and Blake share three children.
An inquiry sent to one of Blake's lawyers wasn't immediately returned.
Benjamin Crump, another attorney for the family, didn't immediately address the disclosure that his client had a weapon.
In a social media post on Wednesday evening, Crump said the Kenosha Police Department has not yet given Blake's family "ANY answers or explanations as to why he was shot."
"Instead, they are trying to justify their UNJUSTIFIABLE actions while he lay in the hospital," he said.
B'Ivory LaMarr, who is helping represent the Blake family, told reporters in a press briefing Tuesday that any officers involved in the shooting should be terminated.
"We're demanding the police department to take swift action. We ask for transparency. We ask for our local and governmental officials to act swiftly to enforce legislation. It's not so much about creating new legislation. It's about enforcing what's on the books now. And that's what we call for. That's what this family wants. And we will not stop until we get it," he said.