Ivanka Trump sent a message to her millions of followers on Friday celebrating the creation of 1 million jobs since her father, President Donald Trump, took office. The first daughter's praise for her father points to just one of a growing number of indicators that signal that President Trump is succeeding.
"Since @realDonaldTrump inauguration, over 1 million net new jobs have been created in the American economy!," she wrote on Twitter. "The unemployment rate has hit a 16-year low of 4.3%."
In fact, with the Dow Jones average at an all-time high, consumer confidence at a 16-year high, illegal border crossings reduced by 60 percent, and the unemployment rate at a 16-year low, the Trump family patriarch has plenty to be praised for.
The president made tremendous progress towards fulfilling his campaign promises since his inauguration on January 20. So far, Trump has either fulfilled or made significant progress on delivering on 46 campaign promises.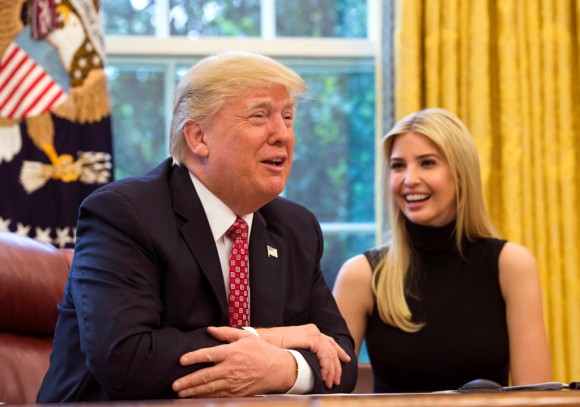 Chief among them is appointing and securing approval for a supreme court justice, Neil Gorsuch. The president also suspended immigration from terror prone countries; began a crackdown on sanctuary cities; revived the Keystone XL pipeline; and abandoned the Trans Pacific Partnership.
On some promises, Trump has over-delivered. He promised to slash two old regulations for each new regulation created. But his administration is cutting red tape so fast that the ratio is actually 16 regulations cut for each one created, with nearly 800 regulations shredded so far.
"Excellent Jobs Numbers just released – and I have only just begun. Many job stifling regulations continue to fall. Movement back to USA!" President Trump tweeted on Friday.
The president also pointed out that Foxconn, a Taiwanese electronics manufacturer, will spend $10 billion on building plants in Wisconsin. Meanwhile, Toyota and Mazda are teaming up to build a $1.6 billion plant in the United States as well.
"Prosperity is coming back to our shores because we're putting American workers and families first," President Trump said in a weekly address on Friday.
"The time for dreaming big, bold, and daring things for our country has begun. When Americans are free to pursue their dreams, there is no limit to what we can achieve."
As the president heads for a working vacation, the week before his departure is representative of his success so far. Trump introduced a historic bill to limit legal immigration that would abandon the existing lottery system and instead emphasize the merits of people coming into the United States. The bill would also prohibit new legal immigrants from applying for welfare in their first five years in the country.
So as the Trump family boarded the Air Force One on Friday, there was plenty to look forward to. Including major savings Trump secured by demanding a better price on the new Air Force One.