Cheryl Wahpoosewyan has not seen her father, Roy, since March. He lives in a care home in Regina, Saskatchewan.
"We usually just talk over the phone. He usually calls me four or five times a day because I'm the oldest out of my siblings," Wahpoosewyan tells The Epoch Times.
"He just says, 'It's me again, being bored. I'm so tired of being cooped up and not able to get out.'"
Roy has been in a care home since a stroke left him partially paralyzed more than 10 years ago.
"In my mind, I've got all kinds of mixed emotions. I miss my family, my grandkids, and my street friends," Roy says. "I feel like this isolation is like I'm in prison."
Roy was disappointed he couldn't join a special family gathering that occurred on Mother's Day, but he understands the reasons.
"For my own safety and for the others that are out there, it's better for me to be isolated," he says.
"But it's very very, very lonely here. It's very very scary. I'm very worried and aware, and I'm scared."
Roy and his daughter are among the many families separated by precautions designed to slow the spread of the coronavirus, which arguably have caused more emotional pain for the sick and elderly than any other sector of society.
The same social distancing that keeps the virus away also prevents physical contact with loved ones, causing heartache—especially for the elderly who feel isolated in care homes.
Jody Faith's 76-year-old mother was in hospital in Medicine Hat, Alberta, with cirrhosis of the liver due to complications from diabetes and medication when the lockdown began. Despite severely ailing health, she pleaded with her family to take her home from the hospital after a recent operation because they would never be allowed to visit.
"My mom's like, 'You have to promise that no matter what happens, they're not going to keep me in here,'" says Faith.
"She just said this over and over. 'I would rather die at home than die alone in the hospital. I don't care that they say that they will be taking better care of me. I can't be alone. I cannot be alone."
Faith's father is taking care of his ailing wife. The couple's names are withheld as they are keeping their situation a secret.
"They're not telling anybody the truth because what if people think they're stupid for not staying in the hospital," Faith says. "There's this whole other side—they don't want the judgment."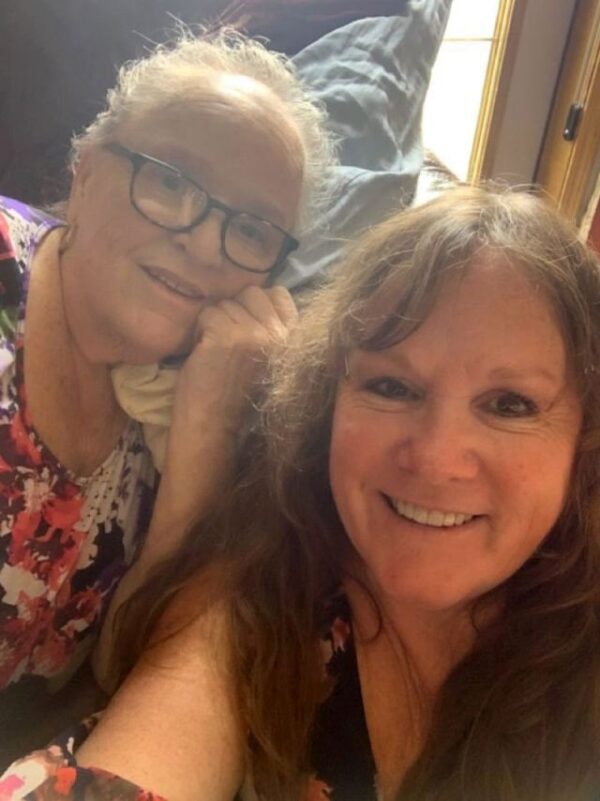 Faith wishes her mom hadn't been forced to choose between hospital care and the presence of her family.
"She can't eat anything, pretty much. She lives on one Ensure in the morning. If she were in the hospital, they probably would at least have an IV or something."
Despite her vulnerability, her mother insisted that Faith and her husband drive from Saskatchewan to visit on Mother's Day.
"My mom says, 'What's the worst that's going to happen. I'm going to die if you come visit me?'" Faith explains. "We didn't stay long because her doctor said we were allowed to have one person per hour. But my mom decided she would rather have us be there and be together than die alone."
In March, as Valerie Exner was leaving a nursing home in Melville, Saskatchewan, following a visit to her mother, Gladys McDade, an administrator told her this would be her last visit due to a policy that had been enacted just 10 minutes prior.
"So that was kind of a slap because we didn't expect that," Exner says.
"We did visit her twice through the window on her birthday. She turned 90. I had a huge party planned for her. I had to cancel everything, so that was hard."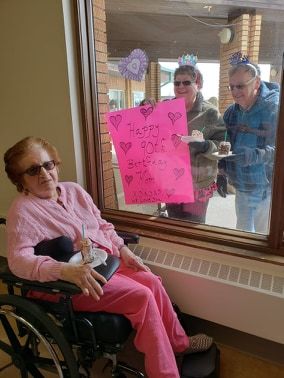 The staff made McDade a cake, which Exner and other relatives ate on styrofoam plates just outside a window of the nursing home, with McDade on the inside. Exner retired after a long career at that very nursing home, but no exception could be made to visit her mother. Melville has less than 5,000 people and no cases of COVID-19.
"I know she doesn't like it. She doesn't grasp, I don't think, the depth of the whole thing," Exner says, adding that separation from family has been tough on her mom, who was "doing better before."
"She started to get very sad. … She's got a sadness about her. It's tough on her. It's hard on us but I think it's even harder on her."
Exner herself is philosophical about the situation brought about by the pandemic and believes it should be used as a learning experience.
"There's a lesson in this for all of us. I think we have to slow down. And I think we need to appreciate each other more than we do. I think we need to think about our family and our friends and our neighbours," she says.
"I don't think God brought this onto us, but He's not removing it because I think we need to learn from this."