The South African government has activated all army reserves and will deploy up to 25,000 troops to quell deadly civil unrest, looting, and rioting across the country.
The country's defense minister, Nosiviwe Mapisa-Nqakula, told Parliament she had "now submitted a request for deployment of about 25,000 members" to South African President Cyril Ramaphosa, according to local media.
Vehicles and helicopters will also be deployed across the country, the minister said.
"We believe that visibility should not just be visibility of warm bodies, it should be visibility of vehicles, helicopters, so that is what we're trying to do," Mapisa-Nqakula told Parliament.
The deployment comes as increases in looting have been reported on July 14 and July 15.
Media photographers saw hundreds of people raiding a warehouse in Durban, South Africa, belonging to the retailer Game, which sells items such as groceries and home appliances. People looted the building, with some driving off with stolen goods in pick-up trucks with covered plate numbers, according to Reuters.
Vandals also trashed a Makro supermarket and shops in the center of Durban. Police were overwhelmed and unable to control the rioters, Reuters reported. Rioters also set fire to a chemical plant close to Umhlanga, a town north of Durban, emergency services said.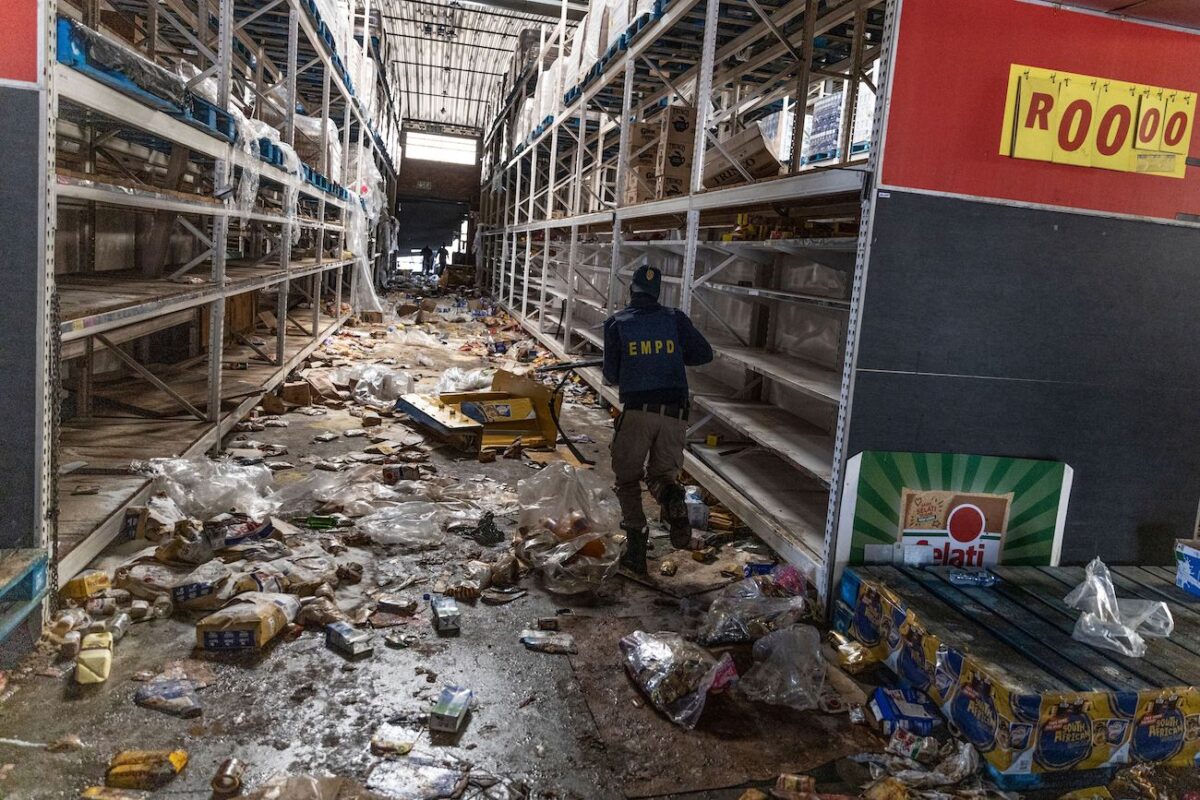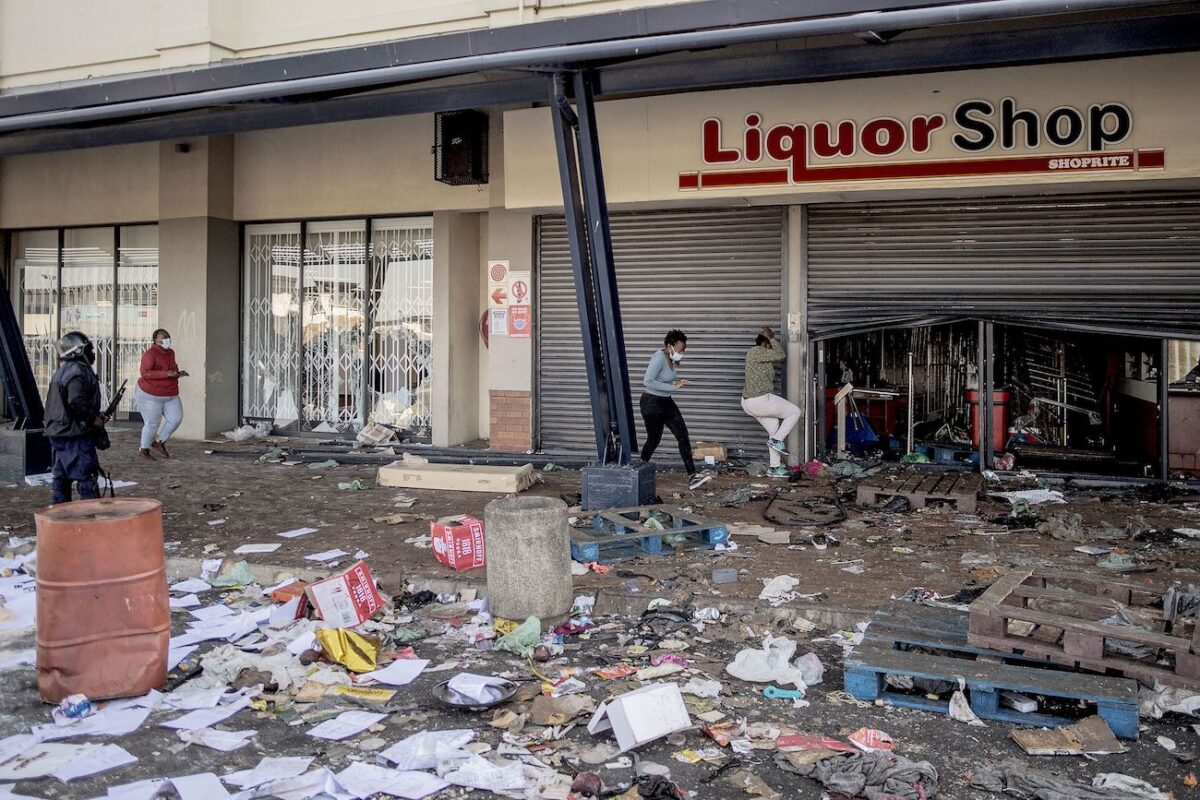 "It is a war zone … towns deserted, shops looted, bodies lying on the road," John Steenhuisen, leader of the main opposition Democratic Alliance, told Financial Times of the situation on the ground. "We have an internal African National Congress battle that has spilled over onto the streets of KwaZulu-Natal … the initiative has been completely lost by the security services. They need urgent reinforcement."
On July 15, reporters with The Associated Press saw more unrest in KwaZulu-Natal in the form of additional attacks on shopping centers, factories, and warehouses. Some buildings were damaged or destroyed by arsonists.
Some local residents have taken the law into their own hands, officials said.
"Lives have been lost. The communities have a stand-off and are in a bad way because it is the Indian community and the neighboring communities, who are African," Minister of Police Bheki Cele said on July 15 in Phoenix, South Africa, where he said 15 people were killed.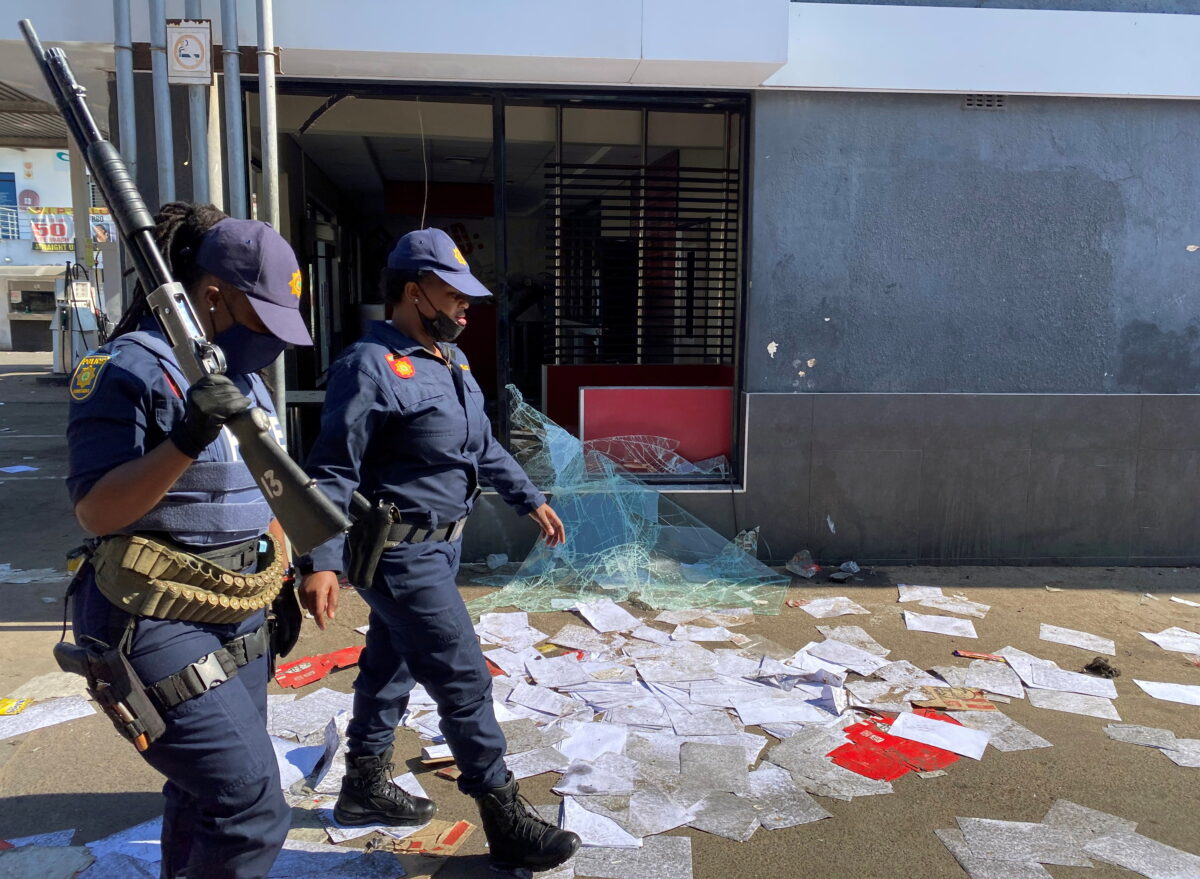 The situation in South Africa might get worse before it gets better.
There were scenes of hundreds of people lining up outside of food stores for hours, and huge lines were seen outside of gas stations. Panic buyers had also cleared out markets in Johannesburg and other cities.
Farmers also said that they're unable to get enough crops to market due to logistical and infrastructural problems. Christo van der Rheede, executive director of the country's largest farmers' organization, AgriSA, said that if law and order aren't restored soon, South Africa is "going to have a massive humanitarian crisis," reported The Guardian.
Mass lootings alongside riots have "seriously compromised our energy security and food security," Bonang Mohale, the chancellor of the University of the Free State, told the paper.
Reuters contributed to this report.