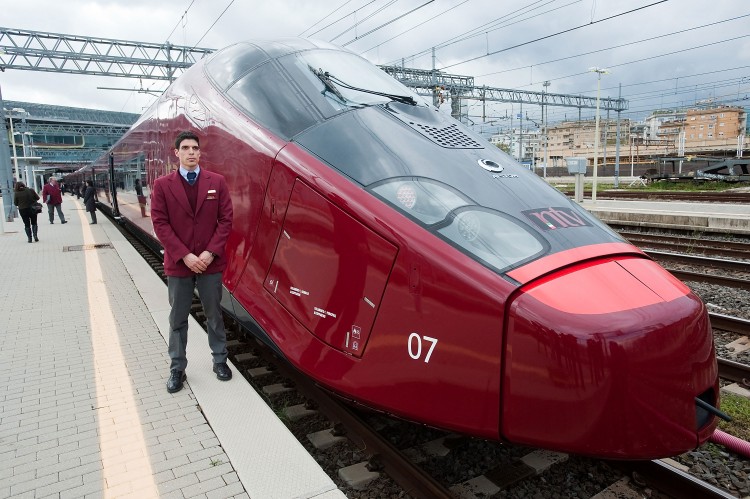 FLORENCE, Italy—Europe's first privately owned, high-speed train is in business. Italo started running on Sunday with its maiden voyage from Naples, Italy.
The dark red, bullet-shaped train with a top speed of a 300 kph (186 mph) will initially service a Milan-Florence-Rome-Naples route and gradually expand. The objective is to shorten the Naples-Rome commute, uniting the two hubs into one big city.
The venture, headed by Ferrari Chairman Luca Cordero di Montezemolo, 64, along with a few private investors, put up 1 billion euros ($1.32 billion) to launch NTV (New Passenger Transport SpA) in 2006, to take aim at Italy's 150-year monopoly by state rail giant Trenitalia.
"Finally, Italian travelers and tourists can choose," Montezemolo stated in a press release.
The Ferrari boss said 7 trains have already been produced out of a total of 25 trains that will be in operation by January 2013. The goal, he said, is to "take a 20–25 percent stake of the market by 2014," and break even the same year. The company hopes to attract 8million–9 million passengers a year by then.
"This is a high-risk venture for us," stated Montezemolo. "We will pay 120 million euros (about $159 million) a year for the use of the tracks," which are managed by Italian Railway Network.
"We have already created more than 1,000 jobs with a 50-50 distribution between men and women. If it doesn't work out, we fail," he said.
The entrepreneur has called Italo's debut "a day that shows we have confidence in our country," adding, "We should be proud of being the first in Europe with a private, high-speed train company.
"We have the best Italian food on board, great films, and a car for relaxing. I have never seen a train like it before."
NTV's intent is to create a niche market with an emphasis on services, including Wi-Fi, cinema, cameras to control luggage security, and competitive prices.
Travelers began booking tickets on April 15, the first day they became available.
At a press conference on Sunday, NTV's CEO Giuseppe Sciarrone commented, "This was an important day for us and I think for the country because, for the first time in Europe, travelers have a choice."
"We are satisfied with the response fueled by the enthusiasm created by Italo's novelty. The first month we estimate a load factor of 30 percent, then we want to accelerate as fast as our trains," he said.
Manufactured by Alstom AGV, a French company that holds the world speed record of 574.8 kph (357.2 mph), Italo is considered the most advanced train in Europe.
The engines are located under the carriages to ensure less noise, better security, and more space, according to the company. It is also being marketed as the greenest carrier in Europe, with 98 percent of the parts of the energy-saving train being recyclable.
NTV hopes to gain a competitive advantage by offering passengers cut-price tickets by booking early or traveling at off-peak times.
Mauro Moretti, the head of Trenitalia, played down talk of a bitter rivalry saying this was "a new, unique challenge … in the interests of our clients," according to a statement.
He said the real challenge will be the Rome-Milan route, where he anticipates a price war will ensue "between all rail operators and the airlines," ultimately benefiting the customers.
The Rome-Milan route is one of the most profitable flights in Europe, thus many airlines will be paying close attention to ongoing developments.
Italo's presence in the railroad industry was partially due to Italian lawmakers' insistence on economic liberalization, which has also prompted the government to establish an independent audit of the Transportation Authority.