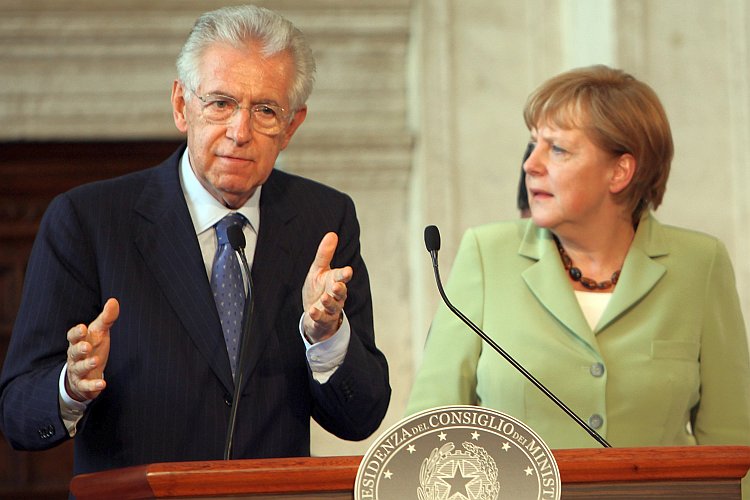 Will Italy be the next eurozone country in trouble to ask for a bailout? After a string of already distributed bailouts—Greece, Ireland, Portugal, and most recently Spain's 100 billion euro ($125 billion) approval—the list of applicants is getting bigger and bigger. On Monday, Cyprus became the fifth member of the eurozone to request rescue funds.
Italy has all the financial indicators to be the next country to get in trouble with its public debt. As of today, it already carries a staggering 2 trillion in euro government debt, the second biggest in the eurozone, just behind Germany.
The big difference with Germany, however, is that the Italian economy has been stagnant for the last decade and its GDP is declining for the third consecutive quarter. Its industrial output has declined 9.2 percent year over year. Many analysts predict that there is also a possibility of a popping property bubble, similar to that in Spain, as Italy's housing sales have dropped by 20 percent year over year.
The only positive factor separating Italy from other laggard countries such as Spain and Greece is that it has had some success in implementing austerity measures. This is one of the reasons why Italy's 10-year bond yield is "only" at 5.78 percent, which shows that investors still have some confidence in Italy. The unemployment rate in Italy is at 10.2 percent, which is lower than the eurozone average of 11 percent.
Italy's banking system seemed to be more stable than Spain's, until last weekend, when the oldest bank in the world and Italy's third biggest bank—Banca Monte dei Paschi di Siena—applied for state help.
Italian Prime Minister Mario Monti, leading a government of technocrats, has been successful in implementing austerity measures since last November when he took office following the resignation of Silvio Berlusconi.
As a result of being effective in cutting public spending and increasing taxes and enforcing strict discipline, he has at the same time become unpopular among the Italian people, who have earned a reputation of living laxly and beyond their means for the last decade.
After introducing a higher property tax, there is still much resistance from people to pay it. "I didn't pay it," said Di Pardo, a lawyer in Milan to Bloomberg, referring to the levy that was the centerpiece of Monti's austerity budget. "I get that we are on the edge of failure and disaster, but you can't keep taking from ordinary people."
"It's not a huge amount [new property tax]," said Dario Castiglia who is the chief executive officer of real estate broker RE/MAX Italia, with about 200 offices in Italy. "It's just that Italians were used to not having any taxes for three years, and also it's hitting home right when we're in the middle of perhaps one of the worst recessions in decades."
At the moment, the rates are set to 0.4 percent of the value of a primary property and 0.76 percent for a second property. So the yearly tax for a property valued at half a million would be about 2,000 euros ($2,500).
It may be argued that this type of mentality is exactly the reason why there is corruption in countries such as Italy, Greece, or Spain. Unfortunately, austerity measures are not the only ingredient in overcoming this financial crisis.
Italy desperately lacks economic stimulus for growth. To address that, last week, the Italian leader held talks with German Chancellor Angela Merkel, French President François Hollande, and Spain's Prime Minister, Mariano Rajoy. The goal of the meeting was to address the future of the euro currency and find ways to prevent further economic disintegration.
As part of the talks, the leaders agreed to lobby their eurozone partners to support a 130 billion euro ($162.5 billion) growth package, but failed to reach a consensus on whether the bloc should issue common eurobonds.
"To emerge in good shape from this crisis of the eurozone and the European economy, ever more integration is needed," said Mario Monti. If leaders failed to resolve the problems quickly, "public opinion, but also that of the governments and parliament … will turn against that greater integration," he added.
Mario Monti is a strong supporter of eurobonds and consolidation of Europe's debt into one package. He faces most resistance from Germany, who is set on strict austerity measures and doesn't favor eurobonds, as it would mean that German taxpayers' money would flow directly to the laggard countries and Angela Merkel would face very strong opposition from people and banks in Germany.
However, even Merkel has slowly started to loosen her position on rejecting growth packages. "We say that growth and solid financials are two sides of a coin. Solid financials are not sufficient," Merkel said.
The Epoch Times publishes in 35 countries and in 19 languages. Subscribe to our e-newsletter.