Health authorities in Italy said Thursday that 760 people died of the CCP virus in the past 24 hours, as some authorities have warned that the country's death toll might be even higher than reported.
Another 4,668 cases of the virus were confirmed Thursday, said Italy's Civil Protection department in an update. So far more, than 115,000 cases of the virus and 13,915 deaths have been confirmed, according to ANSA.
"The number of people being hospitalized has decreased," said Angelo Borrelli, the head of the Civil Protection agency. He added that "61 percent of the total infected people" have no symptoms or have mild symptoms.
Borrelli said earlier this week that Chinese Communist Party (CCP) virus infection rates in some parts of Italy have reached their peak but said southern Italy is still at risk.
"It would be a mistake to let our guard down now," he said, referring to a nationwide lockdown that was implemented in early March. The government extended Italy's lockdown to April 13, The Local reported.
"If we started to loosen the measures, all of our efforts would have been in vain and we would pay a very high price," Prime Minister Giuseppe Conte said on Wednesday.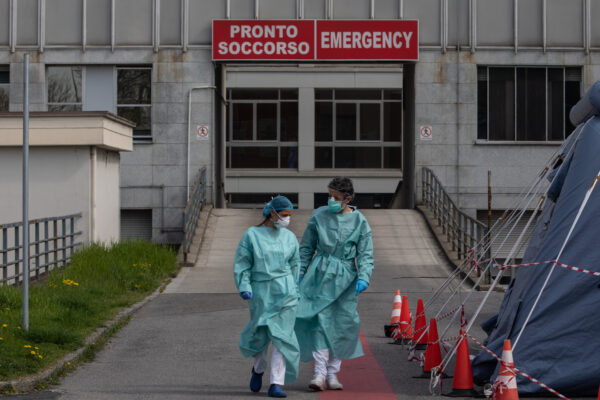 In his address, Conte said he is not sure when the lockdown might end.
"The moment the data is consolidated and the experts give their response, we'll be able to identify an end date. But I can't give it today," he said.
Higher Than Reported?
However, some officials said that many more people have died in Italy than what is recorded by the government in daily updates.
"There are many more dead than are officially declared. But this is not a j'accuse. People died and they were never tested because time and resources are limited," Eugenio Fossati, deputy mayor of Coccaglio, told the Wall Street Journal on Wednesday. "We know the real number is higher, and we mourn them, knowing full well why they died," he continued. "It's a hard truth to accept."
And Bergamo Mayor Giorgio Gori wrote on social media that the death toll may be twice as high.
"I fear that the real figure is higher," he said this week.
Medical professionals have said that the healthcare system around hard-hit Lombardy is so overwhelmed that doctors cannot treat all CCP virus patients. Many who have died outside of hospital care typically are not tested for the virus.
"They are not receiving postmortem tests," Eleonora Colombi, a family doctor based near Brescia, told the Journal. "Many of those who die and aren't tested are old, but you normally don't have so many people all dying at the same time. It's corona."
She added that in some cases, an "ambulance won't come if you are 94 years old and there are 50 other people waiting."
High Health Institute president Silvio Brusaferro, who has been giving updates daily, stated on Tuesday that he believes the real figure is greater. They don't include people who died at home, in nursing homes, or people who died from the virus and weren't tested.
"It is plausible that deaths are underestimated," he said. "We report deaths that are signaled with a positive swab. Many other deaths are not tested with a swab."