Italy reported a further 349 coronavirus deaths on Monday, bringing the country's total to 2,158, an increase of 19.3 percent. It came after the country reported 368 deaths on Sunday—its largest spike in one day so far.
The youngest victims from Monday's death toll included two individuals with underlying health conditions aged 39, while the oldest was 95, The Guardian reported.
The total number of cases in Italy, which continues to be the worst-affected nation outside of China, rose to 27,980 from a previous 24,747, up 13 percent. The figure indicated the slowest rate of increase in confirmed cases of the novel coronavirus since the contagion first came to light in Italy on Feb. 21.
"Let's hope it is the start of a trend reversal. I am saying it in a whisper, this could be the start of a trend reversal," said Attilio Fontana, the governor of Italy's worst affected region, Lombardy.
The Civil Protection Agency, however, said on Monday it had not yet received data from the southern region of Puglia and the northern province of Trento.
Of those originally infected, 2,749 had fully recovered compared to 2,335 the day before. Some 1,851 people were in intensive care against a previous 1,672.
Fontana said on Sunday that as numbers have continued to grow, the heavily hit region is close to running out of intensive care beds.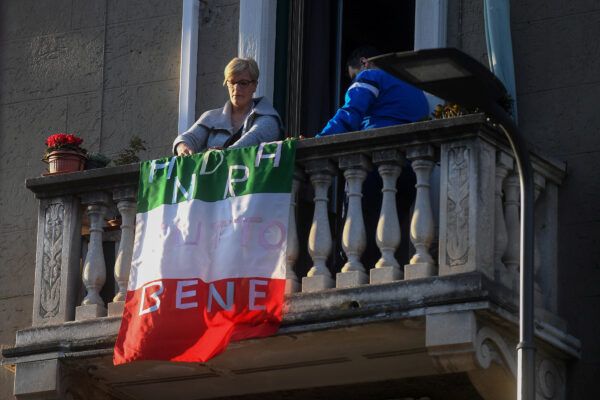 The country has been on lockdown over the pandemic since March 9. Around 60 million residents have been told to stay at home and most businesses have been closed. All schools, sporting events, and other venues have been shut down.
Italy's prime minister Giuseppe Conte stressed that masks and other medical equipment are desperately needed to combat the coronavirus, which emerged in Wuhan, China, late last year before it spread to every continent other than Antarctica. 
"The export of masks, suits, and face shields from Germany and France has been unblocked," Conte said.
According to Marco Resta, deputy head of Policlinico San Donato's Intensive Care Unit, around half of those with COVID-19—the disease caused by the novel coronavirus—who are accepted into intensive care units in the country are dying, compared with a usual mortality rate of 12 to 16 percent in such units nationwide.
The average age of those killed by COVID-19 is 80.3, with the majority diagnosed with underlying health conditions, Silvio Brusaferro, the president of Italy's Higher Institute of Health, said last week.
Jack Phillips and Reuters contributed to this report.