A restaurant in Rome, Italy, attracted a number of online complaints after it allegedly charged several tourists nearly $500 for fish.
Minh Ngoc Bui, who is Vietnamese and lives in Germany, claimed she was ripped off, according to CNN.
The incident allegedly took place at the Antico Caffe di Marte near Castel Sant'Angelo in the city's center.
She said she was charged 6.5 euros ($7) per 100 grams for "seafood—mixed fish" on Aug. 27
"We agreed because It would be not a big deal to pay 6.5 euros extra to try a recommendation dish," Minh said. "But they brought us only one plate of mixed fish around 2 kg (4 pounds)."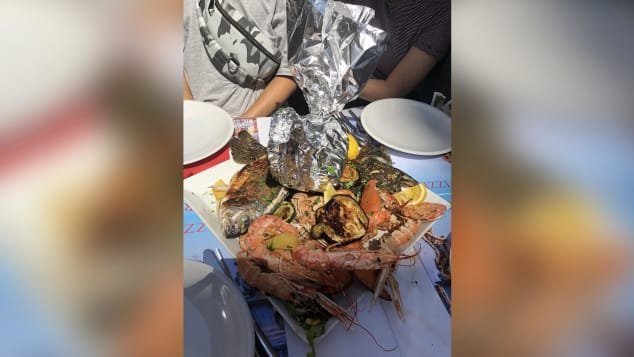 "We were kind of surprised when we saw this dish because we didn't expect '100 grams fish' would be this big. But it was our last day in Italy so we told ourselves it was OK. It's around 2 kg of fish so I agreed to pay around €130-150 for this dish of fish. We don't want to have more drama in Italy," she added.
Minh said that when a friend asked for the bill, he was asked to pay about $345 for 4.8 kg (10 pounds) of mixed fish. They were charged, in all, 476.40 euros ($521) for the meal. She didn't say what else they bought.
"He complained that this could not be this much and he doesn't agree to pay this much for the service and tip, they did not announce clearly about this rule on the menu. But they told him that the service and tip were the rules and we really ate that much," she said. "He tried to complain but they forced him to pay. So he paid by himself."
Minh said they should go back to the restaurant to complain after she learned of the bill.
"When we returned, I asked the man who served us to put 4.8 kg of mixed seafood on that plate. Because I firmly believe that it is impossible and they cannot do it. And just like I thought, they couldn't do it and refused to do it with the excuse that they didn't have time," Minh told the network.
Another Incident
Two Japanese tourists also claimed they were ripped off at the same restaurant and were charged 429.80 euros, including 349.80 euros ($382) for the spaghetti, fish, and two glasses of water. They also claimed they were charged 80 euros ($87) for a service charge, reported The Independent.
They uploaded a photo of the bill and left a scathing review on TripAdvisor, which went viral.
TripAdvisor suspended the restaurant's review page and said, "Due to a recent event that has attracted media attention and has caused an influx of review submissions that do not describe a first-hand experience, we have temporarily suspended publishing new reviews for this listing."
It added, "If you've had a firsthand experience at this property, please check back soon – we're looking forward to receiving your review!"
The owners said that their "menu is clear … the reason they (the Japanese tourists) paid that price is because they not only ordered the spaghetti but also the fish that was fresh," The Local reported.
But Claudio Pica, head of the Italian Federation of Public and Tourist Traders, told the Independent that it's a "very serious" incident.
"It greatly damages the image of Rome's restaurateurs," she said. "We ask that Rome's police and tourist police intervene and make them pay a high penalty such as losing their license or face criminal charges."