Israel's Prime Minister Benjamin Netanyahu said a secret site used by Iran to conduct "experiments to develop nuclear weapons" was wiped off the map to cover up Teheran's attempts to acquire a nuclear bomb in violation of international treaties.
Netanyahu said in a press conference on Monday, Sept. 9, that a group of buildings hidden in the hills outside of the city of Abadeh had been discovered using information gathered in a trove of documents Israeli agents had stolen from an Iranian warehouse.
"Today, we're revealing that yet another secret nuclear site was exposed in the archives that we brought from Tehran. In this site, Iran conducted experiments to develop nuclear weapons," Netanyahu said.
"When Iran realized that we uncovered this site, here's what they did," the Israeli PM said, pointing a laser at the screen and adding, "they destroyed the site. They just wiped it out."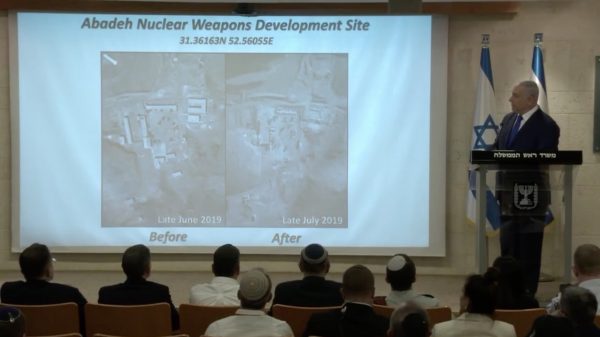 Prior to discussing the Abadeh site, the PM noted that Iran had earlier—in a similar fashion—wiped out a "secret nuclear warehouse."
"A year and a half ago we exposed Iran's secret nuclear archive, which revealed that Iran was developing five nuclear warheads as early as 2003."
"Last year we exposed Iran's secret nuclear warehouse in Turkazaba, which Iran used for storing vehicles and equipment for its secret nuclear program."
The PM showed a projected satellite image of what is claimed to be the Turquzabad site, with an arrow pointing to part of the image and the caption "gravel cover."
"Iran knew we were onto them and so they cleared the site. They cleared it of these capacities. They cleared it and then actually covered up the site," Netanyahu said. "They put gravel on it to try and hide their traces, but they didn't. The IAEA [The International Atomic Energy Agency] found traces of uranium that Iran had in these sites."
Netanyahu said the presence of uranium constituted a direct violation of the Non-Proliferation Treaty.
Iran had yet to explain the traces of uranium at that site, though it denies ever having sought a nuclear weapon.
WATCH LIVE: Prime Minister Benjamin Netanyahu's statement regarding the Iranian nuclear program.
https://t.co/SjhlgTn2sE

— PM of Israel (@IsraeliPM) September 9, 2019
"This is what I have to say to the tyrants of Teheran," Netanyahu said. "Israel knows what you're doing, Israel knows when you're doing it, and Israel knows where you're doing it."
He said Israeli intelligence would continue to expose what he called a "consistent pattern of Iranian lies, deception and violations."
Netanyahu then appealed to the international community to "join President Trump's sanctions to exert more pressure on Iran."
"The only way to stop Iran's march to the bomb and its ambition in the region is pressure, pressure, and more pressure."
Netanyahu, who strongly opposed a 2015 nuclear deal between Iran and world powers, made the remarks in a televised speech about a week before a general election in Israel in which he is in a tight race to win another term.
Iran Claims Israel Seeks War
In response to Netanyahu's expose, Iranian Foreign Minister Mohammad Javad Zarif said in a statement on Twitter that Israel is "crying wolf" and seeking "innocent blood."
"The possessor of REAL nukes cries wolf—on an ALLEGED 'demolished' site in Iran," he wrote on Twitter.
"He & #B_Team just want a war, no matter innocent blood & another $7 TRILLION," he added. According to the Times of Israel, the shorthand in the statement refers to Netanyahu, US National Security Adviser John Bolton, Saudi crown prince Mohammed Bin Salman, and Abu Dhabi crown prince Mohammed Bin Zayed.
Netanyahu's reveal was the latest in a series of statements he has made using Israeli intelligence to accuse Iran of continuing to seek a nuclear weapon, urging the deal's remaining signatories to leave the landmark pact.
The US left the agreement last year, putting sanctions back in place. Iran has increased enrichment activity in response as it pushes for Europe to bypass the US penalties.
Reuters contributed to this report.