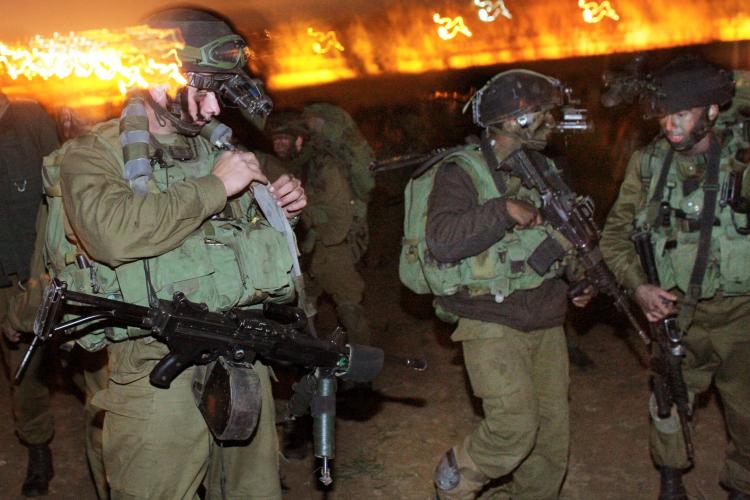 TEL AVIV—On Saturday evening, Israeli troops began to enter the Gaza Strip, in what is referred to as the second stage of Operation Cast Lead. Israeli Defense Force (IDF) explained that the purpose of the operation is to destroy the terrorist infrastructure of Hamas in Gaza and take control of the rocket-launching areas, from which hundreds of rockets have been fired at Israeli civilian targets.
Palestinian sources announced that three Palestinians have died, and many more have been injured since the beginning of the ground assault.
According to Arab media, Israeli forces are approaching Gaza City from three directions. Gunfight and bombing can be heard from the Israel-Gaza border. Electricity mains in parts of Gaza have been hit, and large parts of Gaza are reportedly in the darkness. IDF troops are seeking out and occupying rocket-launching areas.
In Israel, thousands of reserve soldiers have been called up. Israeli Defence Minister Ehud Barak said in a media statement Saturday evening, "We desire peace, and we have held ourselves back for a long time, but it is now time to do what we ought to, and to give our citizens what every citizen in the world deserve—peace and calmness, and to remove future threats as much as possible."
Barak said that the expanded campaign would not be quick nor easy, but it was necessary. He realized and accepted that there would be casualties, and that the residents of southern Israel might suffer difficult days.
IDF spokesman Avi Benayahu said that it was expected that rocket attacks on Israel's southern cities would increase in the following days, but that the operation was unavoidable. He also stated that the IDF forces are highly trained and well prepared.
Mr. Benayahu said that the ground operation would proceed until its objectives were achieved, despite some experts and commentators claiming that the ground operation would be limited to only a few days.
Another aim of the attack, as stated by IDF, is to increase the deterrent strength of IDF in order to bring about an improved and more stable security situation for the residents of southern Israel in the long term.
A large number of IDF forces are taking part in this stage of the operation, including infantry, tanks, engineering forces, artillery and intelligence, along with the support of the Israeli Air Force, Israeli Navy, Israeli Security Agency and others.
Defence Minister Barak also mentioned the north border, which he called 'sensitive': "We do not have intentions of confrontations there. We hope that the northern front will stay calm, but we are prepared and alert for any possibility."