The prime minister of Israel responded to anti-semitic tropes from Rep. Ilhan Omar (D-Minn.), who drew backlash for suggesting political support for the Middle Eastern country was "all about the Benjamins."
Speaking from Israel via satellite, Prime Minister Benjamin Netanyahu said, "From this Benjamin, it's not about the Benjamins!" His remarks were made during the American Israel Public Affairs Committee (AIPAC) conference in Washington on March 26.
He added that the reason why Americans love Israel is not that they want our money but because that "they share our values."
"It's because America and Israel share a love of freedom and democracy," Netanyahu explained. "It's because we cherish individual rights and the rule of law."
"We don't judge people by the color of their skin, their religion, or their sexual orientation," he added.
Omar was quick to respond to the Israeli prime minister, saying: "This from a man facing indictments for bribery and other crimes in three separate public corruption affairs."
🤔 This from a man facing indictments for bribery and other crimes in three separate public corruption affairs.

Next! https://t.co/BX6qLpISKx

— Ilhan Omar (@IlhanMN) March 26, 2019
The Democratic congresswoman was referring to allegations that surfaced last year, which accused the prime minister with bribery, fraud, and breach of trust, claims Netanyahu described as baseless.
Omar's anti-semitic comments in February received bipartisan condemnation and the congresswoman subsequently apologized for her comments. Earlier this month, the House passed a watered-down resolution that was meant to censure Omar's comments. The resolution (pdf), approved by a vote of 407–23, was expanded to include other forms of bias but does not include Omar's name.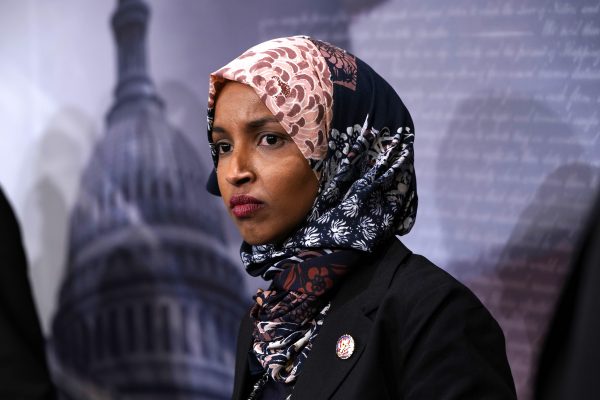 Moreover, she also received criticism for a 2012 post where she wrote: "Israel has hypnotized the world, may Allah awaken the people and help them see the evil doings of Israel."
Omar sparked a fresh uproar in late February when she accused some politicians in Washington who supported Israel as having dual loyalty. These comments even earned praise from former Ku Klux Klan leader David Duke.
Dr Duke & Eric Striker: By Defiance to Z.O.G. Ilhan Omar is NOW the most important Member of the US Congress! https://t.co/R4d4X81xdv pic.twitter.com/C083V57VQp

— David Duke (@DrDavidDuke) March 7, 2019
"I want to talk about the political influence in this country that says it is OK for people to push for allegiance to a foreign country," Omar said. "I want to ask why is it OK for me to talk about the influence of the NRA, of fossil fuel industries, or big pharma, and not talk about a powerful lobby that is influencing policy."
Along with Netanyahu, Senate Majority Leader Mitch McConnell (R-Ky.) also made remarks on Omar's comments. He said, "for many years, such slurs and tropes were limited to the fringes," reported NBC News.
Israeli PM Netanyahu to US Rep. Omar: "From this Benjamin, it's not about the Benjamins!"

由 NBC News 发布于 2019年3月26日周二
"Sadly, they've recently received new prominence, having been repeated and retweeted by a sitting member of Congress," he said without directly identifying the congresswoman.
He also criticized several Democratic presidential candidates who did not attend the conference after a liberal group MoveOn.org called on the candidates to boycott the event.
"I'm troubled that many of the declared Democratic presidential candidates seem to be avoiding this very gathering," McConnell said, reported the news station.
"Apparently, because political partisans who have leveled scurrilous charges against this organization have warned they will be keeping watch, and they will be taking names," he added.
According to the Associated Press, Sen. Elizabeth Warren (D-Mass.), Sen. Bernie Sanders (D-Vt.), former U.S. Rep. Beto O'Rourke of Texas, Sen. Kamala Harris (D-Calif.), and Sen. Kirsten Gillibrand (D-N.Y) and other did not attend the conference.
Reaching out to all of the major Dem presidential primary candidates to find out if they'll be at AIPAC this uear

— Shira Hanau (@shirahanau) March 14, 2019
President Donald Trump has spoken out against Omar and the Democratic party on numerous occasions. He told reporters in February that her comments were terrible and that he didn't "think her apology was adequate." He added that "she should be ashamed of herself," reported The Hill.
On March 8, a day after the House resolution was passed without Omar's name, the president criticized the Democrats calling them an "anti-Israel party."
He said, "I thought yesterday's vote by the House was disgraceful because it's become—the Democrats have become an anti-Israel party. They've become an anti-Jewish party. And I thought that vote was a disgrace and so does everybody else if you get an honest answer."