Island Community in Uproar Over Logging in Watershed
February 24, 2009 7:56 pm Last Updated: February 24, 2009 8:05 pm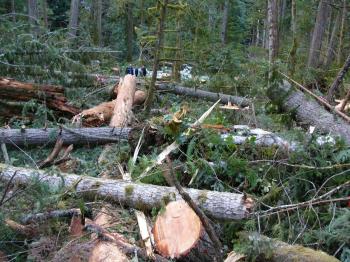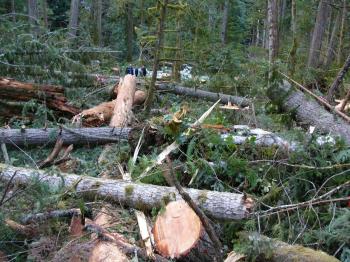 A serene Sunday afternoon hike through what was—until very recently—pristine forest turned into a life-threatening situation for four residents of a Vancouver Island community.
Two local filmmakers, a city councillor and his eight-year-old son had to run for their lives when a Skycrane helicopter appeared suddenly and began removing massive 500-year-old trees from right where the group had been hiking on a small island.
"It was pretty scary. People could have been killed for sure. They hadn't really marked off the trails or given any warning to the public," said environmentalist and documentary filmmaker Richard Boyce, who had to dive for cover amid flying branches and debris generated by the intense downdraft from the helicopter blades.
Councillor Chris Berger called 9-1-1 to get a message relayed to logging company Island Timberlands that people were in danger, and the helicopter left10 minutes later. Owned by Island Timberlands, the island is just one kilometre from the boundary of Englishman River Falls Provincial Park.
Boyce had taken city councillor Chris Berger to the island in the Englishman River to show him how logging is affecting the drinking water supply for the nearby city of Parksville and the surrounding region.
Locals are concerned about logging activities in the area, not only because of the rapidly disappearing old-growth Coast Douglas-fir but also because of risks to drinking water and efforts to restore salmon habitat in the Englishman River.
Over two million provincial and federal dollars—and much local effort—have been spent to rehabilitate the Englishman, which up until last year was designated one of the most endangered rivers in British Columbia.
"The company is claiming they're only taking 20 trees from the island, but the bigger picture is that the watershed has very little old growth left, and what is left they're cutting it down," said Boyce.

Only one percent of the entire Douglas-fir ecosystem remains today, making it the most endangered forest ecosystem in Canada. Because it is located in sensitive areas, this one percent has historically been left alone by logging companies—until now.
"They didn't log those areas in the past but today they have no scruples—they're just logging them anyway," Boyce said. In all, 47 trees between the ages of 150 and 550 were cut on the one-hectare island.
"With the zillion trees available for sensible harvest you can't help but wonder why, for the few dollars involved, Island Timberlands would take trees away from a very sensitive spot …" said city councillor Barry Avis.
In order to log the largest and healthiest old growth, surrounding "habitat trees" must be cut down. Worthless to the logging companies, habitat trees are trees that have died but remain standing, often for hundreds of years. Though rotting inside, they become an invaluable source of food and shelter for small animal, bat, bird, and insect life.
"That's the sad thing about the habitat trees that we lost on that island," says Annette Tanner, chairperson of the mid-Island chapter of Western Canada Wilderness Committee (WCWC).
"There were 500-year-old habitat trees that are now lying on the ground. They were providing such an important function because there is so little old-growth habitat left in the area. It's just incredible what a habitat tree does when it reaches that point in its life."
A fight is also underway to protect Vancouver Island's Cathedral Grove, the country's most famous old-growth forest within MacMillan Provincial Park, visited each year by millions of tourists. Island Timberlands logged Douglas-firs and red cedars from the perimeter of the park in the fall of 2008 and has plans for further logging the area in the future.
While the company claims it will leave a 300-metre buffer between its clear cut and the park boundary, locals are worried more logging will expose the grove to flooding and "blow-down."
"The community is outraged and we're asking for a stop to the logging in Cathedral Grove," said Tanner, adding that a new group has been formed to "get involved with the decision makers" to see what can be done to save what's left of the grove.
"Those trees in the park are not going to survive the vast visitor use and all the impacts that are done upstream if we don't stop it now—it's been over-logged."
What visitors don't see on a pleasant drive through the grove is the "total devastation" on the other side of the mountain, said Tanner.
"It's just wasted, wasted forest all over the ground. They don't even pick stuff up. They just grab those big old money trees and leave the rest."
Vancouver Island's diverse forests include the world's largest Douglas-fir (the Red Creek Fir) and western red cedar (the Cheewhat Cedar). There are towering red cedar and Douglas-fir trees in Cameron River Canyon on the east side of the island that are thought to be between 800 and 1,000 years old.
Only 110 hectares of Douglas-fir forest on the east coast of Vancouver Island have been protected, while just two percent have been set aside as federal, provincial and regional parks.
Last November, WCWC called on the government to end old-growth logging on Vancouver Island and the Lower Mainland in regions where the trees are most scarce. For other forests, the committee wants old-growth logging phased out completely by 2015.
South of the border, old-growth forests are also facing increasing pressure from logging and development, said Jonathan Jelen, old growth campaigner with Oregon Wild, a Portland-based environmental organization.
"We do not have adequate protection for our old growth here in Oregon, in Washington, or Northern California, where, with the Pacific Northwest, those are the forests that most closely mimic a lot of the old-growth that you all have in Canada."
Jelen said there is only an estimated 10 percent of old-growth left in the U.S. Northwest. Oregon Wild is currently fighting a rule pushed through in the last days of the Bush administration that increases old-growth logging by 300 percent in parts of Oregon.
"Old-growth logging is still very controversial … there is more and more consensus amongst folks that old growth should be just taken completely off the table—that we just should not be logging it any more," he said.
With these ancient trees so close to extinction on the west coast of both countries, environmentalists say that if they disappear, salmon, spotted owl, and a host of other species will be unable to survive. The ability of old growth to cleanse rivers and streams and stabilize soil will also be lost.
Meanwhile, in an effort to protect both salmon and drinking water, Parksville city council has passed a special resolution demanding that the provincial government put a stop to logging on Englishman River. A similar resolution will be taken to the Council of B.C. Municipalities in hopes that municipalities across the province will adopt a policy preventing logging in river beds and watersheds.
"The government has a responsibility to its citizens to protect the watersheds," said Boyce. "They plan to do a lot more logging along the banks of this river. Hopefully we can stop that by getting the government to intervene … The government sooner or later has to start listening."