Islamists Seek Ban on Laughter and Tears, Says Xinjiang Governor
April 8, 2014 2:58 pm Last Updated: April 8, 2014 11:17 pm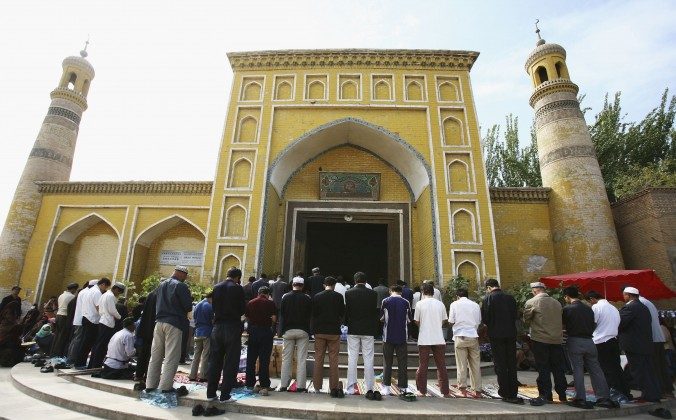 "Extreme Islamists" want to ban laughter and weddings and tears at funerals, warns the communist governor of China's western province of Xinjiang, vowing to root out what he calls religious extremism.
"They … push the banning of watching television, listen to the radio, reading newspapers, singing and dancing, not allowing laughter at weddings nor crying at funerals," governor Nur Bekri said in a Xinjiang newspaper. "They force men to grow beards and women to wear the burkha," Reuters quoted him saying. 
In an article in Monday's edition of the Xinjiang Daily, governor Bekri attacked Islamist influences, saying that recent violent incidents in the troubled region were fueled by religious extremism. 
Bekri accused Islamists of taking advantage of peoples' religious faith to push a theocracy. Calling the Islamists terrorists, separatists and religious extremists, he charged that they are attempting to sabotage the area's stability and prosperity, said state media Peoples' Daily.
Experts have said that Communist Party accusations of this sort are difficult to take seriously, and serve mostly to distract from the Party's heavy repression of Uyghurs' religion and customs, along with economic discrimination. Unfair policies by the Chinese state are what has led to the sometimes violent reactions of the Uyghurs, and the growing evidences of stricter religious practices in the formerly moderate Muslim Xinjiang, say defenders.
Frequently, the official reports of violent incidents in Xinjiang which are blamed on Uyghur separatist elements or terrorists are scant in evidence, and given with conflicting accounts.
Respected Uyghur scholar and writer Ilham Tohti, who was awarded the 2014 PEN/Barbara Goldsmith Freedom to Write Award this month, was arrested in January. Tohti had challenged the official versions of several incidents, including last year's suicide attack in Tiananmen Square by pointing out inconsistencies in the accounts, and had openly criticized the repressive tactics of the Communist Party in Xinjiang.
Chinese Media Campaign Targets 'Religious Extremism' in Xinjiang
https://www.theepochtimes.com/n3/395048-chinese-media-campaign-targets-religious-extremism-in-xinjiang/
China Police Break Up Uyghur Celebration, Shooting Four Dead
https://www.theepochtimes.com/n3/242294-china-police-break-up-uyghur-celebration-shooting-four-dead/
China Blames Extremists for Xinjiang Violence With Sketchy Report
https://www.theepochtimes.com/n3/515882-china-blames-extremists-for-xinjiang-violence-with-sketchy-report/
Chinese Authorities Suppress the Uyghur People's Religious Practice
https://www.theepochtimes.com/n2/china-news/china-suppres-uyghur-3580.html
Communist Regime Bans People Under 18 From Attending Mosques in Xinjiang, China
https://www.theepochtimes.com/news/6-2-13/38075.html