An ISIS terrorist who was seen beheading a foreigner in 2016 reportedly died in Syria amid a battle with U.S.-backed forces.
Muhammad Saifuddin, also known as Abu Walid and Mohammed Karim Yusop Faiz, was confirmed dead by police and family members this week, reported the Daily Mail. He originally hailed from Indonesia.
Saifuddin was killed in eastern Deir Ezzor province in Syria, where a coalition of forces is trying to take back the last ISIS-held area in the country.
"Abu Walid (Saifuddin) was a veteran terrorist. In Syria, he was known as an executioner and he has influence and a big role among Indonesian militants in Syria. We hope the death of Abu Walid will demoralize militants in Syria and at home," Indonesian National Police spokesman Dedi Prasetyo said, according to The Australian newspaper.
He added: "He was killed by shrapnel from a Syrian forces tank in the battle."
Muinudinillah Basri, his brother, said the family learned of his death via an instant messaging app, saying, "There was a photo of his body and I can recognize it," the Mail reported.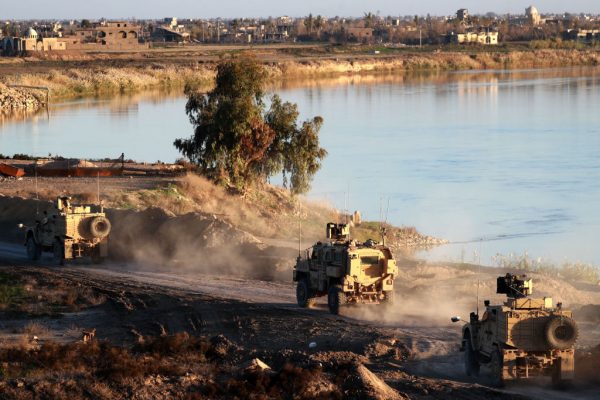 His family said they haven't heard from him since he went to Syria to join the terrorist group.
The 40-year-old Saifuddin was also a recruiter for ISIS and appeared in videos for the terrorist organization.
In one video, he is seen with two other terrorists killing three prisoners who were clad in orange jumpsuits. The prisoners were forced to kneel before they were killed.
Indonesian ISIS 'executioner' killed by shrapnel in Syria, police say: The U.S. had placed Muhammad Saifuddin on a special global counter-terrorism list last August https://t.co/NJsMSYC1MK Haaretz pic.twitter.com/E0ap7GThDN

— Jewish Community (@JComm_NewsFeeds) February 12, 2019
Saifuddin, Malaysian national Mohammad Rafi Udin, and Filipino national Mohammed Reza Lahaman Kiram were designated by the U.S. State Department as global terrorists.
Saifuddin was also believed to be a friend of terror leader Sofyan Tsauri, who was affiliated with al-Qaeda terrorists responsible for the 2002 Bali bombings that killed 88 people. Saifuddin also was said to be trusted by ISIS leader Abu Bakr al-Baghdadi.
"Since long ago he had aspired to go international," Tsauri told the Mail. "He had a convincing track record that gained trust and an important position in ISIS."
At one point, Saifuddin was arrested by Filipino officials for trying to smuggle weapons and bombs into Indonesia, The Australian reported.
2) Abu Walid featured in Furat Media's "Be United, Not Divided" in March 2016 & in #ISIS Philippines division's "The Solid Structure" on June 21 2016. He was killed Jan 23 via a bullet to chest, acc to supporters (Tho police say via shrapnel on 29th) https://t.co/mNdMwJa7N8 pic.twitter.com/iMA51LwtBx

— Rita Katz (@Rita_Katz) February 12, 2019
His death, according to terrorism analyst Adhe Bhakti, should serve as a major blow to ISIS and Indonesian terrorists.
"Indonesian fighters in Syria have lost one of their last remaining figureheads and for aspiring jihadists back home, they lost a key recruiter and a role model," Bhakti told The Australian.
"They are starting to feel the heat at home. They are closely monitored both online and off, hampering their ability to get together and plot an attack and were thinking about going to Syria," Bakhti said. "But Abu Walid's death means they have lost another channel to get to Syria and it makes them think twice about going. His death will seriously demoralize them."