The parents of Kayla Mueller, who was held captive by the ISIS terrorist group, believe she might still be alive, albeit the chances are slim.
Kayla's parents, Carl and Martha Mueller, said that after ISIS leader Abu Bakr al-Baghdadi's death, they spoke to President Donald Trump, telling him about their "1 percent chance" theory.
"I was able to tell him our 1 percent chance that Kayla's still alive and why we feel that 1 percent chance is still there," Carl told "Today." "And he said, 'I hadn't heard that. I'll look into that Monday.'"
Mueller, a humanitarian worker from Arizona, was captured while she was leaving an Aleppo, Syria-based hospital in 2013 during the midst of the Syrian civil war. Her parents have suspected that she was tortured and assaulted by al-Baghdadi himself before she died about two years later.
Her body was never recovered, and her parents said that ISIS members sent photos of Mueller to her.
But the Muellers told the morning show that people had said the purported photos might be faked.
Carl stated: "So, the only thing they based Kayla's death on was: One, ISIS said she was dead. We got the email. Two, the three photographs. That's it, and we've had those photographs looked at by other people. They're not so sure. And they would make the hostages do those photos, those death photos."
And he said that another captive told him that she was tortured while in captivity.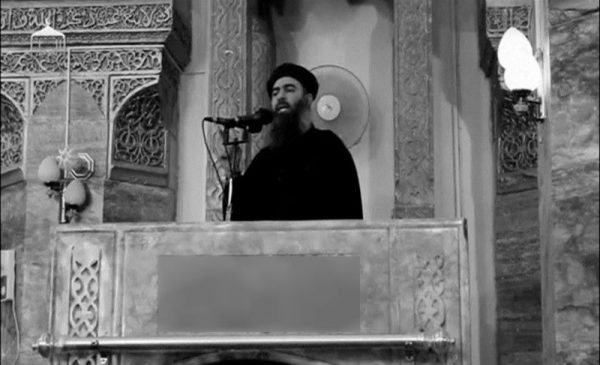 "One of the Yazidi girls that escaped, she said when [Kayla] would come back from that she would go to her bed and just get under the covers and cry," Carl said.
Over the weekend, Carl said that the operation to kill al-Baghdadi in northern Syria—confirmed on Sunday by President Trump—was named after Kayla.
"Well, it's a roller coaster of emotions whenever this ugly situation raises its head, but it's become part of our life over the last five and a half years," he told CNN after Trump made the announcement.
They also praised and thanked Trump as well as the U.S. military.
"We were deeply touched by what he said. We were grateful that they didn't mess around and went right in," Marsha Mueller said.
Meanwhile, Marsha criticized how former President Barack Obama handled the situation.
"I still say Kayla should be here, and if Obama had been as decisive as President Trump, maybe she would have been," Marsha Mueller told "Meet the Press."

The Trump administration might "truly might help us. I don't think they are as closed about what happened," she said.
Trump announced the death of al-Baghdadi on Sunday morning, saying U.S. forces tracked him down in northern Syria before he detonated a suicide vest, killing himself. DNA testing on the spot confirmed his death.
In 2015, the Obama administration was criticized for a U.S.-led mission that targeted four prisoners at a prison in ISIS-held territory. When the commandos arrived at the compound, the prisoners were already gone. Some relatives blamed the White House for not acting quickly enough, reported the Washington Post at the time.