News Analysis
Former Trump campaign chairman Paul Manafort is the subject of two criminal trials, one in Virginia and one in the District of Columbia.
The Virginia trial is related to various financial crimes, including tax evasion, bank fraud, and money laundering, while the District of Columbia trial is related to violations of the Foreign Agents Registration Act, money laundering, and witness tampering.
None of the charges in either case are related to President Donald Trump or his election campaign.
Manafort, who still faces a Feb. 8, 2019, sentencing date in the Virginia case, has agreed to cooperate with the special counsel's ongoing Russia probe, and he won't be sentenced in the District of Columbia case until his cooperation is complete.
There are some clues as to the possible focus of Manafort's cooperation with Robert Mueller's probe into alleged Russian interference in the 2016 presidential election. On April 2, the Mueller team filed a response to Manafort's motion to dismiss the indictment against him. Contained within the response is the single mention of one name:
"[Manafort was] an individual with long ties to a Russia-backed Ukrainian politician. … Open-source reporting also has described business arrangements between Manafort and 'a Russian oligarch, Oleg Deripaska, a close ally of President Vladimir V. Putin.'"
A footnote points to an August 2016 New York Times article, "Secret Ledger in Ukraine Lists Cash for Donald Trump's Campaign Chief," which reads in part:
"Handwritten ledgers show $12.7 million in undisclosed cash payments designated for Mr. Manafort from Mr. Yanukovych's pro-Russian political party from 2007 to 2012, according to Ukraine's newly formed National Anti-Corruption Bureau.

"In addition, criminal prosecutors are investigating a group of offshore shell companies that helped members of Mr. Yanukovych's inner circle finance their lavish lifestyles.

"Among the hundreds of murky transactions these companies engaged in was an $18 million deal to sell Ukrainian cable television assets to a partnership put together by Mr. Manafort and a Russian oligarch, Oleg Deripaska, a close ally of President Vladimir V. Putin."
The article references an investment fund, Pericles Emerging Markets. The fund was started by Manafort and several partners in 2007. Deripaska was the financial backer of the fund and agreed to commit as much as $100 million, although he apparently only invested $18.9 million in 2008 to finance the purchase of Black Sea Cable. Deripaska has also claimed that he paid "about $7.3 million in management fees to the fund over two years."

Pericles is now defunct, and Deripaska sued Manafort in a Cayman Islands court, seeking to recover his investment. But Pericles was involved in at least one other transaction. It, too, involved Manafort, Ukraine, and ultimate failure.
The Drake Hotel Deal
In 2008, Manafort was working with Ukrainian gas tycoon Dmytro Firtash on a transaction to purchase the Drake Hotel project site in Manhattan, using a series of holding companies.
Firtash was indicted in 2013 in Chicago in a racketeering case and has successfully fought off extradition to the United States from Austria, where he currently resides.
He also faced money-laundering accusations in a 2011 lawsuit filed by former Ukrainian Prime Minister Yulia Tymoshenko against Firtash and a number of his political and business associates—including Manafort and Semyon Mogilevich, a Ukrainian national involved in Russian organized crime and wanted by the FBI.
The 2011 lawsuit was ultimately dismissed in late 2015. In her dismissal, District Judge Kimba M. Wood didn't dispute the facts of the relationship between Manafort or Firtash, but noted that Tymoshenko's complaint failed "to establish the requisite directness of relationship between each Defendant's conduct and the harm suffered by Tymoshenko."
Mogilevich is considered a "boss of bosses" and, at one point, was on the FBI's Ten Most Wanted Fugitives list. He remains free in Russia.
Tymoshenko's lawsuit alleged that Firtash "laundered the proceeds from the Russia–Ukraine gas deals using a complex web of shell companies, including Group DF, through which they were able to acquire and maintain investments in several foreign countries, including the United States."
Group DF is a holding company owned by Firtash and, the lawsuit alleges, "his silent partner," Mogilevich. There are a total of 39 companies listed in the lawsuit—most of them shell companies, often with no meaningful assets.
In addition to Group DF, we will primarily focus on three of those entities: CMZ Ventures, Calister Investments, and the Dynamic Fund.
CMZ was technically owned by three sub-entities: Vulcan Properties, owned by Karen Cohen, but run and controlled by her husband, Arthur Cohen; XXX LLC, controlled by Manafort; and Barbara Ann Holdings, owned by Brad Zackson. Cohen was the C in CMZ. Manafort and Zackson were represented by M and Z.
The 2011 lawsuit alleged that these three "sub-companies" acted as "agents for Firtash, who was an undisclosed silent partner" in all three corporations, with Firtash ultimately maintaining control of the investments and assets of CMZ.
CMZ and Calister were U.S. companies operated out of shared offices in New York. The Dynamic Fund was an international investment fund established by Firtash through CMZ and Calister that would be used to "invest Firtash's funds in New York and abroad," the lawsuit alleged.
Firtash and Mogilevich would use these companies to funnel money into the United States under the guise of investing in legitimate business ventures—in this case, potential real estate projects. However, after the funds had been moved through several shell companies and into the United States, with the money becoming sufficiently laundered in the process, the funding commitments would be abruptly withdrawn prior to transaction closings, according to the lawsuit.
The Tymoshenko lawsuit alleged that Firtash would repeatedly use the cover of various real estate projects to create an air of legitimate business ventures, when in fact, the primary goal was the movement of funds into American accounts from Ukrainian banks.
The Drake Hotel transaction helps to illustrate how that was done. From an outside perspective, it would appear that each company was a separate and unique entity, when in reality, all of the corporate participants were allegedly controlled by Firtash.
On July 16, 2008, CMZ submitted a letter of intent to purchase the Drake Hotel site for a major redevelopment project, with an offer of $885 million on closing. CMZ continued to formally relay its interest to the owners of the Drake property but didn't disclose that the financial backer was Firtash, the lawsuit alleged.
On Nov. 6, 2008, the director of Group DF, David Brown, sent a formal letter to Paul Manafort and Calister Investments, care of the Dynamic Fund:
"We are prepared to move forward with the mortgage purchase, provided you are successful in reaching a deal with the seller, which we approve and which should include Calister Investments as the developer.

"Group DF Finance Limited is, subject to a formal contract, prepared to provide $112 million in equity for the project. In addition, and as demonstration of our commitment to this effort, Group DF has executed a deposit of twenty-five million … into escrow for the project."
According to the lawsuit, Brown signed an escrow agreement with Calister later that day, confirming the $25 million had been wired from Group DF's bank to an escrow account jointly held by CMZ, Calister, and the Dynamic Fund. The escrow agreement was then forwarded by email from Manafort's lieutenant, Rick Gates, who also was working for Firtash.
On Jan. 21, 2009, Calister and the Dynamic Group made a formal offer to purchase Senior Notes secured by the Drake property. Despite having "sufficient financing from Group DF and Firtash" the CMZ, Calister and the Dynamic Group never closed on the Drake property. Ultimately, California-based CIM Group purchased the property for less than half of the original offer.
This pattern of an agreement to provide financing before a sudden withdrawal of support would be repeated several times—including projects to acquire the St. Johns Terminal project and the development of South Cat Cay island in the Bahamas. The Tymoshenko lawsuit lists a number of other failed transactions and questionable activities.
One other significant party appears to have been involved in the Drake transaction. On June 30, 2008, Manafort met with Deripaska, apparently in relation to the Drake transaction.
A July 1, 2008, memo from Gates referenced the June meeting:
"When Paul met with Mr. D last month he told Paul to lock in the other financing elements and then come back to him for the final piece of investment. Based on the interest in this opportunity expressed by Mr. D during his meeting with Paul, we would like to discuss the parameters of this deal with you further and as soon as possible.

"We need to finalize Pericles' participation in this deal, as the final component in the financing structure, in the next two weeks to lock in the deal."
Gates closed by saying he would be "available to come to Moscow immediately to discuss and finalize the details of the transaction."
Kenneth McCallion, a former federal prosecutor and Tymoshenko's attorney, told the Daily Beast: "Based on what we now know, it appears that both Deripaska and Firtash were involved in the Drake Hotel deal. I am reasonably certain now that Mr. D is Deripaska, since it is referenced in relationship to Pericles, which was definitely Deripaska's company, not Firtash's."
Court filings say, "Deripaska was set to make a $56 million investment in the Drake" transaction through the Pericles fund, according to The Real Deal. The funding may never have been finalized and sometime shortly after this event, the Pericles fund was shuttered. Deripaska asked for his money to be returned, but has yet to receive anything. Deripaska has twice filed lawsuits, claiming that Manafort and Gates "grossly" mismanaged the investment, "resulting in a total loss of the amount invested."
Money-Laundering Allegations
A July 25, 2017, application for a search warrant of Paul Manafort's condominium in Alexandria, Virginia, contains a number of references to Manafort's potential money-laundering activities:
"There is probable cause to believe that Manafort engaged in a scheme to hide income paid on behalf of Ukrainian politicians and others through foreign bank accounts in Cyprus and elsewhere, to and on behalf of Manafort and related people and companies.

"The FBI believes that Yanukovych's government engaged in systematic public corruption. The same sources report that corrupt government officials and their allies in the business community during Yanukovych's presidency looted Ukraine's public coffers of millions of dollars and funneled those assets to foreign bank accounts to hide the embezzlement."
Included in the search warrant are a number of references to Deripaska:
"[Redacted] also told the FBI that Deripaska helped fund Manafort's Ukrainian work when it began in 2005-06. And the 2010 tax returns for a company jointly owned by Manafort and his wife—John Hannah, LLC®—reveals a $10,000,000 loan to the company from a "Russian lender." A court-authorized search in May 2017 of a storage locker in Virginia used by Manafort revealed documents that show that the identity of the Russian lender was "Derapaska."
The warrant application also appears to reference Firtash and the failed deal for the Drake property:
"In the Gates interview, Gates admitted that Manafort met with another oligarch, [redacted] discuss a New York real estate transaction they would undertake together and to pitch other ideas. In the Manafort Interview, Manafort also admitted approaching [redacted] to propose the New York deal, which according to business records publicly filed in a New York litigation was initiated in 2008."
The redacted portion appears to be a reference to Firtash, a Ukrainian oligarch. The 2008 date corresponds to the timing of the Drake transaction involving both Manafort and Firtash.
There are some interesting side notes to this story. The first concerns former FBI lawyer Lisa Page, who was removed from the Mueller investigation.
Page had previously been involved in money-laundering and organized-crime cases. At one point, she partnered with an FBI task force in Budapest, Hungary. According to Wired magazine, that Budapest task force "helped put together the still-unfolding money laundering case against Ukrainian oligarch Dmytro Firtash, a one-time business partner of Manafort."
The second concerns former Associate Deputy Attorney General Bruce Ohr—and possibly former Deputy FBI Director Andrew McCabe.
In 2006, Ohr took part in a meeting with lawyers for Mogilevich who were seeking to cut a deal with the FBI and the Justice Department (DOJ). The New York Times reported on Aug. 27 that:
"When a lawyer for one of Russia's most-powerful reputed crime bosses arrived at F.B.I. headquarters one day around 2006, he wanted to cut a deal. The Russian, Semion Y. Mogilevich, had been indicted three years earlier by the department on charges of defrauding a company outside Philadelphia out of $150 million and could not travel for fear of arrest.

"As the lawyer made his pitch, a supervising F.B.I. agent and a senior career Justice Department official, Bruce G. Ohr, both listened intently, according to a former bureau official who described the meeting.

"Finally, the F.B.I. agent spoke. No deal, he said; Mr. Mogilevich must surrender. Mr. Ohr said little, but his unwillingness to negotiate was signal enough: The Justice Department would not compromise with the Russian mafia."
The identity of the supervisory FBI agent present at the meeting has not been confirmed, but it's possible that it was McCabe. In 2003, "McCabe became the supervisory special agent of the Eurasian Organized Crime Task Force, a joint operation with the New York City Police Department." McCabe remained with the Eurasian squad until sometime in 2006, when he was moved to FBI headquarters in Washington.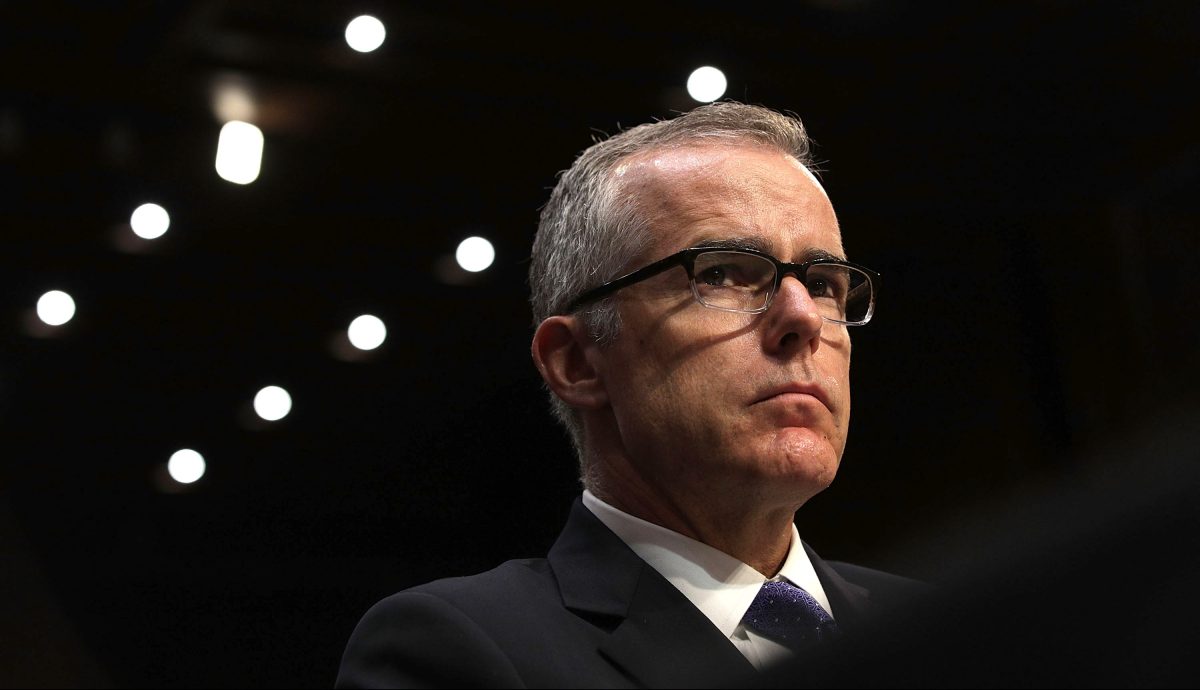 McCabe and Ohr had somewhat extensive ties to another famous Russian figure—Deripaska.
In 2005, Deripaska had been given a multiple-entry American visa after he hired Alston & Bird, the lobbying firm run by former presidential candidate Bob Dole. Deripaska hired Dole's firm in October 2003. Notably, the contact listed in the Deripaska lobbying registration is Jonathan Winer, who would later serve as a conduit between Christopher Steele and the State Department during the 2016 presidential election:
"Between 2014 and 2016, Steele authored more than 100 reports on Russia and Ukraine. These were written for a private client but shared widely within the US state department, and sent up to secretary of state John Kerry and assistant secretary of state Victoria Nuland, who was in charge of the US response to Putin's annexation of Crimea and covert invasion of eastern Ukraine. Many of Steele's secret sources were the same people who would later supply information on Trump," according to a Nov. 15, 2017, article by The Guardian.
Steele was employed by Deripaska in 2012. It's possible that the private client that Steele was writing his reports for was Deripaska himself. Winer would later admit in a Washington Post op-ed to having received a copy of the dossier directly from Steele in September 2016.
In July 2006, Deripaska's visa was revoked by the FBI and the DOJ, despite the lobbying efforts of Dole's firm. It was at this time that allegations of Deripaska's ties to organized crime in Russia surfaced.
Governmental concerns regarding Deripaska's activities appear to parallel the 2008 activities that Manafort, Firtash, and Deripaska allegedly engaged in during the failed Drake Hotel transaction. One of the individuals involved in the decision to revoke Deripaska's visa was Ohr:
"In 2006, Mr. Ohr was part of a group of government officials who revoked the visa of Oleg Deripaska, a Russian billionaire and aluminum magnate. Officials were concerned that Mr. Deripaska might try to come to the United States to launder illicit profits through real estate, a former law enforcement official said."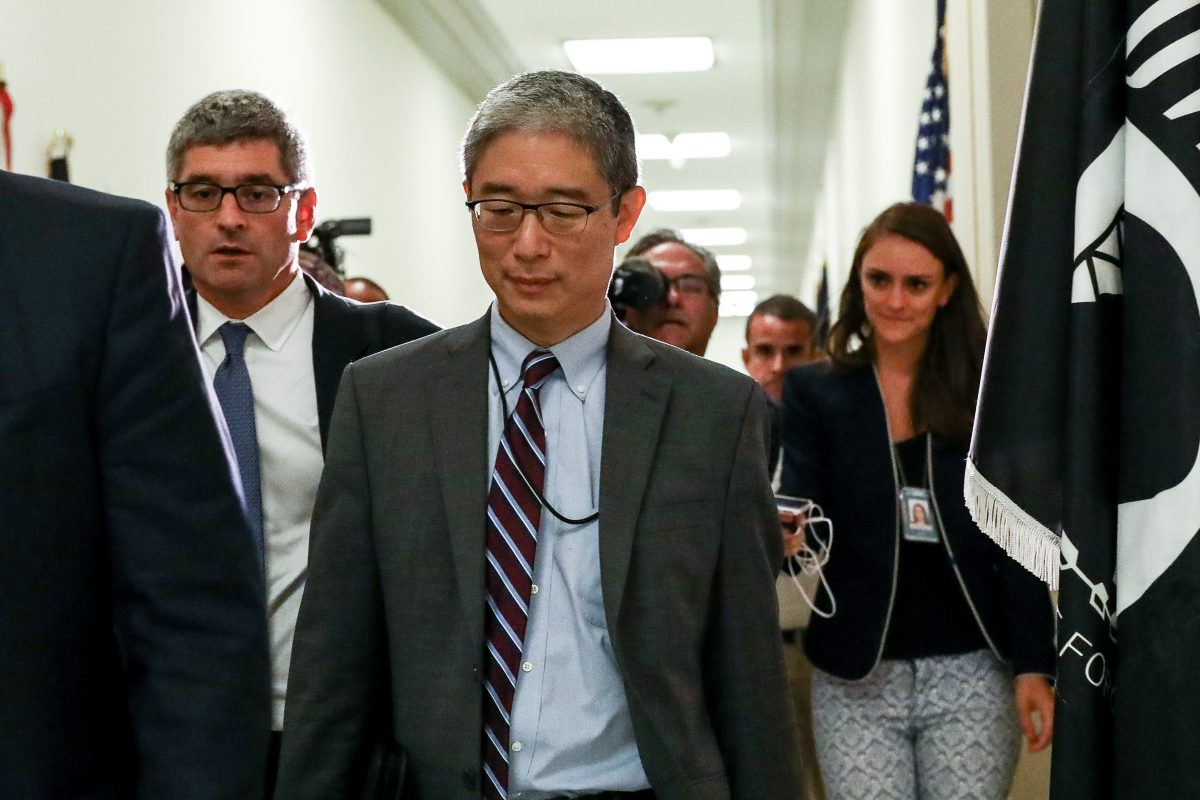 It was also at this time that Deripaska hired Manafort, signing his firm to a "$10 million-a-year contract in 2006 to advise him." Manafort's lobbying of the Bush administration, however, failed to reinstate Deripaska's visa.
That same year, Manafort's partner, Gates, arranged a meeting between Deripaska and the late Sen. John McCain (R-Ariz.) at the Davos forum in Switzerland. McCain was preparing for his presidential run at the time. It's unclear what was discussed at this meeting, but Deripaska's visa wasn't reinstated.
As previously discussed, Deripaska parted ways with Manafort and Gates sometime in late 2008 or early 2009, with Deripaska claiming that both men owed him millions of dollars.
It was at this point that Deripaska turned to Washington lawyer Adam Waldman and his firm, the Endeavor Group. Deripaska hired Waldman in May 2009, placing the Endeavor Group on a $40,000-a-month retainer. Waldman, who also began work for the Russian government in 2010, would remain in the employ of Deripaska until April 5, 2018, when he terminated his relationship following renewed sanctions on Deripaska.
Deripaska's Visa
Deripaska was ultimately able to obtain a visa through the FBI. As early as mid-2008, the FBI had approached Deripaska, asking for possible assistance on the disappearance of retired FBI agent Robert Levinson, who was captured in Iran while working for the CIA in March 2007:
"By mid-2008, the F.B.I. was fully engaged in the hunt. At that time, two F.B.I. agents met at a Paris hotel with a powerful new player who became secretly involved in the effort: Oleg Deripaska, one of Russia's wealthiest businessmen," The New York Times reported on Dec. 13, 2013.
Deripaska became directly involved in the case in 2009:
"Deripaska said he would put up millions to fund the venture, but he insisted that his role be kept secret. However, word that big money was in play made its way to Iran. Suddenly, a man with family connections to Iran's supreme leader, Ayatollah Ali Khamenei, insisted that he could engineer Mr. Levinson's release for a hefty price," The New York Times reported.
Deripaska's price for his involvement was a U.S. visa. Despite refusals from the State Department, the FBI and DOJ issued Deripaska a visa under a special program that allowed him entry into the United States twice in 2009.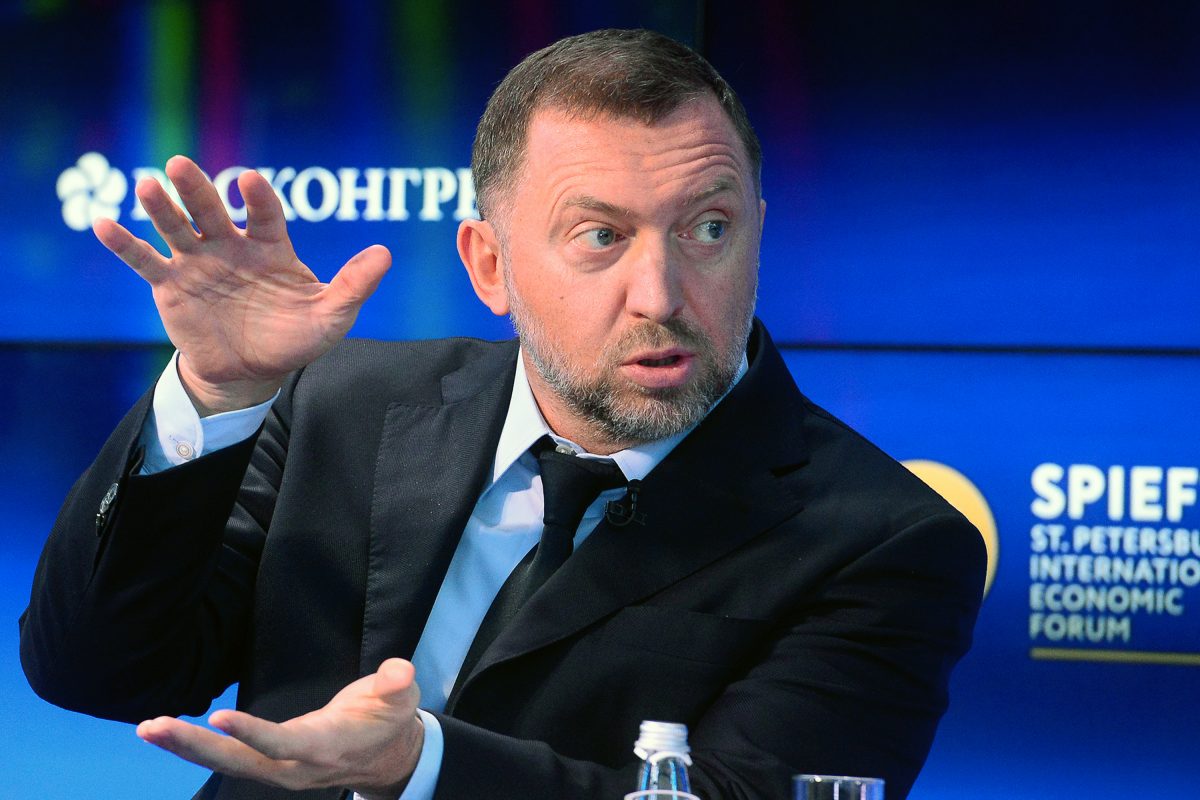 While Levinson remains missing, Deripaska's efforts had actually secured a deal to free Levinson in 2010. According to The Hill's John Solomon, the "deal was scuttled, however, when the State Department become uncomfortable with Iran's terms."
Another disclosure in Solomon's article is that one of the FBI agents involved in the recruitment of Deripaska for the Levinson effort was McCabe.
Despite the failure to rescue Levinson, Deripaska continued to be rewarded for his efforts and was allowed entry into "the United States eight times between 2011 and 2014 with government permission as a Russian diplomat."
In 2012, Waldman hired Steele's firm, Orbis Business Intelligence, on Deripaska's behalf in order to assist Deripaska against a lawsuit filed "by a business rival," according to an article by John Solomon for The Hill.
The "business rival" likely relates to Michael Cherney, who claimed he was owed 20 percent of shares in Deripaska's aluminum giant, Rusal.
Deripaska has admitted to "having paid Cherney $250 million following a 2001 meeting in London's Lanesborough Hotel," The Guardian reported. But Deripaska argued "that the sum was a final instalment of an extortion—or krysha—payment to organised crime groups represented by Cherney."
The case, which was filed in July 2012, was abruptly settled out of court with the release of a somewhat cryptic announcement on Sept. 27, 2012, by Deripaska's lawyers:
"Mr Deripaska announces that Mr Cherney's litigation in London against him has been terminated.

"Neither party will be making any further comment in relation to the litigation or matters raised therein."
In 2014, Deripaska sued Manafort and Gates in a Cayman Islands court over the shuttered Pericles Fund, claiming they had taken almost $19 million intended for investments and then failed to account for the missing proceeds. Deripaska has yet to receive any proceeds from either Manafort or Gates.
FBI Attempts to Turn Deripaska Into Informant
In late 2014, another chapter regarding Deripaska began to evolve. Once again, some familiar names re-entered the picture. On Nov. 21, 2014, Steele and Ohr met in Washington to discuss cultivating Deripaska into an FBI informant on Russian organized crime, according to a New York Times article.
Ohr and his wife, Nellie—who later worked for Fusion GPS—have known Steele since at least 2006, when Steele was still working at MI6, although some reports have indicated the relationship goes back even further. Through Steele's work on behalf of Deripaska, Steele had also become friendly with one of Deripaska's lawyers, according to an article in The Hill.
The known contacts between Deripaska and the FBI occurred in September 2015 and September 2016—both times in the United States. The topic of each meeting, however, was markedly different.
Steele helped set up the 2015 meeting between Deripaska and the FBI but wasn't directly involved in the meeting itself. Unlike Steele, Ohr was personally involved in the meeting, which reportedly involved pressing Deripaska "on the connections between Russian organized crime and Mr. Putin's government, as well as other issues." Deripaska disagreed and told the FBI that "their theories were off base and did not reflect how things worked in Russia," The New York Times reported on Sept. 1, 2018.
FBI efforts to turn Deripaska reportedly failed, but worth noting is that Deripaska continued to make frequent trips to the United States on special diplomatic visas, visiting at least once in 2015 and at least three times in 2016.
In September 2016, the meeting between Deripaska and the FBI proceeded somewhat differently than their first meeting a year earlier:
"F.B.I. agents showed up unannounced at his door in New York. By then, they were already investigating possible ties between Russia and the Trump campaign, and they pressed Mr. Deripaska about whether his former business partner, Mr. Manafort, had served as a link to the Kremlin during his time as Mr. Trump's campaign chairman," The New York Times reported.
Worth noting is that Steele referenced Manafort directly in his dossier, which he had provided to the FBI. Nellie Ohr was working directly for Fusion GPS by that time.
Earlier reporting by John Solomon provides additional details of the September 2016 meeting:
"Two months before Trump was elected president, Deripaska was in New York as part of Russia's United Nations delegation when three FBI agents awakened him in his home; at least one agent had worked with Deripaska on the aborted effort to rescue Levinson. During an hour-long visit, the agents posited a theory that Trump's campaign was secretly colluding with Russia to hijack the U.S. election."
McCabe may have been one of the three agents at this meeting. He had helped to recruit Deripaska for the Levinson rescue attempt and was also overseeing FBI agent Peter Strzok, who was in charge of the FBI's counterintelligence investigation of alleged Trump–Russia collusion. The September meeting reportedly garnered the FBI little in the way of actionable information, The Hill reported:
"'Deripaska laughed but realized, despite the joviality, that they were serious,' the lawyer said. So he told them in his informed opinion the idea they were proposing was false. 'You are trying to create something out of nothing,' he told them. The agents left though the FBI sought more information in 2017 from the Russian."
Deripaska's lawyer, Waldman, declined to tell Solomon whether Deripaska had spoken with the FBI since the September 2016 meeting.
Steele and Ohr would continue to stay in contact through mid-2017, and Deripaska was mentioned several times in communications that took place in 2016.
Another Visa for Deripaska
On Jan. 12, 2016, Steele sent Ohr a New Year's greeting by email and brought up Deripaska's visa case:
Steele: I heard from Adam Waldman yesterday that OD is applying for another official US visa ice [sic] APEC business at the end of February." Deripaska is being "encouraged by the Agency guys who told Adam that the USG [United States Government] stance on [Deripaska] is softening. … A positive development it seems.
On Feb. 8, 2016, Deripaska was mentioned again. He had been granted a visa to visit the United States. This time, Steele appeared to be asking Ohr to provide inside information regarding Deripaska's visa status:
Steele: Our old friend OD apparently has been granted another official visa to come to the US later this month. … As far as I'm concerned, this is good news all round although as before, it would be helpful if you could monitor it and let me know if any complications arise."

Ohr: To the extent I can I will keep an eye on the situation.
On Feb. 21, 2016, in an email titled "Re: OVD – Visit To The US," Steele told Ohr that he had talked to Waldman and to Paul Hauser, Deripaska's London lawyer.
Steele: An inter-agency meeting on him [Deripaska] this week which I guess you will be attending. [I'm] circulating some recent sensitive Orbis reporting [on Deripaska]. We reckon therefore that the forthcoming OVD contact represents a good opportunity for the USG.
Steele said he would send the Orbis reporting to a name that is redacted in the email, "as he has asked, for legal reasons I understand, for all such reporting be filtered through him (to you at DoJ and others)."
From this point forward, the published conversations between Steele and Ohr shift from Deripaska to the dossier that Steele was developing. As noted in a letter from Sen. Chuck Grassley (R-Iowa), the two would stay in contact until at least May 2017. As Grassley's letter notes, the FBI used Ohr as a conduit for unofficial information from Steele after Steele was formally terminated by the FBI.
Manafort's Work in the Trump Campaign
As Steele and Ohr were having their discussions, Manafort reached out to the Trump campaign on Feb. 29, 2016. Manafort and Trump hadn't been in communication for years until the Trump campaign responded to Manafort's offer:
"Donald Trump and I had some business in the 1980s but we had no relationship until the Trump campaign called me," Manafort told The New York Times in an April 8, 2017, article.
On March 28, 2016, Manafort was hired by the Trump campaign to manage the team's efforts at the Republican National Convention in Cleveland. Manafort was initially hired to lead the campaign's delegate effort but was soon promoted, becoming Trump's campaign chairman and chief strategist on May 19, 2016. His tenure was short-lived—on Aug. 19, 2016, Manafort resigned from the campaign.
In April 2016, Manafort instructed Trump press aide Hope Hicks "that she should disregard a list of questions from The [Washington] Post about his relationships with Deripaska and a Ukrainian businessman." Manafort would later tell Hicks that "he never had any ties to the Russian government."
Meanwhile, during his time with the Trump campaign, Manafort was in regular contact with Konstantin Kilimnik, his longtime employee in Kiev. Many of these emails appear to pertain to Deripaska.
Kilimnik and Manafort met twice in person—once in May 2016, and again in August 2016.
In one email, Manafort "referred to his positive press and growing reputation and asked, 'How do we use to get whole?'" Kilimnik reportedly sent Deripaska press clips regarding Manafort's new role and provided indications that the Deripaska relationship might be repaired: "I am more than sure that it will be resolved and we will get back to the original relationship."
On July 7, 2016, Manafort sent an email to Kilimnik regarding Deripaska, saying, "If he needs private briefings we can accommodate."
On July 29, 2016, Kilimnik told Manafort he had spent five hours with "the guy who gave you your biggest black caviar jar several years ago." This is almost certainly a reference to Deripaska. Kilimnik said "the guy" wanted to pass a message on to Manafort. "It has to do about the future of his country, and is quite interesting," he said.
Following the July 29 email, the two men agreed to meet on Aug. 2, 2016, in New York at the Grand Havana Room.
According to The Washington Post, "Kilimnik has said the two discussed 'unpaid bills' and 'current news.' But he said the sessions were 'private visits,' that were 'in no way related to politics or the presidential campaign in the U.S.'"
While details surrounding Kilimnik remain slim, within Mueller's sentencing memorandum for Alex Van Der Zwann is a reference to Kilimnik, described as "person A":
"Person A worked with Manafort and Gates in connection with their Ukraine lobbying work. Person A is a foreign national and was a close business colleague of Manafort and Gates. He worked in Ukraine at Manafort's company Davis Manafort International, LLC (DMI). Up until mid-August 2016, Person A lived in Kiev and Moscow.

"Federal Bureau of Investigation Special Agents assisting the Special Counsel's Office assess that Person A has ties to a Russian intelligence service and had such ties in 2016. During his first interview with the Special Counsel's Office, van der Zwaan admitted that he knew of that connection, stating that Gates told him Person A was a former Russian Intelligence Officer with the GRU."
Kilimnik not only had ties to Russian intelligence, but he maintained them in 2016, during the time that Manafort was with the Trump campaign. Kilimnik, who remains in Russia, has been indicted on witness-tampering charges in relation to Manafort.
Two weeks after Manafort's final meeting with Kilimnik, Manafort would resign from the Trump campaign.
During at least some portion of Manafort's involvement with the Trump campaign, Manafort may have been under FBI surveillance. CNN reported in September 2017 that Manafort had been under FISA surveillance since 2014 related to his work for Ukraine's former ruling party. The FISA warrant reportedly expired sometime in the spring of 2016. "The government snooping continued into early this year [2016], including a period when Manafort was known to talk to President Donald Trump," according to CNN.
But the FISA surveillance on Manafort was reportedly no longer active by late May 2016. "As Manafort took the reins as Trump campaign chairman in May, the FBI surveillance technicians were no longer listening."
However, surveillance on Manafort was re-started:
"The FBI then restarted the surveillance after obtaining a new FISA warrant that extended at least into early this year [2017].

"It is unclear when the new warrant started. The FBI interest deepened last fall [2016] because of intercepted communications between Manafort and suspected Russian operatives."
Deripaska Begins Lobbying Efforts
In March 2017, Deripaska took out newspaper advertisements "stating that he was willing to participate in hearings before Congress." His offer was ignored.
Deripaska's efforts began after The Associated Press published a story alleging that "Manafort had provided him with a plan in 2005 outlining steps to 'greatly benefit the Putin government,' by influencing politics and news coverage in the United States." Deripaska sued the AP, which stood by its reporting. Deripaska's lawsuit was later tossed out by a federal judge.
Deripaska would also be mentioned in a series of texts between his lawyer Adam Waldman and Senator Mark Warner (D-Va.). Waldman, at the time, was also negotiating a possible immunity deal for Wikileaks founder Julian Assange with Warner and the DOJ. On March 23, 2017, Warner sent Waldman a text that appears to relate to Manafort: "Need to coordinate date for trip can you talk with my scheduler also want to discuss Paul."
On March 25, 2017, Waldman sent Warner the following text: "Deripaska is in London Monday-Thursday and I might be able to arrange a mtg w him too if you wish. I discussed it with him today and he seemed interested."
The following day, Waldman followed up with another text to Warner: "I have an idea to explore w you. Pls call when you're free."
Deripaska had either just arrived in London or was about to arrive.
On March 31, 2017, Warner and Waldman had this brief exchange:
Warner: Keep me informed also any news from ur other guy on manafort

Waldman: My other guy, like Steele, very mistrustful of USG. He's been essentially shut out of the country and dragged through the mud. I explored this question w him last night in person.

Waldman: Update re the other guy, my contact at DOJ has gone silent for 72 hrs. I gave him what he asked for and now don't hear from him. Please let me know if you hear anything.
In this particular case, the "other guy" appears to be Deripaska. It's possible the texts could be referencing Julian Assange, who was also a frequent topic of discussions at this time, but Assange was holed up in the Ecuadorian Embassy. His travel status had moved beyond "essentially shut out of the country."
The conversations between Waldman and Warner continued. On April 10, 2017, Waldman sent the following text:
"Hi. Steele: would like to get a bipartisan letter from the committee; Assange: I convinced him to make serious and important concessions and am discussing those w DOJ; Deripaska: willing to testify to congress but interested in state of play w Manafort. I will be with him next tuesday for a week."
Manafort's legal troubles appear to have received Deripaska's attention.
In May 2017, Deripaska again offered to "cooperate with congressional committees investigating Russian meddling in the 2016 election," this time through his lawyer, Waldman. Deripaska's offer was again rebuffed.
The New York Times reported that Deripaska was seeking immunity in exchange for his testimony:
"Deripaska … recently offered to cooperate with congressional intelligence committees in exchange for a grant of full immunity, according to three congressional officials, speaking on condition of anonymity because they were not authorized to discuss the issue publicly. But the Senate and House panels turned him down because of concerns that immunity agreements create complications for federal criminal investigators, the officials said."
Deripaska's lawyer, Waldman, would later dispute that Deripaska was seeking immunity:
"Waldman … said he told the committee staff that his client would be willing to testify without any grant of immunity, but would not testify about any Russian collusion with the Trump campaign because 'he doesn't know anything about that theory and actually doesn't believe it occurred.'

"'I told them that he would be willing to talk about Manafort,' Mr. Waldman added. …

"'We specifically told them that we did not want immunity,' Mr. Waldman said. 'Clearly, they did not want him to testify. What other conclusion could you possibly draw?'"
It was known that the special counsel was already investigating Manafort. It's likely the Mueller team was also looking into Deripaska.
Sanctions Imposed Under Trump
On April 6, the United States imposed sanctions against 24 Russians, including Deripaska, who called the decision "very unfortunate but not unexpected."
On Oct. 8, the U.S. government moved to freeze Deripaska's U.S. assets, including mansions in Manhattan and Washington.
On Nov. 4, an article appeared in The New York Times regarding Deripaska that almost seemed as if Deripaska had written it himself. Within the article are not-so-subtle hints as to what Deripaska is willing to negotiate:
"Steven Mnuchin, the Treasury secretary, has signaled that he is open to a plan under which Mr. Deripaska would reduce his stake in his companies in return for the sanctions being lifted.

"But sidestepping the business sanctions is not Mr. Deripaska's only goal. His team is preparing an audacious and previously unreported campaign to remove the personal sanctions on him, too."
Also included are a number of officials with whom Deripaska has interacted over the years:
"The British emissary for Mr. Deripaska's companies, Lord Barker of Battle, a protege of David Cameron, the former prime minister of Britain, was appointed last year as chairman of EN+. Also involved are lobbyists, law firms, public relations experts, a former United States senator and a former Trump campaign official with ties to the Treasury Department and the White House. Even ambassadors to Washington from a number of countries have been approached to write letters opposing the sanctions.

"Mr. Deripaska has courted powerful political figures in Britain, played host to lavish parties in Davos, Switzerland, and once hired a former Republican presidential nominee, Senator Bob Dole of Kansas, to lobby for him.

"Deripaska befriended Nathaniel Rothschild, a British-born financier whose father is a British peer, and through him met the Conservative Party politician George Osborne, a future chancellor of the Exchequer, as well as Lord Peter Mandelson, a leading figure in the Labour Party. Mr. Deripaska reveled among global movers and shakers, and he remains a regular figure at the World Economic Forum in Davos."
The listing of those with whom Deripaska maintained close contact continues throughout the article.
This wouldn't be the first time that Deripaska has used the media as an avenue of defense. The detailed article by The Hill's Solomon describing Deripaska's involvement with the FBI in the search for retired FBI agent Robert Levinson provides a good example. The title of that article, "Mueller May Have a Conflict—and It Leads Directly to a Russian Oligarch," provides a less-than-subtle hint. The article cites a number of individuals who've questioned Deripaska's involvement:
"Melanie Sloan, a former Clinton Justice Department lawyer and longtime ethics watchdog, told me a 'far more significant issue' is whether the earlier FBI operation was even legal: 'It's possible the bureau's arrangement with Mr. Deripaska violated the Antideficiency Act, which prohibits the government from accepting voluntary services.'"
Solomon leads toward his conclusion with this observation: "Now that sources have unmasked the Deripaska story, time will tell whether the courts, Justice, Congress or a defendant formally questions if Mueller is conflicted."
But worth noting is Solomon's primary source: "Waldman, his American lawyer until the sanctions hit, gave me a detailed account, some of which U.S. officials confirm separately."
Deripaska's ongoing involvement throughout this lengthy sequence of events provides ample justification for his concern over the direction of Mueller's investigation. It may be that some roads do lead back to Russia. But it seems that Deripaska, not Trump, provides the primary path.
Jeff Carlson is a CFA charterholder. He worked for 20 years as an analyst and portfolio manager in the high-yield bond market. He runs the website TheMarketsWork.com