Although there are some promising developments in China's HIV response in recent years, China is still a country of concern regarding the resurgence of the AIDS epidemic. According to the PEPFAR Asia Regional Operational Plan 2017, there were 653,865 persons diagnosed with HIV in China in 2016. And in the first quarter of 2018, there were 789,617 persons diagnosed with HIV infection, according to Chinese CDC official data. Compared to 385,817 people diagnosed with HIV in 2012, the number of people diagnosed with HIV infection is more than doubled in China in just a few years.
Typically, female sex workers (FSWs) and their clients, men who have sex with men (MSM), drug users, migrant workers and youth, are recognized as high-risk groups for Sexually Transmitted Infections (STIs). There were an estimated 2.8 to 4.5 million FSWs and 21.9 to 37.4 million clients of FSWs, 2 to 10 million MSM, and 130 million migrant workers in China, according to a study in 2011 by medical journal BMC Medicine. The large volume of these high-risk populations has enabled the rapid spreading of HIV/AIDS and other STIs from high-risk populations to the general population.
The precise total number of sex workers in China is too sensitive for academic research as the government still treats it as a taboo. In 2013, the United Nations estimated there were four to six million, citing police sources, according to BMC Medicine. The estimate was that there are between four to ten million sex workers in China. Here is one clear example of the rapid growth trend of STI in China: the gonorrhea infection rate in Zhejiang Province was about 0.2% in 2011, while it climbed up to near 0.33% in 2016. And in the same province, the rate of HIV infection was 0.0337% in 2016 (according to BMC Medicine), and it reached 0.042% in 2017.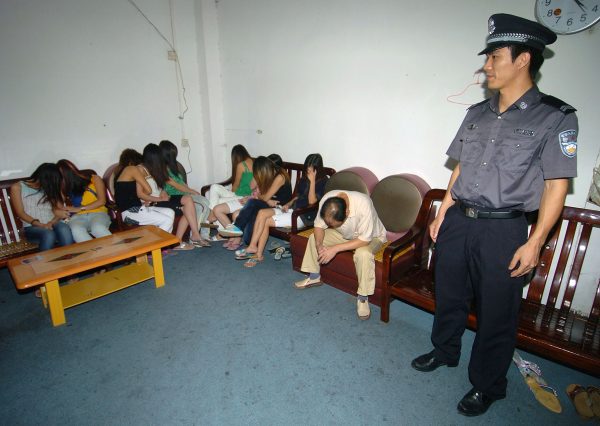 What is particularly worrisome in the trend is the spike of HIV infections among the youth population. According to the data from National Health and Family Planning Commission, the percentage of HIV infections in young students (age 15-24) among all infections in youth has increased from 5.77% in 2008 to 23.58% in 2017. Also, the sexual transmission was the main route of HIV infection, and 81.6% of the HIV infections in young students were contracted due to the MSM sexual activities. This situation among high school and college students is very alarming, as illustrated in the following examples:
• Beijing: By June 2017, there were a total of 1244 cases of HIV infections in 59 universities.
• Changsha City, Hunan Province: By April 2017, in just one district concentrated with universities, there were 603 HIV-infection cases, among which 106 cases were students.
• Nanchang City, Jiangxi Province: By August 2016, there were a total of 135 cases of HIV-infections among students in 37 universities and colleges in this city.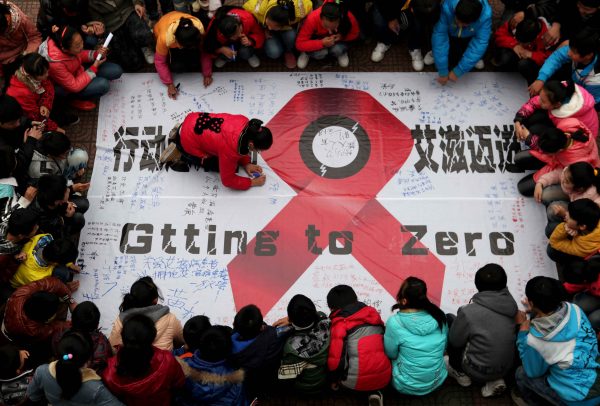 According to the data from China CDC, the HIV infection rate was 0.067% among the whole population. However, the HIV infection rate in students was 1.7% among total student population. This means that the chance of HIV infection among students was 28.3 times higher than that in general population.
It is a consensus that this outburst of HIV-infection in schools was correlated to the open sex attitude that is popular among Chinese students nowadays. One statistics was a clear indication of the situation: In 2017, there were a total of 15 million abortions recorded in China, among which 73% were young females under the age of 23. Also, media reports revealed that inside or around some university campuses there were underground brothels that procured female students to engage in prostitution services.
In addition, according to the data released by China CDC on August 2018, among the persons newly diagnosed with HIV in China, 69.6% of the cases were contracted via heterosexual sex; 25.5% were MSM; 3.2% for drug injections. And among the 1,244 cases of HIV infection in Beijing student population, MSM cases occupied 86.7%. Blued, the popular social App for the LGBT community in China, had more than 22 million users in 2016, and it aimed to break through 40 million in 2018. This clearly suggests that the population of MSM has grown significantly more than 10 million since 2011, with the estimate of the total LGBT population in China at 69 million.
Another situation that deserves close attention is the strong correlation of injection drug users with the HIV infection cases in southwest China, where major drug traffic routes were passing through. Using the data that was leaked from one internal China CDC meeting and reported on Radio Free Asia, the table below illustrated that the five provinces with highest HIV infection rates were all in southwest China in 2017:
| | | | | |
| --- | --- | --- | --- | --- |
| Provinces & 4 Cities in China | Numbers of Samples Tested for HIV | New HIV-Positive Cases | HIV positive Per 10000 people | Percentage tested among population |
| Sichuan | 12880444 | 24327 | 18.89 | 15.59 |
| Xizang (Tibet) | 80926 | 121 | 14.95 | 2.44 |
| Chongqing | 5122696 | 7500 | 14.64 | 16.8 |
| Guizhou | 7708694 | 7843 | 10.17 | 21.68 |
| Guangxi | 9605663 | 8923 | 9.29 | 19.86 |
The above data showed that Sichuan Province has the highest HIV infection rate nearly at 0.19%, which can be partly attributed to the shocking high HIV infection rate in Liangzhou autonomous region in Sichuan Province: Among a total of 9,536 unmarried youth enrolled in one study in 2018, 2.75% (262/9536) of the subjects were tested positive for HIV infection, according to a report published by medical journal AIDS Care. In the Liangzhou area, the number of locally registered drug users was already more than 13,000 in 2007. Besides needle sharing, this study also identified other risk factors like male gender, Yi ethnicity, illiteracy, out-migrating for work, and engaging in high-risk sexual behaviors.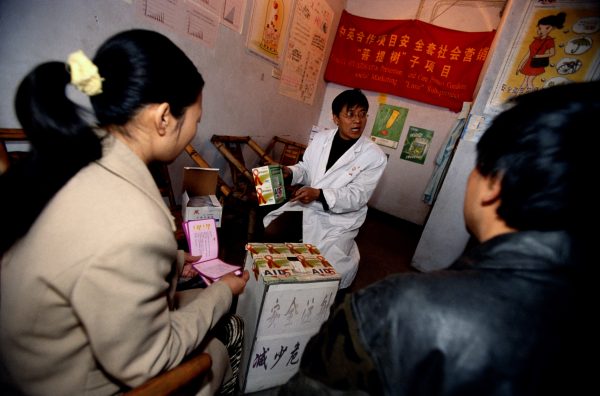 In summary, China is facing a very gloomy situation of HIV epidemic due to increasingly larger populations (in multi-millions) of sex workers, MSM, drug users, tens of millions of clients for sex workers and an even more significant volume of migrant workers who don't have much access to medical care in the cities. Therefore, even though official data for people diagnosed with HIV was less than 800,000 by the first quarter of 2018, the actual number of people who live with HIV could be much higher in the millions. The report produced by UN Theme Group on HIV/AIDS in China defined the HIV epidemic in China as "titanic peril" in 2002. But with the situations described above, it is probably reasonable to state that the peril still exists, apparently gigantic, if not titanic.
Dr. Xiaoxu Sean Lin is a former U.S. Army officer with expertise on infectious diseases surveillance and global public health. He was the co-founder and former executive vice president of Sound of Hope Radio Network, and hosted talk shows on China's current affairs on New Tang Dynasty TV. Currently, he is the founder and general manager of WQER-LP Radio Station. He is also a frequent news analyst and commentator for Sound of Hope Radio Network, with a focus on global public health, national security and foreign relations related to Asian affairs.
Views expressed in this article are the opinions of the author and do not necessarily reflect the views of The Epoch Times.