The city of Irvine officially passed a new ordinance on Nov. 9 designed to crack down on catalytic converter thefts.
The ordinance will make it illegal to "possess any catalytic converter that is not attached to a vehicle unless the possessor has valid documentation or other proof to verify they are in lawful possession of the catalytic converter."
Converters, which are a part of a vehicle's exhaust system, convert fumes into cleaner emissions and improve the car's overall efficiency. They contain varying amounts of precious metals inside, some worth more than gold.
"We want to send a message to those who have an interest in committing these crimes that it's not attractive to do so in Irvine and that it won't be convenient for them after the inconvenience they have caused for people who are just minding their own business and leaving their vehicles in front of their homes or while they're shopping," Irvine Councilman Anthony Kuo said in a pre-recorded video played during the council meeting.
Converters are a prominent and easy target for thieves who can steal them by cutting off the underside of a car with a saw in less than a minute, according to the Irvine Police Department (IPD).
Catalytic converter thefts in Irvine increased 541 percent from 2020 to 2021, according to a staff report.
The city reported 405 converter thefts from January to October 2021, compared to just 61 stolen during the same period in 2020, and 28 in 2019, according to IPD.
Converters are often sold for up to $1,200, though the average cost for a victim to replace the part is $3,500.
Thefts have increased nationwide as well, with 26,000 being stolen from January to May 2021, and 8,000 statewide during the same time period, IPD said.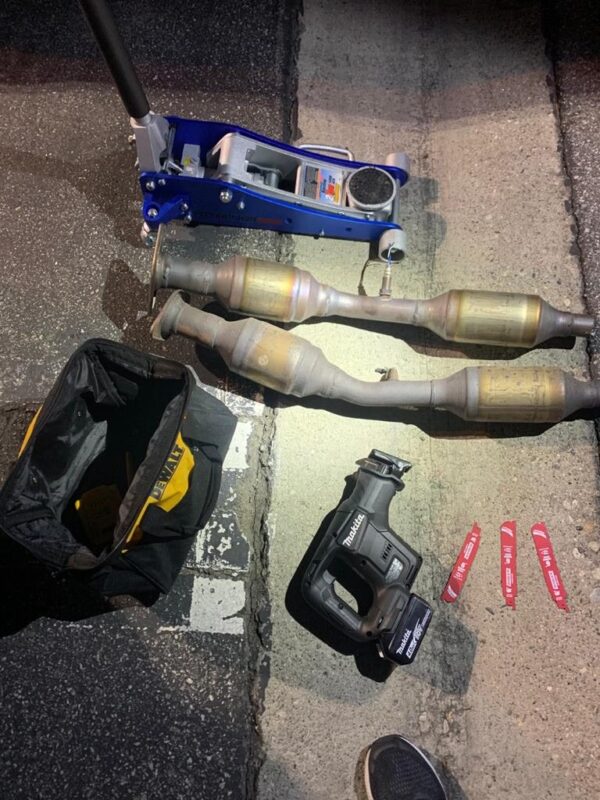 Irvine city staff will send their ordinance to neighboring cities encouraging them to adopt their own.
"We know that when our neighbors are safer, our community is safer," Kuo said.
In addition to requiring paperwork for cut catalytic converters, IPD will also be able to arrest, cite, or release with recommendations for charges to be filed later for those caught. Individuals can be prosecuted as a misdemeanor or infraction, facing up to one year in county jail and $500 in penalties.
"Due to the way that current legislation allows prosecuting these thefts, 99 percent of converter thefts in Irvine go unsolved, given that it's hard to prove they are not stolen. This has led to IPD officers discovering clearly stolen, freshly cut converters while out on patrol, but are unable to make arrests because officers cannot identify the victim they came from," IPD Sergeant Michael Bryant told councilors at the Oct. 26 council meeting.
The ordinance is set to go into effect on Dec. 9.
IPD encouraged residents to get their converters etched with their license plate numbers to reduce thefts and to call them if suspicious activity is observed, including hearing saw noises.