IRVINE, Calif.—An Irvine family's flight to Jordan ended in despair after their cat died due to extreme heat while in the cargo storage of a plane.
Sam the cat began his June 8 travels with owner Haba Mahmoud, who was departing from Los Angeles International Airport with her two daughters, Taya and Maya Salman.
The family was flying to Doha, where they planned to catch a connecting flight to Jordan.
It was Taya's last summer prior to attending college, and she wanted to spend time with her cat, Sam, in Jordan prior to leaving.
The family said they flew with Qatar Airways, but following the 16-hour flight from Los Angeles to Doha, Qatar Airways refused to allow the family to check on Sam. The temperature in the city was about 104 degrees F, and the connecting flight was delayed, the family said.
"He was in danger during our entire connecting flight period, and we were not aware of where he was," Taya told The Epoch Times, saying they had a hunch Sam was stuck in the cargo area with other luggage without air conditioning on the extremely hot day.
"Qatar failed in numerous ways, because they did not keep us updated. If they were having delays, they should have let us know and stepped in and said, 'Hey, can you take care of your pet until we can figure this out?' or 'Hey, we're taking care of the pet,' but they didn't at all."
The situation worsened when the family boarded its connecting, Jordan-bound flight.
"I was the second person to enter the flight, and when I stepped inside, I felt a big wave of heat hit my body," Mahmoud said, and after asking the flight attendant if it would be like this the whole time, they assured her the air conditioning would be on soon.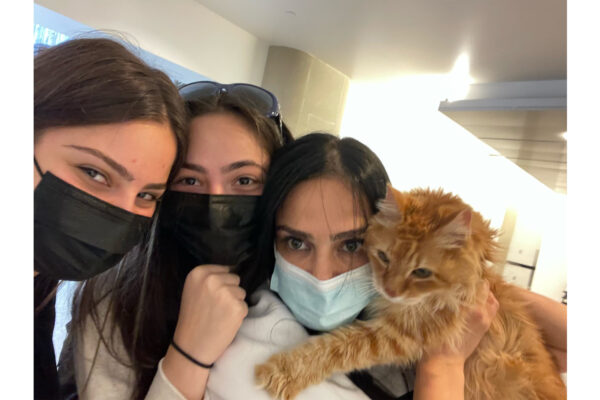 After takeoff, she said the air conditioning was not activated, and passengers became upset due to the heat, with some resorting to yelling for ice to cool down.
Mahmoud said she went to the bathroom to wash her hands, and the water was so hot she couldn't use it. She then went to talk to a flight attendant about her large concern with Sam in the cargo below and they assured her that he would be fine.
"It was horrid, we were having to take off clothes because we were sweating like crazy," Taya said. "I was worried about my mom's health, she is a cancer patient, and with the medication she takes, it's important that her body stays within a certain temperature, and she can't tolerate heat, which put her life in danger as well."
The 2 1/2-hour flight didn't have air conditioning until the last 20 minutes, the family said.
After arriving at their destination, the family received Sam back from Qatar Airways, and he wasn't moving.
"I touched the cage, and it was really hot," Mahmoud said. "And once when I touched the cat's body, it was boiling."
The family also said they know Sam died on the second flight because the cat's cage had a label showing he had been screened in-between flights, meaning he was alive at that point.
"This is the problem with Qatar Airways, they will treat your animals as though they are luggage or an article of clothing," Taya said. "They will not take care of your pets. They will put them in with your luggage, and for all you know, they could be sitting down there suffocating."
In addition, the family said the crate Sam was in had no "Live Animal" tag from the airline, which was also concerning, because the crate could have easily been placed with other luggage all around it, with no room for the cat to breathe.
In the days since, the family said Qatar Airways has started an investigation to find out what happened, though they've only been called once about the incident, to tell them the investigation was still open.
"Sam was 17 years of being my best friend, and he was our baby," Taya said, adding that his recent health tests showed he was in great health. "He was so playful and kind, and he was there for my mom during all her [cancer] treatment."
Sam had also done the international trip more than 10 times before without any issue.
To date, the family says all they've heard from Qatar Airways since the incident is, "We're really sorry," but nothing else. While nothing can bring Sam back, they want Qatar to reevaluate pet safety protocol on their airplanes to ensure this doesn't ever happen to another pet, as well as improve communication with passengers who are traveling with animals.
When contacted for comment on the matter, Qatar Airways told The Epoch Times, "Qatar Airways apologizes wholeheartedly for the tragic loss of our passenger's pet cat, which is being fully investigated.
"Qatar Airways transports tens of thousands of animals each year without any issue and we are deeply concerned by this tragic loss. The airline has stringent procedures in place for the carriage of live animals and maintains a state of the art facility in Doha for their transportation, in accordance with all regulatory and legal requirements."