IRVINE, Calif.—An Irvine City Council discussion on what percentage of renewable energy should be used at the launch of the city's new energy enterprise turned into a debate when councilors argued whether the utility provided enough public information.
This year, the city founded the Orange County Power Authority (OCPA), a type of Community Choice Energy (CCE) program that allows a city to buy and sell energy with the intent of purchasing more renewable energy and saving money in the process. However, critics of CCEs say these goals are not guaranteed and could be more costly than traditional energy providers.
While it started with Irvine, other cities have chosen to opt into the program, including Huntington Beach, Fullerton, and Buena Park.
Aside from concerns of the OCPA actually being able to save money, there have also been concerns regarding a lack of public information, according to Councilman Larry Agran.
"I've been on this council for a year now," Agran said at the meeting. "I don't understand why we haven't had a full public comprehensive briefing about OCPA, its business plan, how it intends to proceed in a way that makes good on the promise of cleaner electricity and cheaper electricity."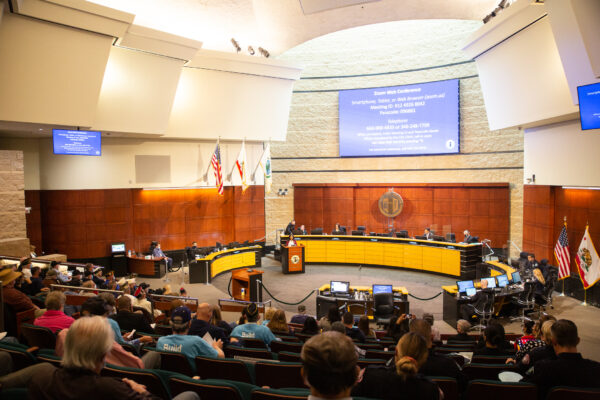 The council unanimously moved, with Agran abstaining, to inform the OCPA of its intention to invest in at least 70 percent renewable energy.
Agran said that due to other CCEs failing in the past, the financial exposure OCPA causes to Irvine gives him concern if the enterprise will be able to launch in spring of 2022 for commercial and the fall for residential customers.
"I see little evidence so far to suggest that this really is doable, and in fact, I see a good deal of financial exposure on the part of the city to major losses if this enterprise fails, or if it fails to launch at the right time, or is otherwise unsuccessful," he said.
"There are many examples of community choice energy enterprises that have failed; there are other examples where they have succeeded. It's important for us to understand the difference between the two."
Agran then brought up the failure of the Western Riverside CCE after it went bankrupt with far fewer customers, though Mayor Farrah Khan said the two were not comparable.
"The whole idea behind Western Riverside … was also thoroughly discussed at an OCPA meeting," she said. "They already had a population that was in need of subsidies and on the lower-income scale. They did not have any reserves; they were a brand new startup, launching when the pandemic hit. People were not able to pay their bills, and therefore it went into bankruptcy."
Agran said there are still grave concerns about who would choose to opt out if the cost is higher, which would spell bankruptcy for the entity if enough people do opt out.
Ultimately, Agran chose to abstain from voting after saying he could not make an informed vote with the current information, with the city attorney saying this is not possible to do, with abstained votes automatically counting as a "yes."
"Let me just state my position. I can't cast an informed vote here. Without the information I've spoken about being provided … I'm not going to cast a vote out of ignorance," Agran said.