The city of Irvine this week voted 4–1 to support building a state veterans cemetery at the Gypsum Canyon site in Anaheim instead of the El Toro Marine Base in Irvine, making it the final Orange County city to pass a resolution of support.
The resolution was brought forward by Vice Mayor Tammy Kim and Councilman Mike Carroll, who argued that the proposal to build the cemetery in Anaheim received unanimous Orange County support, including a $20 million commitment from the OC Board of Supervisors.
"It's a county mandate right now, where you've got 33 out of the 34 cities all in unanimous support of this, plus the Orange County Board of Supervisors, plus veterans groups, and we just we need to move forward once and for all to make this happen and to make this a reality," Kim told The Epoch Times.
"We don't want any misinterpretation of where Irvine stands with this, and we will support our veterans in making sure that they get a cemetery and they get a cemetery that they deserve."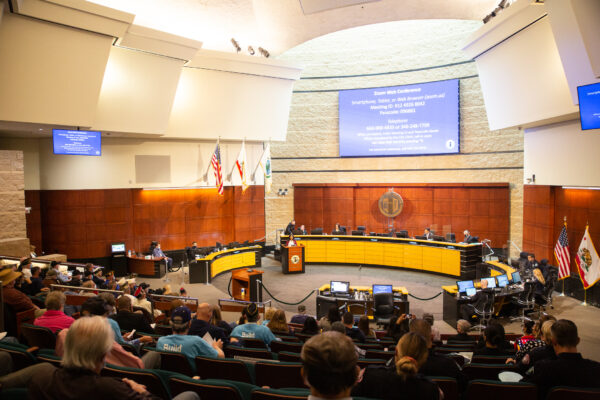 The issue is quite controversial, with many veterans supporting the site being built at the marine base, known as the Amended and Restated Development Agreement (ARDA) site, due to its historical significance. The 125-acre property has a rich military history as troops were once deployed from the base, which still features its control towers and aircraft hangars, which could be repurposed.
After hours of discussion and public comment, the council voted to approve the resolution, with every council member voting for it except for Councilman Larry Agran, who is in favor of the ARDA site.
"Some people will be testifying against the Veterans Cemetery at the ARDA site in the Great Park," Agran said during the council meeting. "I want to make it very clear that is a minority view in the city of Irvine. I say that because for nearly 10 years now that we've been involved in the struggle, none of us have ever considered a veteran's cemetery anything but an honor to have in the city of Irvine."
Harvey Liss, executive director of Build the Great Park Veterans Cemetery—an organization advocating for the cemetery to be built at the marine base—said placing the cemetery at the Gypsum Canyon site is a bad idea due to it not being approved by the California Department of Veterans Affairs (CalVet), its being in close proximity to Riverside County, and that it was a former gypsum quarry.
Having CalVet approve the site is essential, according to Liss, because it receives far more state funding than if it's unapproved.
"There's so many issues [with the Gypsum site]; it's a landslide area, so it will cost a fortune to stabilize the slopes," Liss told The Epoch Times. "It was a gypsum quarry there, and I don't believe there's even soil to dig down six feet for burials. They'll have to import at least six feet of dirt in order to have casket burial there.
"There's no infrastructure, no water supplies, storm drain, none of that stuff, and the residents around it are in a wild uproar against it, they want open space."
During the meeting, as it began looking like Agran would be the only councilmember supporting the ARDA site, he attempted to create an amendment that would indicate Irvine's commitment to building a memorial park at the site, though it failed to garner a second vote from other councilmembers.
Other councilmembers urged Agran to move beyond the past issues of the cemetery and to focus on the matter at hand and make it a unanimous vote.
"I would like to ask you Councilman Larry Agran to come around to our side," Councilman Mike Carroll said.

Mayor Farrah Khan noted that following through with the Gypsum Canyon site also made the most sense given the current dynamic.
"Orange County is unified like never before … to honor our brave veterans. Let's move forward and let's actually build it now," she said.
Vice mayor Kim added that building the site in Irvine was no longer feasible due to the legal challenges that would need to be faced.
"The Great Park residents have made it abundantly clear," Kim said. "They will fight it all the way if it is ARDA. They will fight. We will have a years-long battle if we insist on putting it in ARDA. This is not about politics or developers. This is about our veterans, so let's please do the right thing and move forward with this tonight."