The Internal Revenue Service (IRS) issued more guidance this week on what to do should a family member receive a stimulus payment for a deceased relative.
The federal government has been distributing millions of checks and deposits for up to $1,200 per individual based on their 2019 or 2018 tax returns. Payments of $500 are also being sent to children under the age of 17.
But some of those individuals have died since they filed their taxes, and a number of people have reported receiving checks or deposits for their deceased relatives. The reports prompted Treasury Secretary Steven Mnuchin to tell news outlets that they should send back those checks.
Now, as of Wednesday, the IRS offered more guidance on what to do.
The agency added a question on its FAQ section, "Does someone who has died qualify for the payment" to its stimulus Q&A section on Wednesday. The answer: no.
"A payment made to someone who died before receipt of the payment should be returned to the IRS by following the instructions about repayments," the agency wrote.
The IRS also updated its website to include instructions on how to send back the check.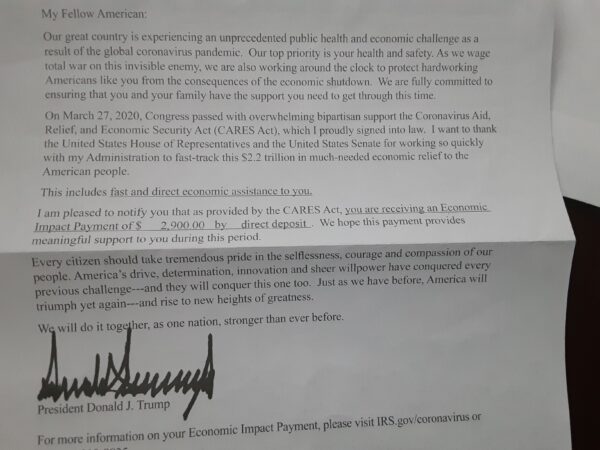 If it's a paper check, write "void" on the endorsement section on the back and mail it to the Treasury Department. Also include a note saying why you are sending it back.
But for people who cashed the check, "submit a personal check, money order, etc., immediately" made payable to "U.S. Treasury" and write 2020EIP and the "taxpayer identification number (social security number, or individual taxpayer identification number) of the recipient of the check," according to the agency. It also wants a note explaining why.
More detailed instructions, as well as addresses, are available on the IRS website.
Allan Roth, founder of financial advisory firm Wealth Logic in Colorado Springs, wrote on Wednesday that he got a $1,200 check for his deceased mother.
"The IRS system is smart enough to note she is deceased, as I filed a 2018 final tax return, but not smart enough to figure out deceased people can't stimulate the economy," he said.
The stimulus checks were sent out as part of a $2.2 trillion bill passed by Congress and signed into law by President Trump several weeks ago. More than 30 million people have filed for unemployment benefits in the past two months or so as businesses have been forced to shut down amid the CCP (Chinese Communist Party) virus pandemic.