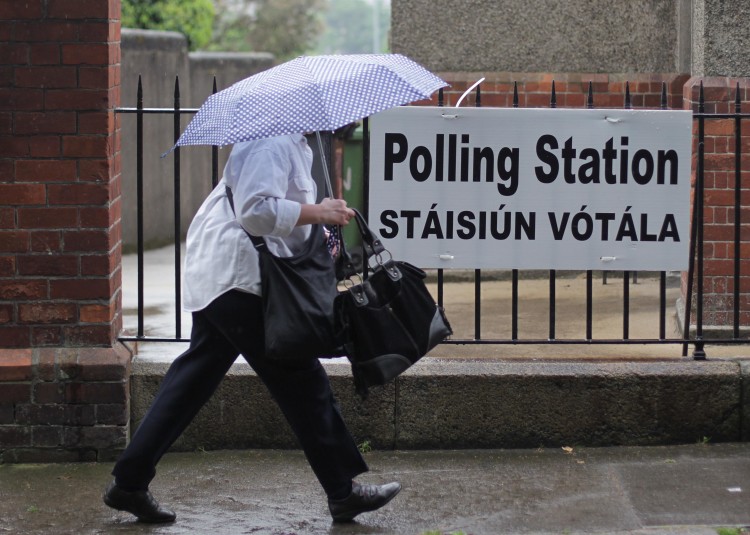 Voting concluded on Thursday evening in the Irish referendum on the European Fiscal Treaty, with an unexpectedly low voter turnout threatening government plans to secure a Yes vote on the agreement to write strict budget controls into Ireland's constitution.
Voter turnout is considered crucial in Irish referendums, and a rainy, cold Thursday saw non-definite voters stay home. Turnout around the country lounged in the mid-teens until the afternoon, though some polling stations saw a flurry of activity before voting closed at 10 p.m. Turnout across Ireland varied widely between 20 and 50 per cent, with a late surge in evening voting compensating for extremely low turnout in the morning and afternoon, especially in some rural areas.
Low turnouts in the last two Irish referendums on Europe saw those referendums rejected at the first attempt, though both were accepted after being subjected to re-votes at later dates. The low turnout was a massive boost for the anti-treaty side, as polls carried out in the weeks coming up to the referendum suggested a Yes vote being carried by a 60/40 vote.
Counting was to begin on Friday morning, with preliminary results expected around Friday midday, Irish time. 
A RED C poll on the eve of the referendum suggested a small swing back to the No side, which is considered normal. However, the poll did suggest that a fundamental difference between this vote and previous referendums is that a government-promoted Yes vote would maintain the fiscal status quo, while the result of a No vote would be absolutely uncertain. RED C suggested that, if in doubt (as many Irish remained up to polling day), voters tend to vote to maintain the status quo rather than face uncertain change – favouring an Irish Yes vote.
Although the treaty has been signed by 25 European states (the United Kingdom and the Czech Republic decided against signing the treaty), Ireland is the only European nation where a referendum on the pact is a constitutional requirement. The treaty has already been ratified in full by three states – Greece, Portugal and Slovenia – while nations such as Germany, Poland and Denmark have begun the process of doing so.
The Irish government had warned that a No vote would lead to a Greek-style degeneration into economic chaos and an eventual exit from the euro, while the No camp insisted that such claims amounted to mere scaremongering. They said a Yes vote amounted to an erosion of Ireland's sovereignty in deciding its fiscal policy. 
The Epoch Times publishes in 35 countries and in 19 languages. Subscribe to our e-newsletter.