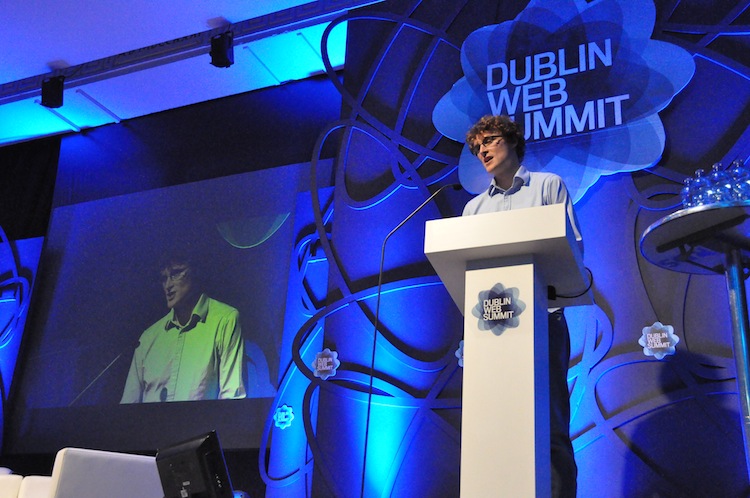 The Web Summit is here again and it's bigger than ever, with over 200 international speakers. Dublin's RDS will host almost 4,000 Irish and international delegates at Europe's largest tech conference.
The organisers say that "You'll meet everyone from seasoned CEOs behind multi-billion euro businesses to start-up entrepreneurs, and everything in between." 
One such CEO due to speak at the event is Mr Michael "Monty" Widenius, creator and original developer of MySQL & MariaDB. Monty told The Epoch Times that he's in Dublin to "spread the knowledge about open source, how you can be part of open source and how you can make money out of open source."
Monty started out in a small consulting firm in Sweden that had a lot of customers in the data-warehousing industry. There was need for a program to handle data with an sql programming language element to it; hence MySQL was born. By the way, the 'My' part of MySQL came from Monty's eldest daughter, My.
From day one the product was released as an open source product. The reason for this, according to Monty, was that he had used open source for years and he thought: "Now we finally have a product we can give back to the community."
At that time, Monty thought that the product was potentially good enough that the company could make enough money from it using an open source model and employ the team on a full time basis. 
The company grew to around 450 staff at one stage before being purchased my Sun Microsystems.
The Rapid Rise in Popularity of MySql
On MySql's rapid uptake, Monty humbly says, "basically we were lucky, we had the right product at the right time." 
According to Monty, there were no other efficient open source databases good enough to handle the web at that time. Monty says MySql's licensing model enabled them to "bootstrap a company very cheaply." Monty also added that he didn't make the same mistakes other open source companies made. "We actually had a plan and made sure we could get enough money from the project to let us work full time."
Most organisers of open source projects don't know how to make money out of their innovation, says Monty. They are very dependent on other companies using and contributing to the project. "It's very hard for a project like a database to gets lots of support, so you can't fund it as open source." Projects like MySQL, according to Monty, require a couple of million each year to drive them forward. "You just don't get people donating money that easily to projects, you need to have an income stream and without a long-term plan, we couldn't have gotten investors." 
When Sun Microsystems bought MySQL, Monty saw them as the saviours of the product because they were very pro open source; however, this didn't solve many of the internal conflicts that already existed in MySQL with respect to the direction and the open source nature of the product.
Monty thinks Sun made a mistake because, he says, "they assumed MySql was perfect and instead of going in and separating the sales people from the management and the technical development, they kept things unchanged.
"The conflicts that existed in the company between closed source and open source just grew … Before this was resolved, Oracle came into the picture, and there were bigger battles to fight."
Web Summit
With respect to the Web Summit, Monty says "what is important for me is to spread the knowledge about open source, how you can be part of open source and how you can make money out of open source, because that's the only way that we can get more open source companies to make it."
Monty doesn't think that company size comes into play in the open source arena once proper planning is in place. "I don't see any limit on how big a company can be on open source, you have to do business a different way, you don't charge everyone—you charge based on user limits. In MySql we charged every 1,000 user, but when you have millions of users you can still make money," said Monty.
Education System's Approach to Entrepreneurs
On how well education systems are doing to produce entrepreneurs, Monty says, "I'm not happy with that, they don't put enough effort into creating entrepreneurs." He feels that those with potential are being told that they need to go to the USA to succeed. "We have lots of pontifical to create successful entrepreneurs here in Europe without ever having to move companies to the USA," says Monty, who added that students need to be informed about open source and the potential it offers to their being successful. The corporate road is not the only option.
The Epoch Times publishes in 35 countries and in 19 languages. Subscribe to our e-newsletter.