BAGHDAD—Iraq's elite Counter Terrorism Service (CTS) raided the headquarters of powerful Iran-backed terrorist group Kataib Hezbollah in southern Baghdad late on Thursday and detained more than a dozen members of the group, government officials said.
The raid was the strongest action by Iraqi forces against Kataib Hezbollah in years, which U.S. officials have accused of killing U.S. and Coalition service members and firing rockets at Coalition bases.
Paramilitary sources in the country, many of them aligned with Iranian interests, gave a contradicting version of the events.
The paramilitary sources said those detained were transferred shortly afterwards to the security branch of the Popular Mobilisation Forces (PMF) in Iraq—a grouping of Iran-backed militias.
One government official denied any such transfer and said the militiamen were still in the custody of Iraq's other security services. The sources gave different numbers for those detained. A PMF official said it was 19. A government official said it was 23.
The raid was the first sign that the government of Iraq's new prime minister, Mustafa al-Kadhimi, intends to make good on pledges to take tough action against militia groups that have targeted U.S. installations.
It took place after a number of rocket attacks near the U.S. and other embassies in Baghdad and other Coalition military sites in the country in recent weeks.
British-Iranian journalist Potkin Azarmehr reported on Twitter that after the arrests, armed members of Kataib Hezbollah attacked the headquarters building of Iraq's CTS in Baghdad's international Green Zone.
BREAKING: Armed members of #IRAN backed #Shia militia Kataeb Hezbollah have stormed HQ of the CTS in #Baghdad Green Zone after more than a dozen Kataib Hezbollah members including an Iranian commando were arrested by Iraqi forces!#HashdAlshabi#حشدالشعبی#کتائب_حزبالله

— Potkin Azarmehr (@potkazar) June 26, 2020
The PMF is an Iraqi state institution. It contains factions loyal to Iran and others that are not, but has been dominated by Iran-aligned militias. These Iran-backed militias have been accused of killing Iraqi protesters when mass anti-government demonstrations broke out in October 2019.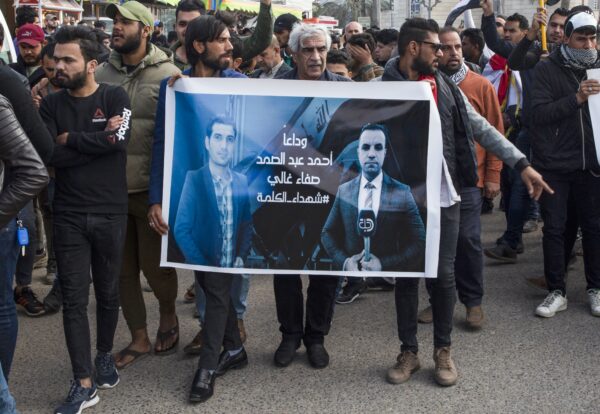 One government official told Reuters that three commanders of Kataib Hezbollah had been detained during the raid.
One of those commanders was an Iranian, he said.
Reuters correspondent John Davison contributed to this article.