U.S. officials are confident that Iran shot down a Ukrainian plane hours after Tehran launched missiles on U.S. military targets on Tuesday, according to numerous news reports.
A Ukrainian International Airlines plane crashed Wednesday right after takeoff from the airport in Tehran, killing all 176 people on board.
U.S. officials told Fox News, CBS News, the Wall Street Journal, and other news outlets on Thursday they believe the plane was mistakenly targeted by Iran.
"We have a high level of confidence that this was shot down by Iran," an unnamed American official was quoted by the Wall Street Journal as saying.
One U.S. official said American satellites had detected the launch of two missiles before the plane went down, according to Reuters.
The Epoch Times could not independently verify the claims, and Department of Defense officials have not responded for comment.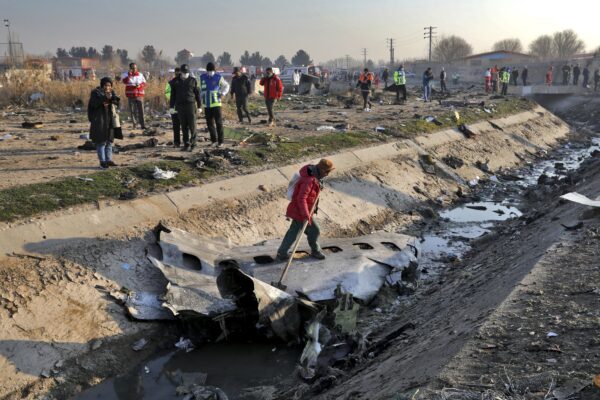 President Donald Trump was asked Thursday about his thoughts on the crash and suggested he doesn't believe a mechanical failure caused the plane to go down.
"It was flying in a pretty rough neighborhood," he said. "Somebody could have made a mistake on the other side."
The claims come after a Ukrainian official said investigators are probing the theory that the plane was shot down by a Russian-made missile defense system.
Ukraine's National Security and Defence council chief, Oleksiy Danilov, wrote on social media that "a strike by a missile, possibly a Tor missile system, is among the main (theories), as information has surfaced on the internet about elements of a missile being found near the site of the crash," according to a Fox News translation.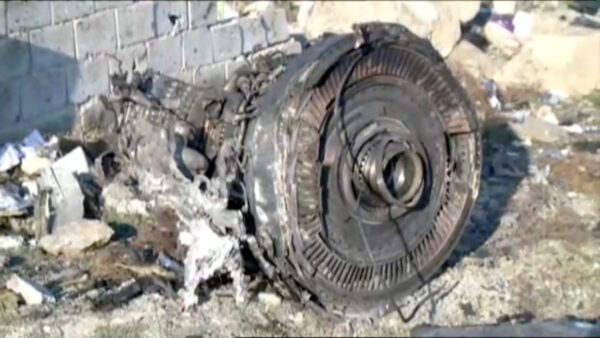 "Our (investigative) commission is talking to the Iranian authorities about visiting the crash site and is determined to search for fragments of a Russian Tor air defense missile about which there was information on the internet," Danilov also told Ukrainian news site Censor.net, according to a translation.
An initial report by Iran's civil aviation agency claimed the plane had experienced a technical problem.
Canadian Foreign Minister Francois-Philippe Champagne called Iran's foreign minister to push for allowing Canadian officials "to be quickly granted access to Iran to provide consular services, help with identification of the deceased and take part in the investigation of the crash," a statement said, reported Reuters. "Canada and Canadians have many questions which will need to be answered." Sixty-three Canadians were killed in the crash.
Before the crash, Iran had launched more than a dozen missiles at two Iraqi bases that housed American soldiers. Trump said in a televised address that no casualties were reported.