Relations may get even worse between Iran and America.  
On July 16 Iran officials announced they had sentenced a Chinese-born American citizen to 10 years in jail, after accusing him of spying on behalf of the United States.
Iran's deputy judiciary chief, Gholamhossein Mohseni Ejeie, said the U.S. citizen was sentenced for being "an infiltrating American agent," the Guardian reports.
The U.S. citizen was not named by Iran but Princeton University later identified him as Xiyue Wang, a 37-year-old student at Princeton studying history. Wang is also a dual national of a second country that was not mentioned by officials.
Princeton released a statement stating its support for the student and said in a tweet on July 17, "Princeton is supporting a graduate student who has been sentenced to prison in Iran."
Princeton is supporting a graduate student who has been sentenced to prison in Iran. https://t.co/12xCvtnQMz

— Princeton University (@Princeton) July 16, 2017
The university statement said Wang was "arrested in Iran last summer" while doing scholarly research relating to the history of the late Qajar Dynasty for his doctoral dissertation. It also said that the university has been working with the U.S. government, private counsel, and others to facilitate his release.
The state department on Sunday called for the immediate release of all U.S. citizens held in Iran unjustly. Wang is one of the several Americans arrested by Iran.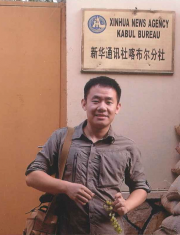 Mohseni Ejeie accused Wang of being involved in an "infiltration project" and said the 10-year sentence could be appealed.  
"He had entered the country through a special connection but the Ministry of Intelligence identified him and arrested him," Mohseni Ejeie said. "It became clear that he was involved in the infiltration project and the initial court has sentenced him to 10 years but this could be appealed."
In January 2016, Iran released an Iranian-American Washington Post reporter, Jason Rezaian, who had been sentenced to 18 months in jail, also on spying charges.
Rezaian said last year that he suffered from "irreparable harm" and was tortured during his time in a Tehran prison after filing a lawsuit against the Iranian government, the Guardian reported.