The top U.S. general overseeing the Middle East said on March 12 that an Iran-backed terror group was likely responsible for the rocket attack that killed U.S. troops in Iraq a day earlier.
"Yesterday, hostile forces, most likely Shia militia groups, launched more than a dozen rockets at U.S. and coalition forces at Camp Taji in Iraq, killing two U.S. and one British service member, as well as wounding several more," U.S. Central Command commander Gen. Frank McKenzie said during a Senate Armed Services Committee hearing.
McKenzie said the military is still investigating the attack.
However, he strongly suggested that Iran-backed terror group Kataib Hezbollah, which the United States has blamed for previous rocket attacks in the region, was behind the March 11 incident.
"I will note that the Iranian proxy group Kataib Hezbollah is the only group known to have previously conducted an indirect fire attack of this scale against coalition forces in Iraq," McKenzie said.
A U.S. military spokesperson for the anti-ISIS coalition in Iraq confirmed that three personnel were killed in the Camp Taji attack, while other officials told media outlets that two Americans and a Briton died.
About 18 rockets were fired at Camp Taji, which hosts U.S. soldiers, north of Baghdad, coalition spokesman Col. Myles B. Caggins stated. Twelve other personnel were injured in the incident, according to his statement.
Iraqi forces wrote that they found a rocket-armed truck several miles from the camp.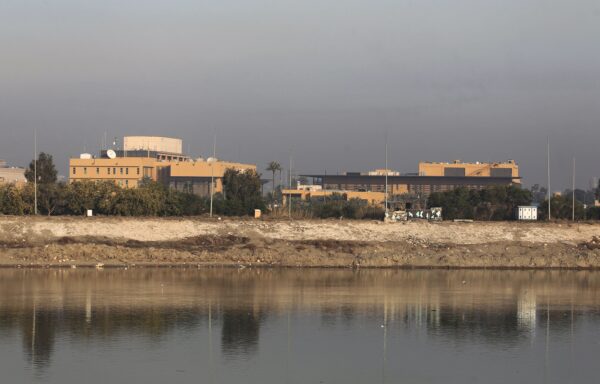 Secretary of State Mike Pompeo wrote that he spoke to his British counterpart after the attack.
"Today's deadly attack on Iraq's Camp Taji military base will not be tolerated … those responsible must be held accountable," Pompeo wrote on Twitter.
Ben Wallace, Britain's defense secretary, told media outlets on March 12: "Last night's attack on UK and coalition personnel was a cowardly and retrograde act. The men and women of the UK armed forces are in Iraq to help that country establish stability and prosperity. The people that did this are not friends of Iraq," according to Fox News.
U.S. military officials blamed Kataib Hezbollah for a rocket attack in December 2019 that killed a U.S. contractor and injured several troops. In response, the United States conducted strikes on Kataib Hezbollah in Iraq, before Iran-aligned militia groups attempted to storm the U.S. Embassy in Iraq. Kataib Hezbollah was deemed a foreign terrorist organization by the State Department in 2019.
The United States then approved an airstrike to kill Iranian Gen. Qassem Soleimani in early January. Top U.S. officials said Soleimani was planning attacks on U.S. assets and had killed hundreds of Americans over the years.
Iran then launched a barrage of about two dozen rockets at two Iraqi military bases holding troops, causing minor injuries to more than 100 service members, most of whom have since returned to work. President Donald Trump later announced more sanctions on Tehran.