An Iranian lawmaker from the city of Qom said 50 people in the city have died of the new coronavirus in February, drawing a swift rebuke from the country's health ministry and insisted that the death toll is much lower.
Ahmad Amirabadi Farahani, the lawmaker, made the claim in an interview with The Associated Press before accusing Iran's leadership of failing to contain the outbreak.
"I think the performance of the administration in controlling the virus has not been successful," Farahani said, referring President Hassan Rouhani's government. "None of the nurses have access to proper protective gear," he added. "So far, I have not seen any particular action to confront corona by the administration."
But health ministry spokesperson rejected Farahani's claim and said only 47 people have been infected and a dozen people have died.
"No one is qualified to discuss this sort of news at all," Harirchi told AP, saying that lawmakers don't have access to such data. He said that Farahani may have mixed coronavirus death figures with influenza or other diseases.
A number of countries neighboring Iran have implemented travel restrictions or have gone so far as to close down their borders. Turkey, Iraq, Kuwait, Afghanistan, Pakistan, and Armenia announced land border closures in recent days.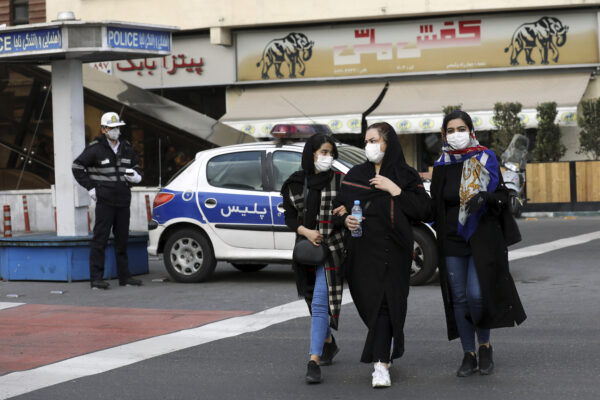 On Monday, Kuwait, Iraq, Afghanistan, Bahrain, and Oman announced their first cases of the virus, which causes the COVID-19 disease and is believed to have emerged in Wuhan, China. Tens of thousands of people are suspected to have been infected by the virus inside China, although experts have raised concerns that China has not provided an accurate picture of the outbreak.
The new confirmed cases come as World Health Organization (WHO) chief Tedros Adhanom Ghebreyesus told a news conference that the world should be "doing everything we can to prepare for a potential pandemic." But cautioned that "using the word pandemic now does not fit the facts, but it may certainly cause fear."
Elaborating, WHO's Dr. Mike Ryan said that officials "need to be very careful in the first wave of infections in any newly infected country, because we may only be detecting severe cases and the deaths will be overrepresented in that. We also need to be cognizant that the virus may have been there for longer than we had previously suspected."
The virus is believed to have spread primarily via religious gatherings in Qom, said Ryan, who noted it bears some similarity to other clusters of cases, including the Diamond Princess cruise ship, where hundreds of people became sickened after spending two weeks in medical isolation off the coast of Japan.