Iran said it wasn't taking a South Korean oil tanker and its sailors as hostages, a day after its naval unit seized the vessel in the Gulf waters while demanding Seoul release billions of dollars in Iranian money frozen due to U.S. sanctions.
Iran's Islamic Revolution Guards Corps on Monday intercepted and captured the MT Hankuk Chemi, a South Korean-flagged tanker, and detained its 20-member crew, citing "environmental and chemical pollution concerns."
The seizure came as South Korea, in accordance with sanctions reimposed by the United States in 2018 after withdrawing from the Obama-era nuclear agreement, continues a freeze on $7 billion from Iran's oil exports in two Korean banks. Tehran has been calling on Seoul since July 2020 to release the money.
The Islamic regime on Tuesday denied speculation that it is planning to exchange the captured ship for its $7 billion funds. "We've become used to such allegations," spokesman Ali Rabiei told a news conference, reported The Korea Times. "But if there is any hostage-taking, it is Korea's government that is holding $7 billion, which belongs to us, hostage on baseless grounds."
South Korea on Tuesday summoned the Iranian ambassador, calling for the immediate release of the ship and the sailors. The Blue House also said it is sending a delegation to Tehran to discuss the matter.
Iran has a record of seizing foreign ships traveling near the strategic Strait of Hormuz as a method of gaining advantage in sanctions talks. In 2019, Iran held a British tanker for two months after the United Kingdom seized an Iranian tanker that was suspected of carrying oil to Syria in violation of European Union sanctions.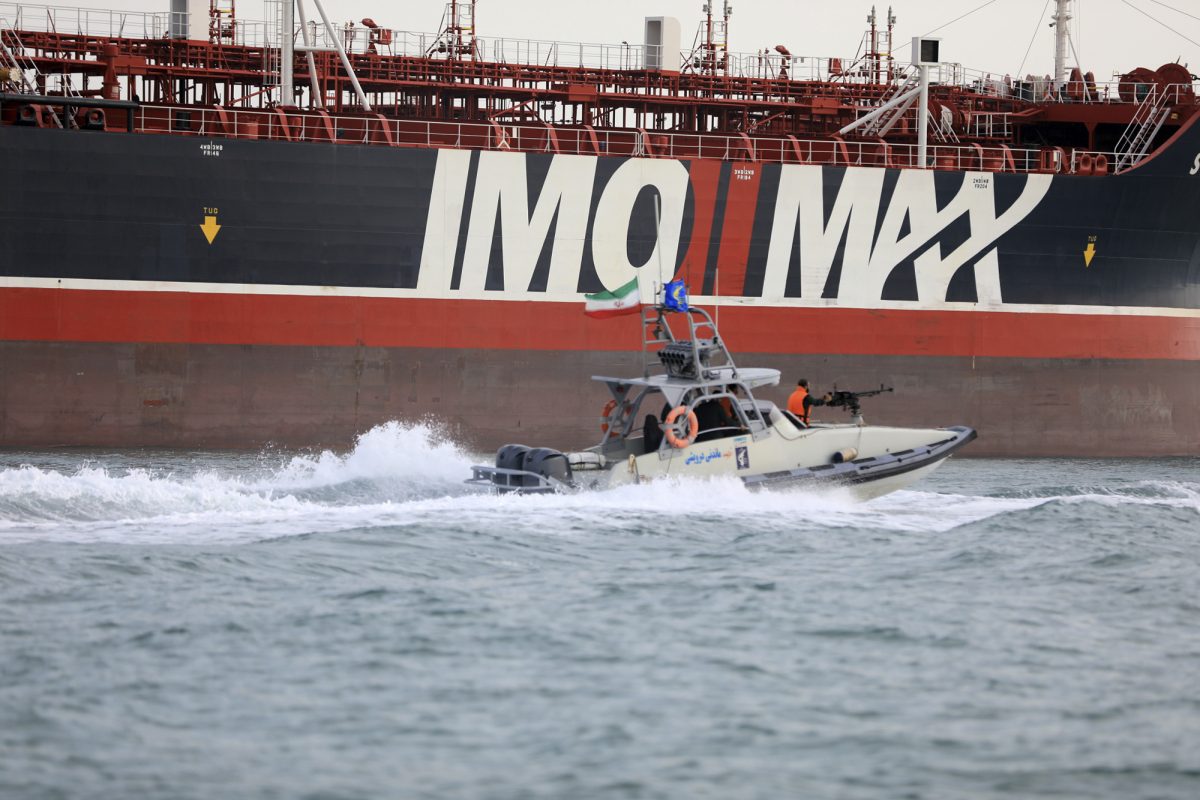 The fate of U.S. sanctions against Iran is likely to be determined by the result of the White House race. A reelected Trump administration, according to State Secretary Mike Pompeo, will continue the "maximum pressure campaign" on the Iranian regime until it reaches a "comprehensive agreement" with the United States to "rein in its proliferation threats and stops spreading chaos, violence, and bloodshed."
Former Vice President Joe Biden, by contrast, has expressed a willingness to rejoin the 2015 nuclear deal if elected president. He wrote in a September essay for CNN that "if Iran returns to strict compliance with the nuclear deal, the United States would rejoin the agreement as a starting point for follow-on negotiations."