An adoptive mother of a teenage girl who was abused and starved to death has been sentenced to three life terms in prison for her murder.
Nicole Finn, 43, was sentenced in court in Des Moines, Iowa, on Friday, Jan. 26, for murdering her adoptive daughter Natalie, and on three counts of kidnapping, WHOTV reported.
The 16-year-old girl was found emaciated and half-dead on a linoleum floor of the Des Moines home that became her prison, wearing an adult diaper. She died in a hospital several days after her October 2016 rescue, from a heart attack brought on by starvation.
State attorney Bret Lucas reminded Polk County Judge Karen Romano of the horrors Natalie endured.
"Finally, when she was too weak to move, too weak to sit up, and too weak to swallow, she left her on the floor of a barren room, filthy, covered in urine and feces, and left her there to die," Lucas, according to WHOTV.
Judge Romano ordered Finn to serve the life terms consecutively and without parole.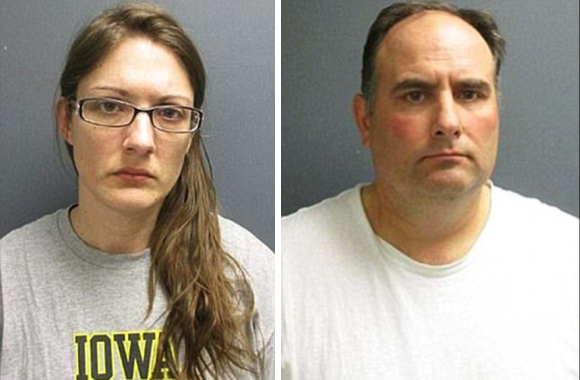 The woman is also forbidden to have any contact with her surviving adopted children, the Des Moines Register reported. An investigation found Finn had abused three of the four children she had adopted, taking them out of public school, locking them away and slowly starving them.
"The court cannot imagine what kind of mental trauma these children have suffered," Romano said, according to the Register.
According to a court testimony given during Finn's trial in December, 2017, Natalie and her siblings had been confined to a room with no furniture, the Daily Mail reported. Her siblings were malnourished and suffered from bedsores, while Natalie had been lying in her own waste for "some time" when she was discovered by the authorities.

Finn had boarded up windows in the house to stop the children going out to look for food after they were caught begging neighbors for something to eat.
The woman's defense team argued the woman had become overwhelmed by the demands of looking after four adoptive children who suffered from behavioral disorders.
During her December trial, her lawyers claimed she had become "detached from reality," according to the Daily Mail.
But the jury that considered the evidence, including testimony that one of the children had to drink from a toilet because she was so thirsty, and returned a guilty verdict.
The court heard that child welfare representatives had visited the Finn home two months before Natalie's death following reports about her condition.
But they allowed her and the other children to continue living there.
At the time of Natalie's death, Senator Matt McCoy commented on the tragedy, the Daily Mail reported.
"What happened to not only Natalie but her siblings was preventable.
"It's a horrific situation and I feel heartbroken for Natalie and her siblings who were, in essence, sealed in that room and left to die," McCoy said.
Nicole Finn told the court she intends to appeal the sentencing decision, but offered no statement or apology for her crimes.
Joseph Finn, who was not living at the house at the time of Natalie's death, stands accused of helping Nicole Finn confine the children. He faces several felony charges, including kidnapping and child endangerment.
His case is scheduled to go to trial in April, 2018.
Recommended Video:
Neighbors React to Parents' Arrest After Their 13 Children Found Shackled, Malnourished in Home