Investors Still Like Yahoo Despite Weakening Fundamentals
July 24, 2013 5:45 am Last Updated: July 24, 2013 10:10 am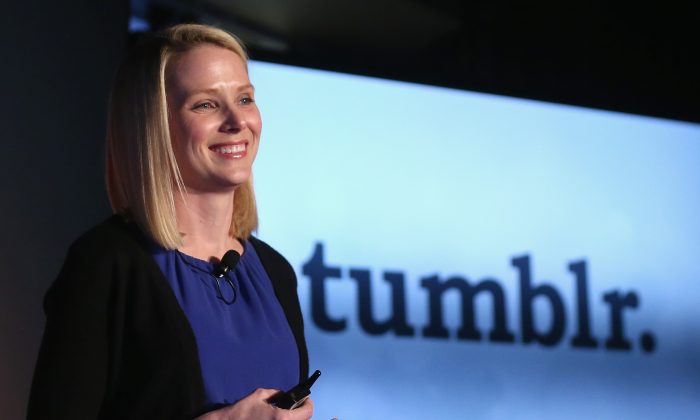 Yahoo Inc. has improved its standing in the investment community since Marissa Ann Mayer was appointed president and CEO on July 16, 2012. Now just over a year later, and Yahoo's stock (NASDAQ: YHOO) is up more than 75 percent, at $27.86 as of July 22.
Yahoo's stock price has held up despite the Internet search and advertising company's second-quarter results, which investors seem to have brushed aside—for now. On July 16, Yahoo reported that its revenue fell $83 million, or 6.8 percent, to $1.14 billion, compared to $1.22 billion in the same quarter last year.
Weakening Fundamentals Have Little Effect on Stock Price
Despite deteriorating fundamentals and a slew of negative analyst reports, research firm Zacks gives Yahoo an "outperform" long-term rating (+6 months), and a "buy" rating in the short-term with a No. 2 rank (where 1 is a "strong buy" and 5 is a "strong sell").
According to Zacks, 16 out of 27 brokers recommended holding off on buying Yahoo's stock, more than during any of the prior three months.
Citigroup Global Markets Inc. research gives Yahoo a buy rating, seeing a big positive in the growth of Chinese firm Alibaba Group (AG), which Yahoo has a stake in. Based on Citi's estimates, AG represents about 35 percent of Yahoo's current value. However, Citi said that significant competition in the display ad market and concerns over Yahoo's turnaround plans represent key risks.
Goldman Sachs and UBS AG also rate Yahoo's stock a buy, with the latter setting a price target of $30 on Yahoo shares, which is $2 more than its prior target.
But according to a July 17 article on People's Post, "Twenty-one investment analysts have rated the stock with a hold rating and eighteen have given a buy rating to the stock. Yahoo! presently has an average rating of 'Hold' and a consensus target price of $27.25."
Mayer Drives Share Price
Despite some unfavorable ratings recommendations for the company, analysts see Mayer's leadership as a positive, accepting her assessment that it will take years for Yahoo to complete its turnaround.
Innovation will be a key driver in achieving Mayer's goal of increasing Yahoo's market share. During the second quarter, the company unveiled "the new Yahoo! News, the new Yahoo! Sports app, the redesigned Yahoo! search, the new Flickr, the new Yahoo! Mail for tablet, the Yahoo! Weather app, our new Yahoo! app with Summly," said Mayer in Yahoo's second-quarter earnings release.
In pursuit of ever greater market share—its stated goal is to grow to over 1 billion visitors per month—Yahoo bought nine companies last quarter. These include mobile news startup Summly, flight search startup MileWise, mobile gaming company Loki Studios, and social networking platform Tumblr.
Also working in Mayer's favor is that Yahoo's employees approve of her leadership. Even though she banned working from home, she has added employee perks like free food. Employees gave Mayer an 85 percent approval rating, according to the Glassdoor blog. Employee satisfaction has improved to a 3.7 "satisfied" rating from a rating of 3.4 ("OK") just before she took the helm.
Still a Long Way to Go
In spite of Yahoo's efforts, there is much that needs to be done to reach its goal. In May, Yahoo sites ranked second in terms of visitors, just behind Google (194 million unique visitors) on the comScore Top 50 list of U.S. Internet properties. Yahoo had nearly 193 million unique visitors on its Internet sites, ahead of Microsoft and Facebook, which had 175 million and 145 million unique visitors, according to comScore.
However, in June, Yahoo's market share of explicit user searches was just 11.4 percent, while Microsoft sites pulled in 17.4 percent and Google garnered a whopping 66.7 percent of all U.S. "explicit core search" traffic, according to comScore. Furthermore, this was a 7 percent drop for Yahoo from May in terns of the search volume, which was the highest percentage change among the top five competitors.
Yahoo Inc. still has a long way to go before it completes its turnaround plans. After a disappointing quarter showing weakening fundamentals, now might not be a good time to take the plunge on the company's stock, which is riding high and already near the target price of many analysts. And while Mayer is still a bright spot for the company, it remains to be seen whether Yahoo can hold onto its investors in the long-term and truly innovate its way to a turnaround.