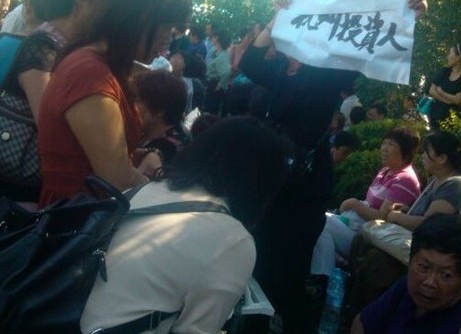 Tianjin City in North China was once known as the private equity paradise but has now become a living hell due to illicit fundraising activities and outright theft of invested money. 
Over 1,000 disgruntled investors protested outside the Tianjin municipal government building on Sept. 3 and Sept. 4, alleging they were defrauded by the local government.
Tianjin is China's third largest city and an economic hub, at times leading the country in gross domestic product (GDP). 
But for Chinese, an attempt to capitalize on that growth has left them empty handed, with no return on investment and their capital gone. 
Large groups of police attempted to disperse the protesters, beating several and taking three women into custody. 
They demanded to speak to the mayor, blaming the municipal government for what they allege is wide-scale investment fraud. 
Over the two days, a couple thousand people have demonstrated in front of the government building, chanting the slogan, 'Zhang Gaoli, Cui Jindu, give back our money," a protester named Li Peng told The Epoch Times: 
Zhang is the secretary of the Tianjin municipal committee, and Cui is the vice mayor.
"There were large groups of police officers on the spot. On Sept. 3, three female protesters were arrested and we asked for their release. The authorities said they would only consider our request when we leave the government building," Li said. 
The women were released later that day and the protesters moved away from the building, said Li. On Sept. 4, the demonstrators had a negotiator meet with officials from the city and were awaiting a response.
Ms. Chen, another protester, said police tried to disperse the crowd by offering people 500 yuan (approximately US$79).
She said some protesters unfolded a banner that read "Return Our Hard-Earned Money," but police confiscated it, hurting some protesters in the process. 
Some older protesters got on their knees in tears, asking for a solution to their financial loss, she said. 
"We, investors from various provinces including Shandong, Henan, Tianjin, Inner Mongolia, and Zhejiang, demand that the mayor solve our problems," said Chen.
Fraudulent Fundraising Leads to Complete Loss of Funds
IT Time Weekly (ITTW) magazine reported that the Tianjin government at all levels had urged people to invest in private equity (PE) funds from December 2010 to October 2011.
"First come first served, legal investment and a guaranteed return for your money," the investments read.
The promised monthly rate of return was high and the investment prospects alluring. Since it was promoted by the local government, many people invested their life-time savings into the PE funds.
One of the PE companies, Shenghua Investment Holding Group Co., Limited, specialized in coal, environment and finance. It held total assets of nearly 1 billion yuan (US$158 million) in multiple subsidiaries located in Tianjin. These included Tianjin Meishengyuan Environmental Technology Group Limited, Tianjin Zhongkai Coal Company, and Tianjin Shenghua Medium-Equity Investment Fund. 
On July 30, 2011, Shenghua Group's subsidiary Medium-Equity Investment Fund raised the last round of equity. Trouble started in early September when the company refused to pay the promised return, which then was followed by the disappearance of management personnel. The company eventually disappeared. 
Shenghua is just one example, however. According to the ITTW report, the major PE funds in Tianjin have vanished without a trace, with over 1 million victims affected and over 100 billion yuan ($15.78 billion) stolen. 
The magnitude of the fraud could have a national impact, representing the largest private equity fraud in China. Many families have been left ruined, and blame is falling on the Tianjin government. 

According to the international law firm Linklaters, the National Development and Reform Commission (NDRC), China's top economic planning body, issued the first nationwide rules on equity investment enterprises (EIEs, namely private equity funds) on Nov. 23, 2011. The new rules impose filing requirements on all equity investment enterprises, while the old rules only require EIEs with capital investment of 500 million yuan ($79 million) or more to complete a filing.
The Linklaters report said, the new rules require EIEs with over 500 million yuan of monetary capital to file with NDRC, and those with a lower fund size must also file with a filing authority governed by the provincial governments. 
Asian Venture Capital Journal (AVCJ) reporter Alvina Yuen quoted NDRC's statistics as saying there had been 1,059 cases of private equity firms breaching fundraising regulations in 2011.
Of the 2,400 registered PE investment firms in Tianjin at the end of 2011, more than 2,000 firms failed to carry out their filing procedures with local authorities in Tianjin, the ITTW report said. In the first half of this year, more than 30 were reported to be involved in illegal fundraising in the disguise of private equity investment, stealing a pool of 3.35 billion yuan (US$529 million) from tens of thousands of individuals nationwide,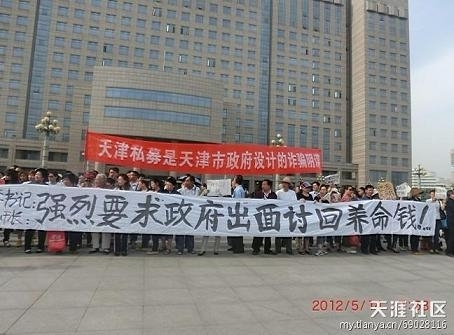 There have been frequent illegal fundraising cases occurred in recent years in Tianjin. 
Tiankai Xinsheng Equity Investment Fund was the first private equity investment firm charged with illegal fundraising activity in 2010, having reportedly used direct marketing channels to raise 1 billion yuan (US$158 million) from around 9,000 investors. In 2011, the investment fraud of Huolimu Equity Investment Fund that raised about 1.6 billion yuan (US$253 million) from over 5,000 people around China, was exposed to Tianjin.
As at time of writing, the Tianjin government has not yet done anything to resolve this large-scale fraudulent equity investment fundraising, so hundreds of investor representatives repeatedly petitioned outside the city office and also petitioned in Beijing. 
Li Peng said that these fundraising firms had approval documents issued by the Tianjin government. The investors made the PE investments because they believed in the government. The "shell companies" are now gone and the government says it has no official files or knowledge of the investments.
"My family, friends and I jointly invested 2 to 3 million yuan (US$315,658 to US$473,487). This money is all of our savings. Now, we could not even get a penny back. We cannot survive financially," Mrs. Chen said helplessly.
Li added: "Many elders have invested tens of thousands of yuan. Some invested over 1 million or millions. Some even sold their houses but got nothing in return. In Xinxiang City of Henan Province alone, three people were forced to commit suicide."
Read the original Chinese article.
The Epoch Times publishes in 35 countries and in 19 languages. Subscribe to our e-newsletter.