Competitive electronic sports have graduated from a subculture into a mainstream industry, attracting investments from media companies, owners of established sports teams, and venture capital firms.
For the uninitiated, esports, an amalgamation of the words electronic and sports, are video game tournaments. They are held in front of live audiences—similarly to other sporting events—and over the internet, where they potentially can be seen by millions of live viewers. Prizes for winners can reach millions of dollars.
The esports industry is the fastest-growing segment among the sports and video game sectors. Industry revenues are expected to reach $696 million in 2017, an increase of 41.3 percent compared to 2016, according to market intelligence firm Newzoo. By 2020, global revenues are projected to reach almost $1.5 billion, or more than four times the revenues reported in 2015. Currently, around 60 percent of all global esports revenues come from North America, China, and South Korea.
There are secular shifts supporting this trend. A July report from the National Bureau of Economic Research showed that young men in their 20s experienced the biggest decline in average working hours between 2000 and 2015. The report notes that the decline parallels a corresponding increase in leisure time, specifically time spent playing computer games, and that "better leisure technology was a significant factor … in the decline in [working] hours for younger men."
The social impact of such trends notwithstanding, esports' explosive popularity has kicked off a global gold rush among investors eager to capitalize on the industry's growth.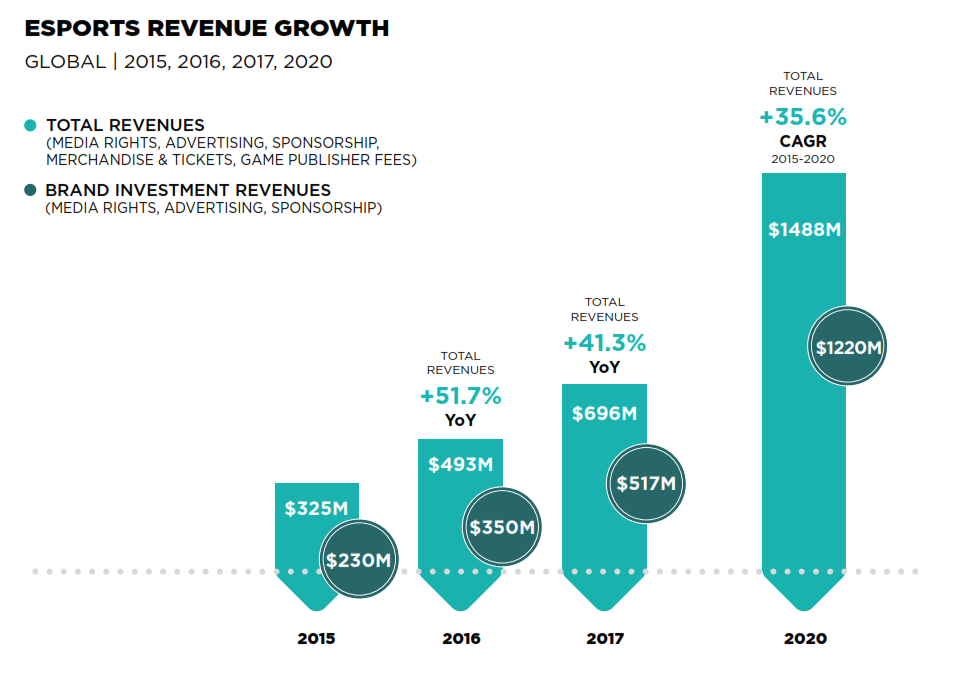 Funding Startups
Newzoo expects the global esports audience to reach 385 million this year, and hundreds of startups have sprouted up in the industry, backed by well-known investors.
Twitch.tv is one of the earlier entrants into esports. Twitch is a live video-streaming platform primarily dedicated to video game live-streaming, including broadcasts of esports tournaments. It was acquired by Amazon.com Inc. in 2014 for almost $1 billion.
On Sept. 7, Taunt, a startup calling itself "a social competition platform for esports fans," closed a $1.8 million financing round led by Foundry Group and Vulcan Capital, backed by Microsoft co-founder and Seattle Seahawks owner Paul Allen. Taunt allows users to set up and track virtual teams of esports participants while competing with other users, in a similar fashion to how fantasy football platforms track actual game results from the NFL.
Unikrn, a betting platform for esports, raised $10 million from investors in 2015. It is backed by investors including TV personality and Dallas Mavericks owner Mark Cuban and actor Ashton Kutcher. In August, the company told Reuters it plans to raise $100 million from launching a digital currency, also known as an initial coin offering.
Convergence of Industries
At first glance, it's easy to dismiss esports as a niche or a fad. But the amount of interest from multiple industries, and support from traditional sports team owners, could suggest greater longevity.
A hallmark of traditional sports is a convergence of participants generating revenue and audience—support from media coverage, corporate sponsorships, and ticketing and merchandising (fan base). A similar trend is emerging in esports, which exhibits an impressive diversity of revenue streams.
In 2017, the esports industry expects to earn most revenues—$266 million, or 38 percent—from corporate sponsorships. Advertising will earn another $155 million, or 22 percent, followed by game publisher fees, media rights, and ticketing and merchandising, according to Newzoo data.
Increasing media participation reflects this trend. Media giant Turner Broadcasting created an eLeague in 2015 specifically to broadcast tournaments of video game publisher Valve Corporation's popular "Counter-Strike: Global Offensive" on Turner's TBS network. ESPN, the multichannel sports media owned by Disney Inc., launched a dedicated vertical in early 2016 to cover esports.
Some owners of existing sports teams have become early investors in esports. The NBA's Philadelphia 76ers—controlled by New York private equity mogul Joshua Harris—in 2016 acquired two esports teams, Dignitas and Apex. The teams were combined into Team Dignitas, which competes in popular esports including League of Legends, Overwatch, and Counter-Strike.
"We've seen interesting corporate support coming in," said 76ers President Scott O'Neill in a Sept. 2 interview with VentureBeat. "Digitally, we have this incredible deal with Facebook. We're the first to announce the deal with Facebook. This is very quickly becoming part of the fabric of American sports."
O'Neill said the advent of esports reminds him of the rise of UFC (Ultimate Fighting Championship), "coming almost out of nowhere, very quickly."
Stan Kroenke, the majority owner of the NFL's Los Angeles Rams and English Premier League's Arsenal, and associates last month bought a team in esports league Overwatch. While financial details were not disclosed, ESPN reports suggest a $20 million franchise fee for participation in the league. Other franchise owners in Overwatch include Robert Kraft, owner of the NFL's New England Patriots, and Jeff Wilpon, COO of the New York Mets baseball team and son of the team's principal owner, Fred Wilpon.

Investors Taking Notice
Esports has become a new growth engine for large video game publishers. League of Legends is developed by a subsidiary of Tencent Holdings, one of China's biggest internet companies. Counter-Strike is published by Valve, and Overwatch is developed by video game industry giant Activision Blizzard.
The rise of esports has been a boon to Activision, a major player in the segment. Its stock has risen 80 percent year-to-date as of Sept. 9, beating both the Nasdaq composite (18 percent gain) and the S&P 500 index (10 percent gain) during the same period.
Activision soundly beat analyst expectations in its second-quarter earnings. Analysts at Credit Suisse noted that "the nature of the outperformance should be sustained into following quarters/years" on high incremental margins, in an Aug. 4 equity research report.
The nascent industry is also attracting the attention of traditional investment managers.
"We think that the future of esports could potentially follow that of football, most notably the English Premier League in the 1990s," wrote analysts at London-based investment manager J. Stern in a research report.
"For esports to track a similar path, we think that it needs to be more professionally structured, starting with an organized calendar of events and leagues," they wrote.
But as esports grow and mature, new challenges arise. There are few established rules and regulations, and no esports league currently has a players union.
Like any other sport, becoming a professional requires years of intensive training and practice. But in this case, long hours of playing video games can lead to addiction, especially among teenagers and younger players. South Korea instituted the so-called shutdown law in 2011, banning children under the age of 16 from accessing gaming websites between 12 a.m. and 6 a.m.
These social problems and their impact to the wider society and economy are only just beginning to be understood. Nonetheless, esports investors should question if its equivalent to the NFL's "concussion moment" will ground the industry before it can fully take off.