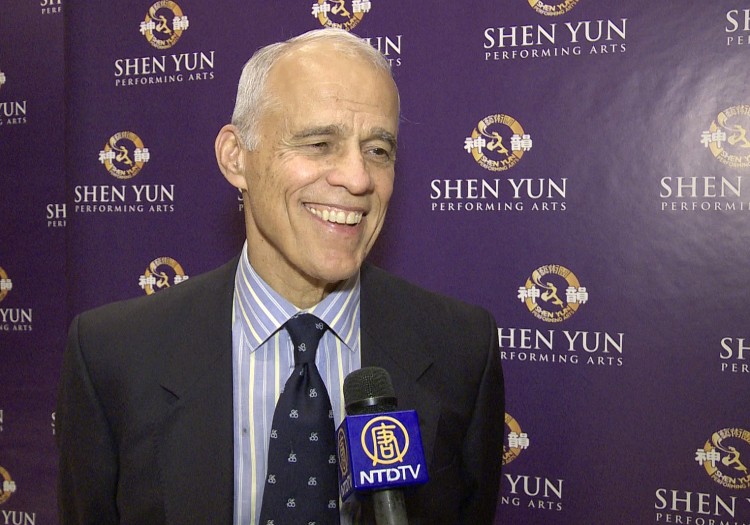 NEW YORK—When Bill Needham, an investment banker, independent director of Golden Hope Mines Limited, and formerly of Oppenheimer & Co, was watching Shen Yun Performing Arts at Lincoln Center on Saturday evening, he was already thinking of bringing his two sons to see it.
"One [son] that's down in Georgia and another one that's another place, in just to see it, because I think the cultural understanding that it brings is very valuable for today's young men," he said.
Mr. Needham immensely enjoyed the performance.
"It was spectacular," he said. "The choreography, the athleticism, and the message was just wonderful. People should come and see it. You'll then understand what I'm talking about."
Classical Chinese dance is at the heart of a Shen Yun performance, both one of the hardest to master and one of the most comprehensive in the world, according to the company's website. "Classical Chinese dance is a culture left to us by the ancients who came before us, its beauty should be riches shared by all of humanity, its purity should not be contaminated. Shen Yun Performing Arts' dance style is built upon classical Chinese dance as a foundation, while also maintaining a number of ethnic and folk dances. This combination embodies Chinese people's aestheticism and ethnic character."
The gentleness of the dancers, even while performing difficult jumping and tumbling techniques, struck Mr. Needham. 
"Those are gentle vignettes," said Mr. Needham. "Fabulous dancing and fabulous choreography."
The mission of Shen Yun, which is based in New York, is to revive the 5,000 year-old, divinely inspired Chinese culture, which, according to the company, was "all but destroyed" by more than 60 years of communist rule.
"I am delighted to see that the show is being put on because I think it crosses into our culture, here in the West, very nicely," said Mr. Needham. "It lets us know a lot more about China and things of the East, which we do not know enough about."
Being based in New York, explains the company's website, "Shen Yun's artistic creators have the ability to freely express themselves and their ancient culture." Mr. Needham commented on the current situation in China. 
"There's a great struggle going on in China today," he said. "And it all comes down to education and understanding that everybody has their unique destiny. And if you want the most out of a human being the system must be such that they're free to do everything that they can possibly do and possibly be as long as they don't interfere with the rights of others. And when government becomes over-powerful—wherever it is on earth—it crimps the individual's potential. 
"I think this show shows very well what can be done when freedom reigns—it's very exciting," he added. Shen Yun was formed six years ago, a fact Mr. Needham said was magnificent. "Keep doing it," he encouraged the performing arts group and its artists.
Backing the dancers are; a unique orchestra that combines both Western and Chinese classical instruments, handmade colorful costumes, hi-tech digital backdrops, a trio of vocalists, and two virtuoso musicians.
"I loved the music," said Mr. Needham. "I loved the whole thing. The way the scenery and the staging and the dancing melds into one another is a very different experience. And very exciting. Very enjoyable."
Reporting by NTD Television and Zachary Stieber.
Shen Yun Performing Arts, based in New York, has three touring companies that perform simultaneously around the world, with a mission to revive traditional Chinese culture. Shen Yun Performing Arts Touring Company will perform at the David H. Koch Theater at Lincoln Center through April 22. 
For more information, visit ShenYunPerformingArts.org.