As the world turned its attention to Hong Kong's mass protests against a controversial extradition bill, a young woman stood out among the hundreds of thousands.
Right in front of a line of riot police officers holding shields, Lam Ka Lo, 26, decided to sit down, close her eyes, and meditate.
Photojournalists from around the world captured the image. It soon circulated widely on social media. People called her "Shield Girl."
"I wanted to protect those who were younger than me. That night, seeing how the police line kept advancing toward [the protesters], I just sat down with my back facing the police. I just wanted to let the police know that, we do not want you to keep on advancing. At the same time, we don't want to attack you either," said Lam, in an interview with the Hong Kong bureau of the Epoch Times.
On the evening on June 11, before legislative debates on the controversial bill were to take place the following day, Lam decided to join protesters in an area near Hong Kong's government headquarters, located in the Admiralty neighborhood.
The Hong Kong government first proposed controversial amendments to its extradition laws in February, which would allow the chief executive—the city's top official—to sign off on extradition requests, including from mainland China, without approval from the city's unicameral legislature.
Lam, like many Hongkongers, worried that if the bill were to pass, Beijing could potentially pressure the city government to hand over citizens of any nationality for them to be trialed in the Chinese regime's courts under false pretenses.
That night, tensions were already high, as police cars and officers in riot gear began to show up at Admiralty, in anticipation of protester crowds.
At around midnight, Lam, who was at the demonstration zone outside of the legislature building, decided to sit down and stop the police from advancing toward the protesters. Others later joined her. She remained seated until the morning hours on June 12.
Her display of courage inspired many.
Overcoming Fear
Lam explained that she had to get over a great deal of fear while sitting there. She was nervous when media journalists began taking pictures of her.
"Even though I was a bit perplexed at the time, I was firm. For all the good values that make up Hong Kong, I knew I had to persist," Lam said.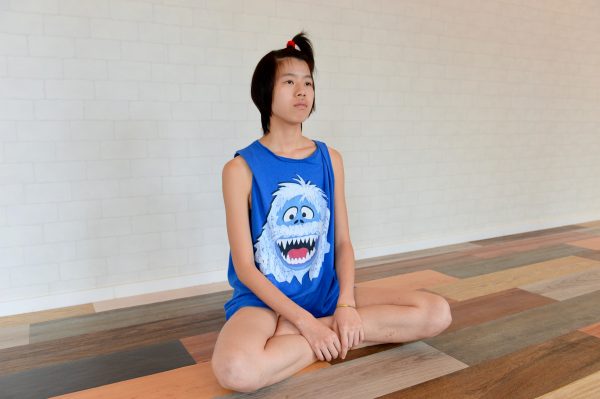 Nearly five years ago, Lam was also among the protesters who called for universal suffrage by camping out on the streets of Hong Kong's main business district in Central for about 3 months.
The Umbrella Movement protests ended without demonstrators' demands being met, while several of its main organizers have since been jailed.
Afterward, she decided she wanted to take a step back. She traveled to India, where she learned meditation. While she was visiting Kathmandu, Nepal in 2015, a major earthquake hit. But meditation allowed her to stay calm and survive the disaster unscathed.
Lam used the same technique to stay calm as riot police stood near. "I was able to channel positive energy from my brain … So I tried to stay calm, hoping that the chaotic atmosphere around me could return to peace," Lam said.
Love for Hong Kong
In the morning, Lam returned home to take a break.
At around 3 p.m. local time, the scene descended into chaos after some protesters attempted to break the police line. Local police used pepper spray, tear gas, rubber bullets, and bean bags in an attempt to remove protestors from the streets.
Hong Kong police said that day, officers fired over 150 rounds of tear gas, 20 bean bag rounds, and multiple rubber bullets. Over 80 civilians were injured.
Lam was sitting in front of her television screen when she saw police firing at the protesters. Feeling a sense of "blame and anger," Lam said she returned to Admiralty immediately. However, by the time she arrived at the scene, the police had dispersed the protesters. There was nothing more than the smell of tear gas in the air.
She explained why so many Hongkongers felt the urge to protest. "I, along with the students and other Hongkongers, want to stand up and safeguard this [city]. We don't want [the Hong Kong government] to think that we are just a bunch of people who work hard to earn money and buy a house. It isn't like that," Lam said, adding that citizens are trying to protect the freedoms that make Hong Kong a great place to live.
Future
Following public and international outcry over the police use of force on June 12, Hong Kong's leader Carrie Lam (no relation) announced that the bill would be indefinitely suspended.
But Hongkongers were not satisfied. About two million marched on the streets on June 16 to call for the bill's full withdrawal and for Lam to resign.
Student groups have promised an escalation in protests after the city government did not respond to their demands of a full withdrawal and to hold the police accountable for their use of force.
Currently, there is another march planned for July 1.
Lam said the protests so far have not prompted the kind of change she hoped to see. But she is optimistic.
"I hope that we Hongkongers know that for freedom, we can use our lives to fight for it," Lam said.
Sarah Liang in Hong Kong contributed to this report.