For over six months the Chinese Communist Party (CCP) spies' have followed the movements and surrounded the home of attorney Gao Zhisheng. Gao recently received an anonymous phone call telling him the methods used in following his movements are directed by "national psychology experts" of the CCP who have him under close observation.
Recently a change occurred and he is now tailed by two persons, usually one male and one female. In particular, Gao has noted that the young women tend to wear provocative clothing and walk in front of him trying to attract his attention.
New Tricks
Gao returned to Beijing by ship and train. On April 26th, as he was exercising in the morning, one person ran beside him. On the next day, it changed from one person running beside him to one person following him by bicycle.
On April 28th, the number of spies who follow Gao increased to four. Usually two persons would ride bicycles while two would drive behind in a car. Often they would follow Gao's running so closely that they would step on his heels. One time, Gao called the spy who stepped on his heels a "lackey." The person following him did not respond. Gao believes that the methods used in following his movements are a form of psychological warfare designed to break him down. These new methods used in following Gao have lasted for over twenty days.
Gao Zhisheng: There is a person in Langfang who often calls us a couple of times every month. He told us about the psychological techniques used by the persons that follow our movements. He told us the CCP had developed and successfully used these psychological techniques over the past 20 years to break people down and torment them." The caller suggested that Gao does not respond to these psychological techniques as would a normal person. Many normal people have committed suicide as a result of such techniques. "The caller told us, everyday when you exercise in the park, to observe you, the 'national psychology experts' also pretend to be people who exercise. When they return to their offices they then direct others what actions to take next against you".
On May 14th, Gao went out with his daughter. The two were followed by seven persons in four cars. This made Gao angry. He returned home and began to videotape the persons who had followed him and his daughter. The spies immediately ran away, but reappeared later in the day. A hat was seen on every spies' head. Surgical masks covered most of their faces.
While Gao continued to videotape, a female spy moved close and began to dance in a provocative manner until he was eventually forced to stop recording. The impudicity of the CCP made Gao and his wife laugh bitterly.
By that afternoon, there were more than ten persons following Gao and his daughter to a Kentucky Fried Chicken restaurant. "They were so close they almost stepped on our heels," said Gao. After he and his daughter had returned home, the persons following them brought out wooden stools and sat around Gao's apartment building. Hats were pressed down covering their faces.
By May 16th, the large group of ten spies paired up, one male and one female. When Gao was writing articles in the Kentucky Fried Chicken restaurant, young female spies (all of them are young girls) with their belly exposed walked in front of Gao in a sexually suggestive manner. Gao felt bewildered regarding this tactic of the CCP psychology experts.
The CCP is Afraid of Gao's Impelling Power
Gao Zhisheng's speech has an accent of North Shaanxi Province (Shanbei); he speaks clearly and fluently with cadence. To get a point across to the listener, Gao gives examples of real cases in a ordered manner. After a recent trial, a judge from Jiling Province shook hands with Gao to praise him of the clarity and efficiency of his arguments in court. Even the spies of Shanbei admire him.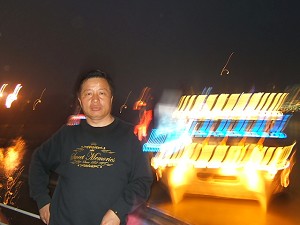 Gao said, "My law offices were tightly surrounded by spies and that has put me out of business. But I think these spies cannot put the Kentucky Fried Chicken restaurant out of business." As a result, Gao often goes to the Kentucky Fired Chicken restaurant to meet with people and/or write articles.
On May 15th, Gao was interviewed outside the Kentucky Fried Chicken restaurant. When talking about the government crack down on Falun Gong he made a very impassioned speech. Not only did other customers at the restaurant stop eating, but the twelve spies sitting around five other tables in the restaurant were also silent.
On the next day, all the spies who had followed Gao and who had sat closely to him in the restaurant now sat farther away. Gao laughed and said, "From this you can guess, the spies' supervisors are studying us everyday."
An Old Lady in Beijing was Surprised: 'After Half a Year's Home Surveillance, Gao Zhisheng Looks Even Younger!'
Though having been continuously followed and harassed by agents of the CCP for over six months, attorney Gao's current state is surprisingly good.
An old lady in Beijing said with wonder, "That boy Gao Zhisheng, after being surrounded by spies for so long, he doesn't look fatigued at all. On the contrary, he's got very good color, looking younger than before."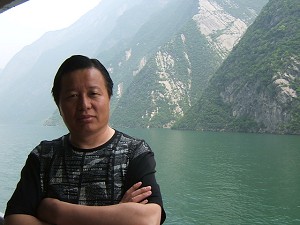 Gao smiled at her comments, "I used to travel around and get sun tanned. Now I can't do that. My secret to remain fair is to stay at home. Besides, recently both Geng He [Gao's wife] and I found that we have both put on some weight. The agents of the CCP have contributed a lot to my health."
Support From The People: 'We Will Break Through The Siege Around Your Home. We Shall Crash Through The Doors Into Wherever The Government Illegally Arrests People'
Gao said, "People have told me that they will crash through the doors wherever the government arrests people illegally. When it is not a 'sensitive' day, they would crash through the doors into my home. They have told me that at my request, thousands of people would appear in front of my home everyday. They are not afraid to be arrested by the government. I persuaded them not to do that."
"I'm very busy everyday. Each day I receive numerous calls from around the country calling to offer help. Callers are from Shanxi, Shanghai, Hebei, Zhejiang… I do not want to take calls sometimes. A 76-year-old man who has petitioned for life about the injustice against him called me and said, 'Attorney Gao, you must take care of yourself and keep healthy. We leave all our hope in you.' I was so sad when I heard this. He said, 'To assist in your efforts I have purchased a computer and printer. I am learning how to use and find information on the Internet. Because it is so expensive to print such materials outside I am learning to print them on my printer at home.' He lives quite frugally and prints out the daily report about Gao at home.
"The Global Relay Hunger strike is a way to continue the fight against the evil CCP. In the past we harbored goodwill toward President Hu Jintao and Wen Jiabao. Of course, now we still cannot say that such goodwill is wrong. But more and more, we see that the good side in them is becoming blocked. If they refuse to change the brutal way in which they treat the Chinese people by the end of this year, the people will finally wake up to reality. The Chinese people will no longer harbor any false illusions and/or goodwill toward these two grinning figures."
Dr. Wang Wenyi's Lawyer Has Sent Gao An Invitation To Visit The United States; Gao's Application For a Passport Shocked The Public Security Bureau
Gao: "Last Chinese New Year I asked Geng He to apply for a passport for me in Urumchi. The Urumchi police refused my application. Their reason was that because I had lived in Beijing for so many years, in order for me to get a passport in Urumchi, I would have to provide my "criminal record" as issued by the Beijing police That means we needed to get one certificate from the Beijing local Police Station (Xiaoguan Police Station), and another one from Chaoyang District Police Station, before we could reapply for a passport in Urumchi."
I asked a few friends working in the Urumchi police system for help with my passport application. One of these friends said that when he helped me with my passport last time he had no idea I was in such great danger in Beijing.
Beijing Public Security Bureau sent people to Urumchi to investigate his relationship with me. They asked my friend, "Do you know what Gao Zhisheng is now?" My friend answered, "How do I know what he is now? To me Gao is just my good friend."
The public security people then told my friend that Gao Zhisheng is 'worse than terrorists, someone who turns against the Party.' My friend replied, 'When I knew him, he was awarded as 'excellent Party member' every year by the Urumchi government. He was also a candidate of the top ten excellent youths in Xinjiang. I've been acquainted with him since then, but you didn't come to investigate me at that time. Now you come to interrogate me. Is it a crime to know someone like Gao?'
To get his passport, attorney Gao walked to Xiaoguan Police Station on the morning of May 18th. Following him were three persons walking behind and two cars. He asked the police station for the 'criminal record' required by the Urumchi police. The policemen in Xiaoguan Police Station told him he could get it only from another policeman who was in charge of that area, but he works only on Saturdays. The policeman then pretended to search for the said person's phone number and claimed he could not find it. After Gao left the police station, an older policeman told him in private, "Who dares to issue a certificate for you, Gao Zhisheng? No single policeman in Beijing dares to do that."
After Gao left, the three persons who had followed him on foot went into the police station and talked to the police. One of these spies sat exactly where Gao had sat.
Gao Zhisheng pointed out, "The CCP has never existed for the people. In the old times there were always two drums in front of government offices that the people could hit to call for the governor's attention and help. But in front of the CCP's government offices today, there are only armed policemen with bayonets."