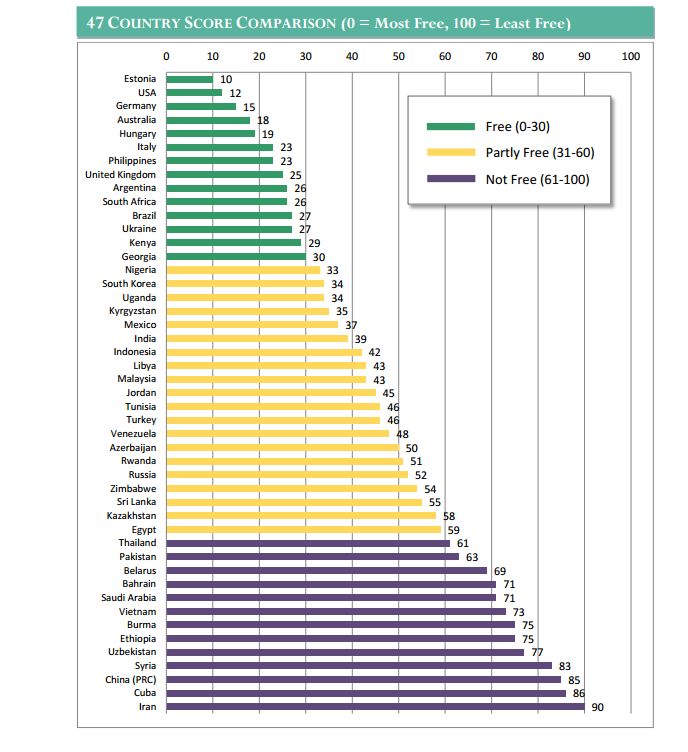 The Chinese regime has become more restrictive in controlling what its citizens see on the Internet in the past year and commits the most violations of user's rights in the world, a new report from Freedom House has found.
"Chinese authorities further enhanced an already sophisticated and multilayered system for censoring, monitoring, and manipulating activities on the Internet, while abducting or imprisoning dozens of activists, lawyers, and bloggers," the report states, noting that China's score on restricting Internet freedoms increased by two points from 2010 to 2011. This means that China, alongside Iran and Cuba, is the most restrictive country in the world.
In 2011, Chinese authorities arrested dozens of bloggers and activists and detained them for weeks, with some receiving prison sentences, the report said.
Freedom House noted that Chinese netizens have become increasingly inventive in circumventing the regime's censors, pointing out that microblogging sites including Sina Weibo have allowed netizens "to outpace censors, draw attention to incipient scandals, and mount online campaigns on various topics."
In the past several months, one notable example of Chinese Internet users outflanking the censors was when a gruesome photo of a woman whom local Chinese Communist authorities forced to have an abortion went viral on Weibo.
As a result of Weibo and other microblogging sites' popularity, Chinese "authorities responded with tightened controls on such services, including intensified censorship and real-name registration requirements, although the new restrictions' full effect on online discourse remains to be seen," according to the report.
It noted that ordinary Chinese still face a litany of obstacles to full and free access to the Internet such as "centralized control over international gateways, a notable urban-rural gap, and sporadic, 
localized shutdowns of Internet access at sites of protest."
Recently, in several areas in Tibet and neighboring Sichuan Province, Chinese censors have reportedly cut off the Internet in order to prevent the spread of information regarding a spate of self-immolations carried out by monks and others over harsh communist rule in the region.
Similarly, censors blocked Internet access in parts of the Xinjiang region from July 2009 to May 2010 after protests erupted over Chinese rule over the area, which triggered a crackdown on dissent, the report said.
Freedom House also criticized the Chinese regime's cyberattacks on overseas websites that are critical of the ruling Communist Party, including websites belonging to Falun Gong, a form of meditation practice that has been suppressed since 1999.
"The Chinese government has vigorously denied any involvement in these attacks. Such denials were undermined by archive footage aired on a state-run television program in July 2011, which included a demonstration of software designed by the Chinese military being used to carry out an attack on a Falun Gong-related website in the United States," according to the report.
China is also being used as a model for other repressive regimes around the world, it added.
"China's influence as an incubator for sophisticated restrictions was felt across the globe, with governments such as Belarus, Uzbekistan, and Iran using China as a model for their own new Internet controls," the report said. Uzbekistan and Iran scored in the top five on Freedom House's "not free" list.
The Epoch Times publishes in 35 countries and in 19 languages. Subscribe to our e-newsletter.
Click www.ept.ms/ccp-crisis to read about the most recent developments in the ongoing crisis within the Chinese communist regime. In this special topic, we provide readers with the necessary context to understand the situation. Get the RSS feed. Who are the Major Players?