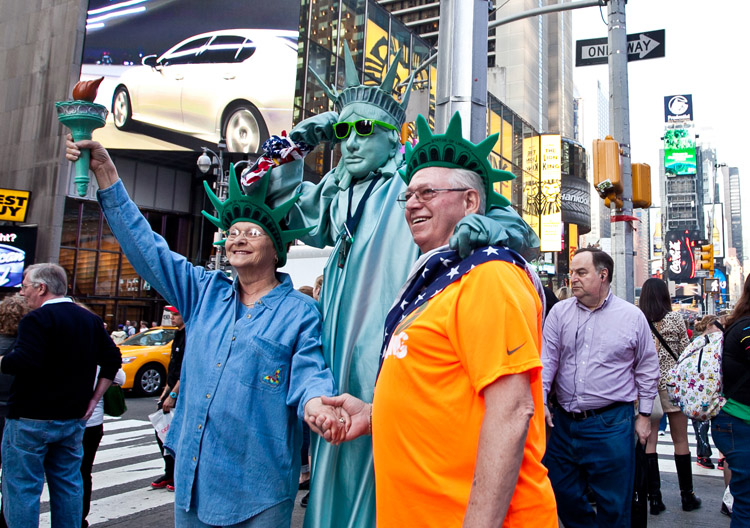 Despite economic hard times in the United States and various other regions of the world, the nation received a bit of good news this week when a report from the U.S. Department of Commerce revealed that international tourist visits to America were up, with visitors spending a record $153 billion in 2011 on "travel and tourism-related goods and services."
The department reported a surge of "62 million international visitors … to the United States, an increase of 2.5 million from the year before."
The record spending by domestic and international tourists was an 8.1 percent increase from the year before. The Bureau of Economic Analysis (BEA) estimates that tourism has created an additional 103,000 tourism-related jobs.
Travel-related industries may be feeling the lift first hand. "We are on a really good momentum right now," said Anne Madison, spokesperson of Brand USA, formerly the Corporation for Travel Promotion.
"The stats that we follow have proven that for every 35 international visitors to the United States, one American job is created and sustained," Madison said.
She also noted that the economic lift extended beyond her line of work. "Travel and tourism is broad reaching. It doesn't only support the tourism industry."
Sixty-two million international tourists visited the United States in 2011, a 2.5 million increase from the year before, states U.S. Department of Commerce .
Commerce stated that in December 2011 alone, "International visitors spent $12.6 billion on travel to, and tourism-related activities within, the United States," up 9 percent from December 2010.
"Our customers have doubled," said Sylvia Perez, assistant supervisor at the New York Gray Line, a sightseeing tour bus company. Most customers are international tourists, she said.
The increase of business has allowed the New York branch to hire four additional employees this year. "It seems like we will have to hire more," Perez said. "The weather is so nice, New York City practically didn't have a winter this year. … More people are coming here for vacation."
But for a few at the front lines, the upswing has yet to be felt. A long-term Gray Line employee who promotes sign-ups at Time Square said it has become more difficult to get people to sign up for tours. "People just have less money to spend these days," he said.
"I have worked for this company for many years, we are having more trouble now than before," he said.
Overall employment in the travel industries has improved by 1.2 percent in the last quarter of 2011. But traveler accommodations and recreation have experienced declines, states the BEA.
The food services industry has experienced the largest growth, increasing revenues by 3.8 percent in the latter part of 2011.
Still, the visitors from abroad are coming, with the majority of international tourists traveling from Europe, Asia, and South America, according to the BEA. Enjoying the unseasonably warm weather, they can be found on the streets of the Big Apple.
Fred Abango, a tourist from London, is on a family trip in New York City. "It is so cold in London now, but the weather is lovely here, we are enjoying our time," he said. Abango said he came to New York to shop. "Oh, I've been spending a lot of money here."
A middle-aged tourist from Ecuador has brought her parents to buy books and computers in the United States. "I usually make a trip to the U.S five times a year," she said
The main purpose for the trip is to buy books and electronics. "We are doctors in Ecuador and we need a lot of books; they are much cheaper here," she said.
A Warmer Welcome
The Obama administration is keen on developing travel and tourism to the United States, and its related economic benefits. "As more and more international visitors choose the United States for their next vacation, local economies—hotels, restaurants, and gas stations—will continue to benefit," said Secretary of the Interior Ken Salazar, in the Department of Commerce statement.
In post 9/11 America, hospitality must be balanced with increased security—a work in progress. "When crossing the border, for security reasons, people cannot feel as welcomed as we would like them to be," Madison said.
But several new initiatives hope to make U.S. entry easier, without sacrificing safety.
Frequent travelers who undergo an "extensive background check" will be able to scan their fingerprints and passports to avoid long border lines. Countries with a growing middle class, such as Brazil, will get a smoother visa application process, according to the White House.
And according to Madison, Brand USA has taken on big promotional activities as part of a campaign to increase its market of international travelers, adding that a marketing campaign focusing on various parts of the United States, from urban cities to rural areas, will be revealed in April.
"It's designed to rekindle the world's love affair with America. We are going to make this country much more welcoming," Madison said.