As the Taliban quickly seized more cities in Afghanistan—including its second- and third-largest cities on Thursday—the International Meeting on Afghanistan called for an immediate ceasefire and warned not to recognize any government imposed by the use of military force.
The meeting was called by Qatar and held in its capital, Doha, from August 10—12. Participants include the special envoys and representatives from the United States, China, United Kingdom, Uzbekistan, Pakistan, Qatar, United Nations, the European Union, Germany, India, Norway, Tajikistan, Turkey, and Turkmenistan.
"Participants urged both sides to take steps to build trust and accelerate efforts to reach a political settlement and comprehensive ceasefire as quickly as possible," reads a chairman's statement issued on Thursday. Qatar is the chair of the meeting.
"Participants reaffirmed that they will not recognize any government in Afghanistan that is imposed through the use of military force," the statement continued.
If other countries do not recognize a government, it won't get economic support from those countries. The non-recognition status will also pose other economic impacts for businesses, such as difficulties in travel, exchange of goods and services. However, humanitarian support is not limited by this status.
The statement also noted the guiding principles of a political settlement: inclusive governance; respect for human rights, including the rights of women and minorities; a mechanism to deliver a representative government; a commitment not to allow anyone in Afghanistan to threaten the security of other countries; and lastly, respect for international law, including international humanitarian law.
"We demand an immediate end to attacks against cities, urge a political settlement, and warn that a government imposed by force will be a pariah state," said Zalmay Khalilzad, the U.S. envoy to the talks.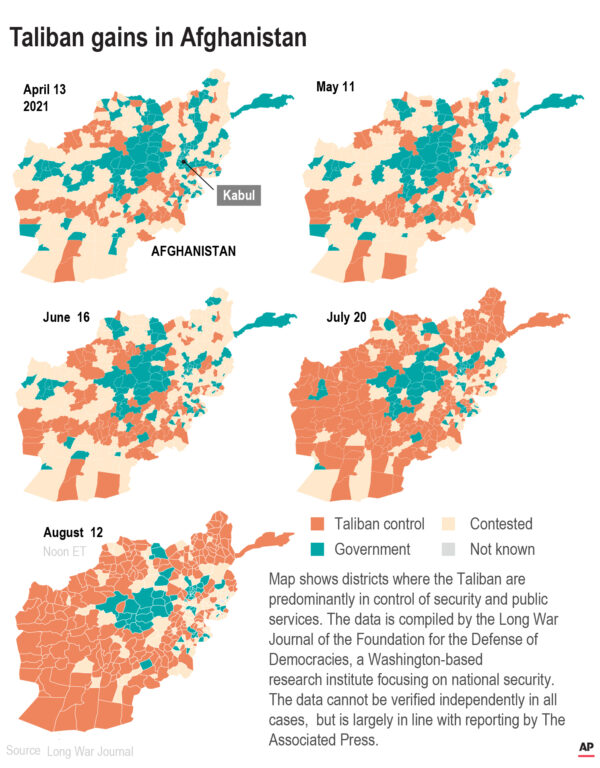 Last month, it was reported that the United Kingdom would work with the Taliban should they enter the government in Afghanistan.
"Whatever the government of the day is, provided it adheres to certain international norms, the UK government will engage with it," British Defence Minister Ben Wallace told the Daily Telegraph.
China is also reported to prepare to recognize a Taliban government, despite its public remarks.
The Taliban's quick advances were largely achieved by little resistance from Afghan government forces. The Afghan army has rotted from within due to corruption and mismanagement, leaving troops poorly equipped and with little motivation to fight, said Bill Roggio, a senior fellow at the Foundation for Defense of Democracies.
The Biden administration announced Thursday that bout 3,000 American troops would be deployed to aid the drawdown of some U.S. Embassy personnel.
The Associated Press contributed to this report.