International Clubs Vying for Hong Kong Soccer Sevens Success
Association Football—Soccer Sevens
May 22, 2014 5:53 am Last Updated: May 22, 2014 5:53 am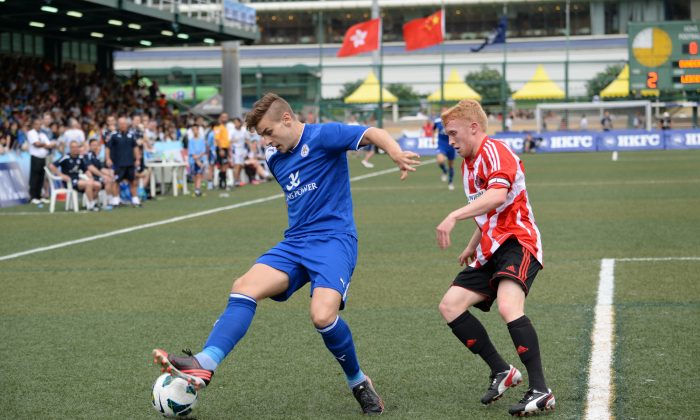 HONG KONG-The HKFC Citibank Soccer Sevens starts tomorrow Friday May 23 at Hong Kong Football Club with many international teams competing.
The major international clubs are all sending strong development squad selections including a number of first team players—all are eager to win this increasingly important competition.
Leicester City
Defending Champions Leicester City will have last year's player of the tournament Harry Panayiotou, Adam Smith (goalie), Alie Sesay and Jak McCourt in action again this year. They are joined by newcomers to the competition Kieran Kennedy (centre), Callum Elder (defender), Ryan Watson and Michael Cain (midfielders) and Joe Dodoo and Marcel Barrington (forwards).
In addition to Panayiotou; Cain, last year's academy player of the year; and Dodoo, England's youth international striker will be players to watch.
Chelsea
Chelsea have included their 20-year-old first team-squad goalie, six-foot five-inch Jamal Blackman in their 10 man squad. Blackman, an England under-19 international is Chelsea's third choice goalie behind Petr Cech and Mark Schwarzer. He regularly trains with the first team goalies and has been on the reserve list a number of times, but has yet to make his debut for the top club.
Also in the Chelsea squad fresh from winning the Barclays Under-21 Premier League title are Scotland U-21 striker Islam Feruz and England U-18 internationals Kasey Palmer, Charlie Colkett and George Brady.
Manchester City
Manchester City are including the England under-18 winger Brandon Barker, England under-17 forward Denzeil Boadu and former-France under-16 international striker Thierry Ambrose in its squad. This year's players are selected from Jason Wilcox's Manchester City U-18 side.
Newcastle United
Peter Beardsley is reported to identify fleet-footed Rolando Aarons as Newcastle United's main attacking threat. Beardsley, who played in two World Cups and won 59 caps for England, will again manage Newcastle in Hong Kong.
Goalkeeper Jak Alnwick, 20, is expected to play in his third Soccer Sevens and provide the experience and leadership for a squad otherwise selected from Newcastle's U-18s players.
Rangers
Last year's Semi-finalists Rangers include Steve Simonsen the club's second-choice goalie, talented winger Barrie McKay, Calum Gallagher that has recently made his first team debut, forward Jamie Burrows, and defender Kyle McAusland are all in this year's squad.
Rangers have had a good season winning the Scottish Under-20 Cup and finishing second just one point behind Celtic in the Under-20 Scottish Premier League.
Tournament
Groupings for the Round-Robin stage of the tournament.
Main Tournament
Group A: Newcastle United (ENG), Guangzhou Evergrande (CHN), HKFA U-23 (HKG), Hong Kong Football Club (HKG)
Group B: Chelsea (ENG), Sunderland (ENG), Kitchee (HKG), HKFC Captain's Select (HKG)
Group C: Manchester City (ENG), Rangers (SCO), HKFA Qualifier (HKG), Singapore Cricket Club (SIN)
Group D: Leicester City (ENG), Aston Villa (ENG), HKFA U-21 (HKG), Yau Yee League Select (HKG)
Masters Tournament
Group A: Rangers Legends (SCO), Wallsend Boys Club (ENG), USRC (HKG), Kowloon Cricket Club (HKG)
Group B: Aegon Ajax All Stars (NED), Eastern Salon Original (HKG), HKFC Chairman's Select (HKG), HKFC Veterans (HKG)
Group C: Citibank All Stars (INT), Nottingham Forest Mobsters (ENG), KFC Tokyo (JPN), SCC Tigers (SIN)