Internal Power Struggle Delayed Earthquake Rescue
May 21, 2008 12:00 am Last Updated: May 21, 2008 12:00 am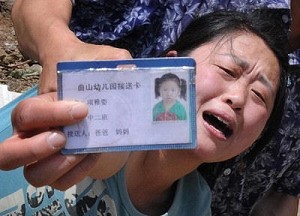 Although the Chinese Communist Party (CCP) propagandized its rescue efforts at full throttle, according to sources, due to a high level power struggle, less than 1,000 soldiers were dispatched to the earthquake epicenter, Wenchuan County, in the initial 72 hours after the earthquake.
According to the regime's mouth piece, Xinhua News Agency, the military only mobilized 20 helicopters during the same period.
A mainland journalist who does not want to be named disclosed said that the regime leaders initially had split on the issue of whether to permit the entry of foreign rescue teams. Premier Wen Jiabao had made two requests on the issue, but both were rejected, which may explain why China denied the entry of foreign rescue teams during the initial 72 hours.
The excuse for the objection was that foreign rescue teams, particularly those from Western countries such as United States, may pose a threat to the national security.
The regime also worried that the acceptance of a foreign rescue team could reflect that China was weak and unable to perform relief work independently, and it would also weaken people's confidence in the regime.
The journalist also disclosed that later both sides made a compromise: the Japanese rescue team was allowed to enter first, because Hu Jintao had just come back from his Japanese trip, additionally, the Japanese were more disciplined and therefore easier to control.
Mainland media have also widely reported that Premier Wen became unusually angry about the military's rescue effort on the third day (May 14) after the earthquake.
One day later, the fourth day (May 15) after the earthquake, the Chinese military General Staff Department and General Political Department issued a joint order requesting all rescue troops to do their best.
On May 16, the fifth day after the earthquake, Hu Jintao flew to Mianyang City, Sichuan. Normally, the Chinese leader's domestic trips are reported after the trip is finished for security reasons, but this time, the regime's official media reported the trip immediately.
Asia Times commented that Hu's trip has significant meaning to ascertain Premier Wen's absolute authority in the rescue action. Before the trip, as chairman of the Central Military Commission (CMC), Hu had also issued an order to the military "to direct well the army to perform the earthquake relief work."
According to the Asia Times Online report, on May 16, the central regime announced that it would initiate an investigation into the collapse of a large number of school buildings during the earthquake, which is the prime killer and the focus of both mainland Chinese and international communities.
Jiang Zemin's Clique Linked to School Collapses?
On the same day, Zhou Yongkang, the head of the regime's legal and law enforcement system and a Standing Committee Member of the Central Political Bureau also arrived in Sichuan Province to "supervise relief work and encourage relief workers." Zhou was the former Party Chief of Sichuan Province from 1999 to 2002.
Political commentator Sima Tai commented, "Zhou Yongkang is former regime leader Jiang Zemin's representative in the regime's central leadership group. He plays the crucial role to continue Jiang's persecution of Falun Gong, and to protect Jiang from being prosecuted. The investigation of the construction quality of the school buildings could become another breakthrough point for Hu Jintao and Wen Jiabao to strike Jiang Zemin's clique, after they brought down former Shanghai Party Chief Chen Liangyu in 2006."