Bolivia's interim president Jeanine Anez tested positive for the CCP virus, she announced on Thursday.
On Twitter, she said that she was "well" and continuing to work while in isolation. She said she will be in isolation for 14 days after which she will take another test for the CCP (Chinese Communist Party) virus, a novel coronavirus from Wuhan, China.
"Together, we will come out of this," she said in Spanish.
"I feel well, I feel strong, I am going to keep working remotely from my isolation, and I want to thank all the Bolivians who are working to help us in this health crisis," she added.
Anez has served as interim president of Bolivia since November 2019 following the resignation of Evo Morales and his government.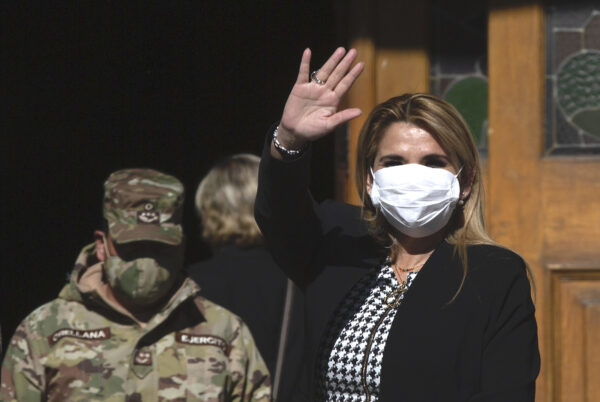 U.S. President Donald Trump at the time praised the Bolivian people for forcing Morales's resignation, calling it "a significant moment for democracy in the Western Hemisphere" while critizing Morales for an "attempt to override the Bolivian constitution and the will of the people."
Bolivia is scheduled to hold general elections on Sept. 6. The election was originally scheduled in May but has been delayed due to the COVID-19 pandemic. Anez, a former conservative senator, initially said she would not run for full office but later decided to do so.
The Bolivian government confirmed that at least seven ministers have tested positive for the CCP virus. This includes Health Minister Eidy Roca, and Presidency Minister Yerko Nunez, who is hospitalized.
Bolivia's health ministry has reported that the country has more than 42,900 confirmed CCP virus cases and more than 1,550 deaths.
The country has a population of about 11.5 million and is reportedly witnessing another increase the number of new cases, with hospitals being overwhelmed in some regions. In the highland city of Cochabamba, scenes have emerged of bodies lying in the streets and coffins waiting for days in homes to be taken away.
Positive tests for the CCP virus have been reported among leaders and officials of numerous countries in South America.
In Honduras, President Juan Orlando Hernandez tested positive in June and was briefly hospitalized.
In Brazil, President Jair Bolsonaro tested positive for the CCP virus on July 7. He said on the following day that he is confident for a swift recovery due to receiving a treatment regimen that involves hydroxychloroquine—an anti-malaria drug.
In Venezuela, socialist party chief Diosdado Cabello tested positive for the CCP virus. He announced on Twitter that he is isolated and receiving treatment.
Reuters, The Associated Press, and Epoch Times reporter Petr Svab contributed to this report.